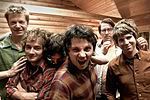 Nonesuch Records will release Sunken Treasure: Live in the Pacific Northwest, a performance DVD by Wilco's Jeff Tweedy, on October 24. The disc includes performances and conversations gathered over five nights on Tweedy's February 2006 solo acoustic tour, with footage from concerts at Seattle's Moore Theater, Portland's Crystal Ballroom, Eugene's McDonald Theater, Arcata's Humboldt State University, and The Fillmore in San Francisco. The film was directed by Christoph Green and Fugazi's Brendan Canty, the creators of the documentary series Burn to Shine.

"I wanted this to feel how the tour felt to me," said filmmaker Christoph Green, "…a chaptered flow down the west coast, showing the isolated bleakness you encounter when you travel quickly from one place to another, and then contrasting that with the experience at the shows—the gathering of people and the sense of community that is created night after night.

The audio tracks of all the songs featured on the DVD also will be available for anyone who purchases Sunken Treasure to download for free. This continues Wilco's own tradition of regularly giving music to its fans via the Internet. In 2003 Wilco and Nonesuch made the More Like the Moon EP available for free download to anyone who had purchased YHF, and in 2005, they again made an EP of rare and live recordings available for free to anyone who had purchased A ghost is born, the band's 2004 release.

During live solo performances, Tweedy draws from 200-plus songs with no particular set list in mind. The songs featured on the DVD feature music from Tweedy's three bands: Uncle Tupelo, Wilco and Loose Fur. There is also one previously unreleased track, "The Thanks I Get." Wilco percussionist Glenn Kotche and guitarist Nels Cline, who opened for him on the February tour, also make guest appearances in Sunken Treasure, accompanying Tweedy on several songs.

The DVD will be available for pre-order via the website in September.

Full track listing: Sunken Treasure, Theologians, The Ruling Class, How to Fight Loneliness, Summerteeth, The Thanks I Get, I Am Trying to Break Your Heart, ELT, Shot in the Arm, In a Future Age, Laminated Cat, (Was I) In Your Dreams, Airline to Heaven, Heavy Metal Drummer, War on War, Acuff Rose.

source - wilcoworld.net

Yeeeeah. I Am Trying to Break Your Heart was great. Airline to Heaven, Was I in Your Dreams and Theologians are amazing but why no Jesus, etc? They always play it live.