Source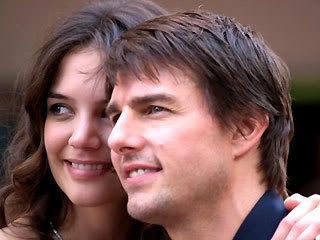 I know you've been planning your fall season around this announcement, but here it is from inside the strange Tom Cruise camp. Tom and Katie Holmes are planning a wedding for sometime in the first three weeks of November, before Thanksgiving.

I don't know where this event will take place, if a Catholic minister will officiate or if it's a Scientology event. But at least we have a time frame.

There's a little more news from the Cruise-Holmes front, and it concerns their initial meeting. Talking to some insiders recently, I discovered that Cruise — when he invited Holmes to join him in Rome right after they met in April 2005 — gave the young actress a credit card with a $100,000 spending limit. He told her to go back to New York and buy whatever she needed for the trip.

Additionally, Cruise, friends say, did indeed have Katie's car overhauled the day he met her. The order of events seems to have been an eight-hour meeting — yes, an eight-hour meeting — with Cruise to discuss "Mission: Impossible 3."

During this time, Cruise told Holmes he didn't like the dents and scrapes on her car, and took it from her. When he returned it the next day, it was like a miracle body lift had taken place. The rest is history.

I've said it before, and I will say it again: no one whom Holmes knew prior to her meeting Cruise has seen or heard from her since then. None of her close friends ever received word of her relationship, pregnancy or birth of baby Suri. And nearly none of them expect to be invited to a wedding.

"It's very sad," says one ex-friend. "She was a great girl."

The focus now on the wedding should be interesting considering the addition, about a year ago, to Cruise's household of his mother, Mary Lee Mapother-South.

For years, Mary Lee Mapother was married to a man named Jack South and lived in Marco Island, Florida. She was a founder of the now defunct Marco Island Film Festival and active at the San Marco Catholic Church as a Eucharistic minister.

But a year ago, Mapother-South left her husband, Marco Island and the church completely. Sources on Marco Island call her a friendly, outgoing woman who was very involved in the community and her religion. Her departure seemed sudden, friends say, even though she talked about the impending birth of little Suri.

But Mapother-South already had grandchildren in California, and hadn't shown any interest in moving there before. Past friends on Marco Island are mystified.

Chorus Line's Singular Sensation

Joan Rivers loved it as much as she did on opening night 25 years ago. So did Liza Minnelli, who's either had a new face lift or is doing something unusual with makeup.

The revival of Michael Bennett's "A Chorus Line" was so hot last night that it also drew Sarah Jessica Parker, Rosie O'Donnell with partner-wife (depending on which state you're in) Kelli Carpenter O'Donnell and Joy Behar.

Not only that: original members of "A Chorus Line" Kelly Bishop, Priscilla Lopez and Donna McKechnie were on hand to watch a new generation of actors play roles they invented and played but were never paid for.

Bishop and Lopez (respectively, the original Sheila and Morales) said at the end: "These actors are in their 20s. When we did it we were in our 30s. That's the difference. We'd already paid a lot of dues."

But all three ladies agreed that Charlotte D'Amboise, playing McKechnie's original role, was dazzling. She's worth the price of the whole show, even if she seems considerably older than the rest of the cast.

A weird note: despite the incredible enthusiasm for "A Chorus Line" during the performance —loud cheering and clapping after each number — the actors did not take the customary opening night curtain call.

Usually on opening night, when a show concludes, photographers are sent to the lip of the stage, flowers are presented to the actors, and the creators — in this case, composer Marvin Hamlisch — take a bow with the cast and the director.

But last night, after the exuberant and still breathtaking closing number, the lights went up and that was that. It was a little odd, to say the least.

Before and after the show — there was pretty lavish party held at the Palace Hotel in the old Le Cirque space — there were many remembrances of the creation of "A Chorus Line".

For one thing, actress Marsha Mason — then married to playwright Neil Simon — is credited with insisting that the ending be changed. It was.

And Simon, after seeing the debut at the tiny Public Theater, took the whole script home and "tweaked it," says the widow of late librettist Ed Kleban.

The version of "A Chorus Line" that opened last night is never going to meet the expectations of those who knew it in 1975.

Joan Rivers told me last night, "Edgar and I flew in for the opening at the Public. It was sold out, so we sat on the stairs."

Hamlisch, who wrote the brilliant and lasting score — it sounded even better last night — said he wasn't surprised the show had held up.

"You can't do anything to do it. It's a classic."

But a new generation of young people who have perhaps tired of "Rent" should find "A Chorus Line" to be enlivening.

The show, as such, was the original model for "American Idol," in a way. That idea alone should draw new crowds.

Oliver Speaks; Penelope Prepares; Denise's Night

Oliver Stone is doing a Q&A tonight at the Cantor Center at 36 East 8th St. after a screening of "World Trade Center." There's talk of Stone getting at least DGA and Oscar nominations for his work on "WTC," and I think the buzz is well-founded. "WTC" turned out be a nice-sized hit in the end, with much praise from all sides …

Penelope Cruz and Pedro Almodovar hit town tomorrow night for their New York Film Festival screening of "Volver." Expect the actress, director and film all to get Oscar nominations. "Volver" is the year's breath of fresh air. Cruz's acting in Spanish is a treasure of comic timing. Frankly, she should just make films in Spanish from now on — it's where she's most comfortable

Denise Rich's Diamonds and Denim gala down at Capitale on Wednesday night was said to be a great success. This is the annual event Denise throws to raise money for her G&P Charitable Foundation for Cancer Research. Sister Sledge performed, and the guests included Nik Ashford and Valerie Simpson, Ivana Trump and Kimora Lee Simmons …

Tomorrow night in Memphis, Pat Tigrett throws her annual Blues Ball at the Pyramid. Rocker Jerry Lee Lewis is guest of honor, and will perform songs from his Steve Bing-financed vanity album of duets.

The Bar Kays are also on tap, and many of Memphis's famous musicians will play for the black-tie audience. The Blues Ball, always spectacular, raises money for a variety of Memphis causes...