GERMAN football fans have been offered a novel way to keep up with the World Cup - after 1. FC Union Berlin invited supporters to bring sofas to their stadium to watch matches on a big screen.
Union Berlin, who play in Germany's second tier of football, have turned their stadium, An der Alten Försterei, into a 'World Cup living room' complete with 3500 square metres of wallpaper, tables and lamps.
And over 750 sofas have been placed on the pitch, so that Berlin football fans can watch the tournament with fellow supporters.
The 'World Cup living room' idea - or 'Weltmeisterschaft Wohnzimmer' to give it its German name - was proposed by Gerald Ponesky, of a local events agency, and will see fans watch games live at the stadium on a huge screen.
Ponesky revealed that he was responding to fans singing about the stadium, telling local press: "It was always something like 'my home' or 'my living room', and somehow it clicked."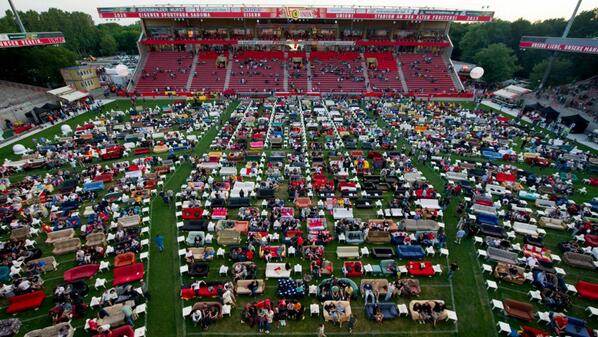 According to 3News, 12,000 fans were expected to attend the viewing party for Brazil's match with Croatia last night, with around 3,000 of that number watching from the sofas.
Because some of y'all can't read:
And if it rains, there are covers to protect the couches from getting wet.
How are you watching the World Cup ONTD?
Source
Source
Source
Source