Though the Sailor Moon anime generally features lighthearted creatures for the Sailor Senshi to fight, with designs based off of circus acts and random inanimate objects to professions (Sailor Stewardess!), there are numerous monsters that have gone to a rather dark places. The earliest monsters especially were simple in design, yet that belied their more sinister nature rather well. Here's a list of the 10 most creepy SM monsters.
10.) BIPIERROT
Clown. With no pupils in its eyes. Who is not afraid to show some leg. 'Nuff said.
9.) RECI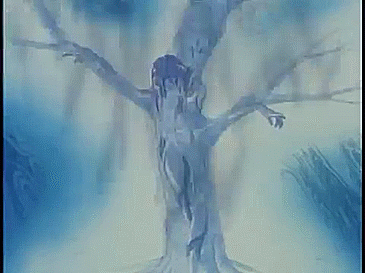 This monster itself isn't really creepy: it's its silent demeanor, and the fact that it's the only monster-of-the-day to come close to killing Sailor Moon that makes it chilling. Also throw in the fact that it creates some disturbing imagery of a regal woman fused with a tree.
8.) GERMATOID DOLLS
Create from the splattered body of Germatoid's main body, these dolls' featureless, perpetually grinning faces and constant stream of insane laughter make their assault especially disturbing.
7.) YAMANDAKKA
With multiple arms and a Lazy Susan for a head that shows off its four bizarre looking faces, this monster is without a doubt creepy in design. The way it assaults Usagi in the dark, and the pathetic way it dies, is also pretty darn creepy, too.
6.) NEPHRITE'S SHADOW
Not a true monster-of-the-day, but still a rather fine example of body horror. Though mind control is often used in Sailor Moon, this darkness-based doppleganger literally becomes its victims, and can jump from body to body instantly.
5.) MURIDO
Another doll based monster, though one who can make you see candy sweet hallucinations. What makes this monster so creepy though, is its nightmarish transformation from a human woman, to a doll-like automation, complete with deceptively unsettling music box notes. The English dub makes this even worse, as the creature in that adaption speaks in a jilted, robotic tone of voice.
4.) JAKOKU
With an appearance based on the Grim Reaper, this monster gets its Freddy Krueger on by stalking its primary victim in their dream. Keep in mind, that its primary victim is Chibi-Usa, so it basically wants to use its blade to kill a child in a realm that falls under his dominant control.
3.) CAMERAN

This monster's mode of attack involves her unleashing a giant eyeball out of the palm of her hand, trapping you in a photograph. Aside from the surreal horror of that, there's a graphic scene where Cameran's eyeball-hand EXPLODES after getting her own attack reflected back at her.
2.) DERELLA
Several points about this monster makes it one of the most unnerving. It is introduced in a Psycho-esque scene, where she attacks a victim in the shower. She then entombs said victim alive in glass. Finally, she takes on the appearance of her victim, at one point shifting to a horrific amalgamation of her own slasher-smile face and the victim's body.
1.) JUMEAU
This entire episode was nightmare inducing, with scene after scene of possessed dolls, coming alive to take down our Senshi heroines. Even scenes of regular dolls are unnerving, as the sight of doll limbs and headless dolls by themselves is always creepy, possessed or not.
CREEPY POST...?