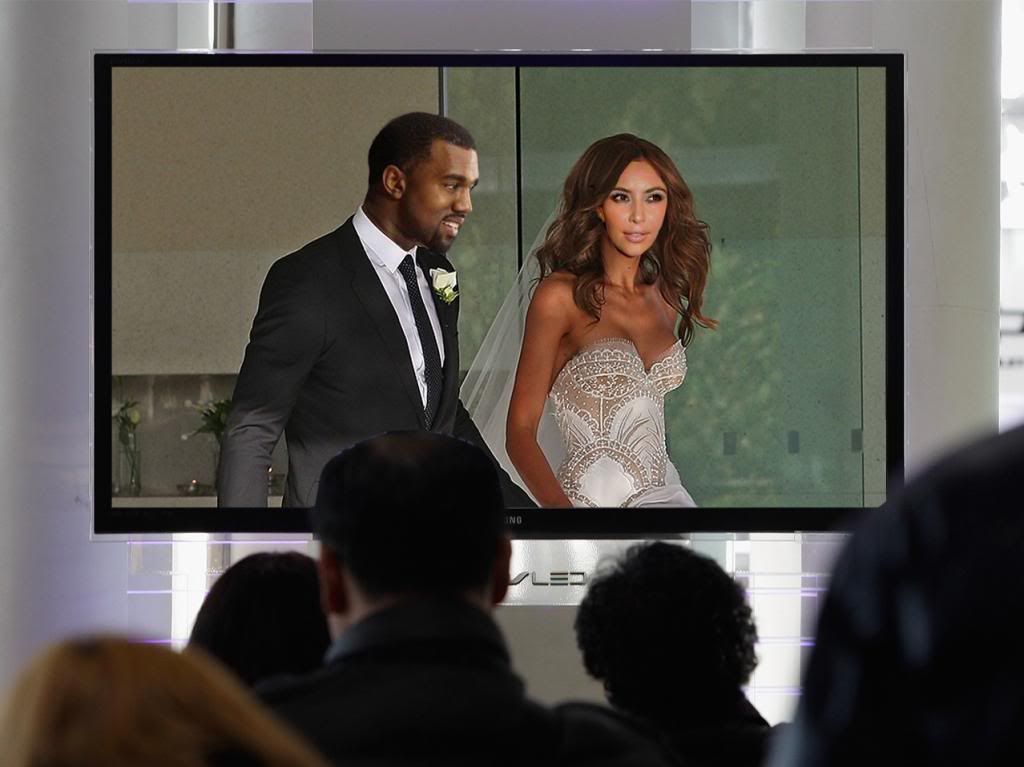 Kimye strikes again, folks. Just when you thought their wedding couldn't be more elaborate - or more expensive - the Vogue cover stars have even more tricks up their sleeves.

Reportedly, the high-profile couple will spend approximately $125,000 on each of their 200 guests according to a source that told Grazia UK reports StyleCaster. In case you didn't want to do the math yourself, that comes out to a total of 25 million (yeah, we gasped, too) on the guests alone. Nevermind the lavish, hand-delivered wedding invitations, which reportedly cost $1,000. "Kim and Kanye wanted the invites to be as lavish as possible, and commissioned a couture designer to create gold silk boxes containing a photo album of their fairytale romance and a silk invite etched in real gold leaf with a clasp of natural pearls," the source says.

As for the 125K goodies? This is what it will reportedly get guests: $500 bottles of Bollinger champagne, $200 Creme de la Mer products, handmade souvenir trinkets with Kim and Kanye's initials etched in Swarovski crystals, bottles of scents from local perfumeries, and $250 vouchers for treatments at the hotel's spa. Talk about a wedding favor!







This only adds to the list of crazy Kimye rumors that have surfaced lately. Here are a few of our other favorites:

-- There will be a ton of no shows: Star magazine reports that celebs such as Robin Thicke, Jared Leto, Jonah Hill, Anna Wintour, Oprah Winfrey, Will and Jada Pinkett Smith, Prince, Karl Lagerfeld, Barack and Michelle Obama, and Beyoncé and Jay Z have declined the couple's invitation to their Parisian nuptials. Ouch.

-- Kris Jenner is being too much of a mom-ager: While there's no surprise here, sources close to the couple tell Us Weekly that Kim and Kris had a mother-daughter standoff recently. "Kim doesn't want Kris making all the decisions for the wedding," says an insider close to Kimmie. "Kim put her foot down, and things got heated." It was apparently so bad that the two didn't speak for a few days!

-- Guests will "have it [their] way" when it comes to the food: The most absurd of all absurd Kimye rumors, according to British tabloid Daily Star, West bought Kim 10 Burger King locations so that she can expand her business portfolio. In return the fast food chain offered to cater the wedding. Whoppers for everyone!

We can't wait to see what turns out to be true once the pair says "I do" at their Parisian nuptials in May.



KIMYE KRISIS: Is a French Wedding Off??

*Plans for the May 24th wedding of Kim Kardashian and Kanye West in Paris were briefly thrown in disarray after the couple recently learned of a French law requiring a 40-day residency for any couple planning to get married on their soil.

According to Radar Online, various statutes in France call for at least one of the parties has to have resided in France for at least 40 days prior to the wedding. Radar reviewed the law with the French Embassy in Washington D.C. who advised: "All marriages must be performed by a French civil authority before any religious ceremony takes place. The mayor can authorize the deputy mayor or a city councilor to perform the ceremony in the town in which one of the parties to be married has resided for at least 40 days preceding the marriage. These requirements can not be waived."

A Kardashian source confirmed: "Kim and Kanye were unaware until recently that France required a residency requirement prior to the marriage. Kanye has an apartment in Paris, but he doesn't live there full-time."

This could explain the sudden and unexpected change to West's Yeezus world tour, according to Radar. Last week, the rapper announced he would be postponing his planned Australian tour — which had originally been scheduled for the weeks before the May 24 event — until the fall.
West claimed he made the switch to give himself more time to work on his upcoming studio album, due later this year.

French law further dictates that there be TWO wedding ceremonies.

"The religious ceremony has to be performed after the civil ceremony (never before). The minister, priest or rabbi will require a certificate of civil marriage before any religious ceremony takes place," the French Embassy also said.
According to Radar, Kimye's French marriage will be legally recognized in the United States.


-----





KANYE to NFL, NBA PLAYERS: 'I WON KIM K'


Kanye West is spiking the football ... bragging that he defeated NBA and NFL players like Reggie Bush and Kris Humphries to win the rights to bang Kim Kardashian.

West just appeared on Future's new single, "I Won" -- and raps about his most prized conquest, Kim ... saying, "I want to dip that ass in gold, I want to dip that ass in gold."

Then comes the smack talk -- "I made it over NBA, NFL players ... So every time I score it's like the Super Bowl."









I wonder what Kim's sex # is..... She sure has been with a lot of fine men.


Source: https://shine.yahoo.com/love-sex/youll-never-guess-much-kim-kanyes-wedding-favors-143600409.html

Source: http://www.eurweb.com/2014/04/kimye-wedding-threatened-by-french-law-of-40-day-residency-before-marriage/#zyDFop1kZ0TIYmUT.99

Source: http://www.tmz.com/2014/04/08/kanye-west-reggie-bush-kris-humphries-miles-austin-nfl-players-nba/