[
Spoiler (click to open)
]
Anime Limited Licenses Attack on Titan Original Soundtrack
Songs available for download now, CD coming summer 2014
British distributor Anime Limited announced on Monday that it has licensed the original soundtrack to Attack on Titan, which is now available for download on iTunes, Google Play, and Amazon. The company will follow with a CD release this summer.
Arthur takes health-related focus in new family website
Arthur
US pubcaster PBS Kids' 18-year-old Arthur brand is anchoring a new mobile-friendly family health website that offers nutritional information, games, videos and other resources designed to help parents and educators talk to kids about important health issues.
Topics explored on the website range from asthma, to food allergies and nutrition to fitness and resilience, and all of the resources on the site were reviewed by health experts from US medical institutions such as Massachusetts General Hospital, Boston Children's Hospital and Harvard Medical School.
Arthur is familiar with addressing health-related issues in the digital space. The character's first iOS app, D.W.'s Unicorn Adventure, which launched back in 2012, encourages kids ages four to six to help Arthur's sister D.W. save a lost unicorn by powering up on nutritious foods.
The newly launched family health website was developed in conjunction with Arthur producers WGBH Boston and 9 Story Entertainment.
"One Piece Film Z" to be Released in English in 2014
The Australian distributor Madman Entertainment has confirmed on its official twitter account that it plans to publish a bilingual release for Toei Animation's One Piece Film Z on home video in July 2014. Madman Entertainment typically releases its anime titles with both an English dub and the Japanese audio track with English subtitles. This revelation comes prior to an English release being officially announced for the movie anywhere else in the world, including in the United States, where One Piece English dub producer FUNimation Entertainment is based.
First released in Japanese theaters in December 2012, One Piece Film Z is the 11th One Piece film and the first to feature the older versions of protagonist Monkey D. Luffy and his pirate crew after the two year time skip in the main storyline of the One Piece TV series and manga. Film Z was created as an attempt to "surpass Strong World", the 10th One Piece movie, which was released in English last year. In the movie Luffy faces off against a former navy admiral named Zephyr, a new foe hyped as Luffy's strongest opponent to date. One Piece creator Eiichiro Oda, who was previously involved in creating the story for Strong World, oversaw Film Z as executive producer.
Toy Story: The True Identity of Andy's Mom Makes The Movie More Epic
By Jon Negronion February 24th, 2014 at 3:17pm· 19m saw this· 304+ people are talking
Andy's mom has always been a bit of an enigma. In the first Toy Story, we barely even saw her face. That's all fine because throughout the movies, the real focus has been on Andy and the love he has for those toys.
But this is Pixar, and it stands to reason that there is more than meets the eye when it comes to the Davis family (Andy's last name).
In order to understand who Ms. Davis really is, we have to start with something seemingly simple: a hat.
In the picture below, you see Andy's cowboy hat that he plays with throughout his childhood. Study it closely.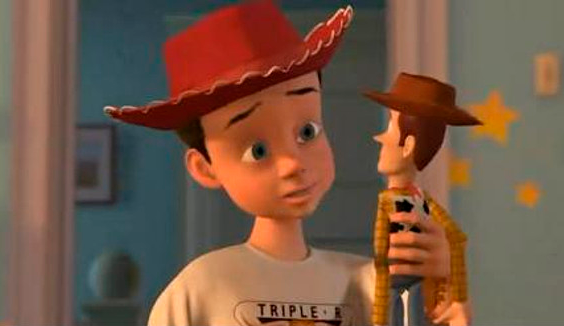 Notice anything weird about the hat? It looks nothing like the hat worn by his favorite toy, Woody. Why wouldn't Andy wear a hat that was brown?
We don't think about it because most of us are normal human beings with things like jobs and tax exemptions. But I want you to take a quick journey with me: Andy got this hat from his mom.
In Toy Story 2, young Andy Davis left for summer camp, and his mom held a yard sale. "The Chicken Man" found Woody in one of the boxes (he was trying to save a fellow toy) and pleaded with Ms. Davis to sell him because Woody is a collectible from the 1950s.
Ms. Davis refuses, acknowledging that Woody is "an old family toy." Not that much time has passed between the Toy Story movies, but we know that Andy has had Woody since Kindergarten, according to Mr. Potato Head. Andy's 6th birthday is in the first Toy Story, which makes him 7 or 8 in this movie. Woody doesn't seem all that old in comparison.
Further, Woody has no recollection of who he is. Many have suggested that this is because he was owned by Andy's father, who is never mentioned in the movies. Molly is a baby in the first movie, which means Andy's father either died or walked out not long before the movies started.
A reasonable assumption is that Andy's mom gave Woody, his father's toy, to him on his 5th birthday. After all, she gave him Buzz Lightyear on his next birthday. If Woody had been a new toy when Ms. Davis gave him to Andy, then he would know exactly who he is was, which is unlikely because he is so rare.
Now, back to the hat. I believe Andy received the hat from his mom, as well. There's another instance in the movies when this hat is shown:
Notice anything familiar? That is the same red hat with a white lace. Why would Andy have a hat that looks exactly like Jessie's? Because his mom did. Look at this: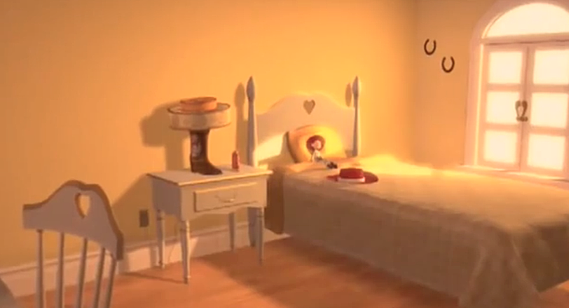 See that hat on the bed? Emily, Jessie's previous owner, wears that hat throughout the "When She Loved Me" sequence in Toy Story 2. The sequence clearly takes place in the 60s and 70s, as evidenced by the decoration and qualities of Emily's things.
That is about as 1970s as it gets.
That makes Emily the same age as Andy's mom, who had him in the 80s. They also have the same hat, except the white lace on Andy's hat is missing, but you can clearly see where it once was. There's even a faded mark: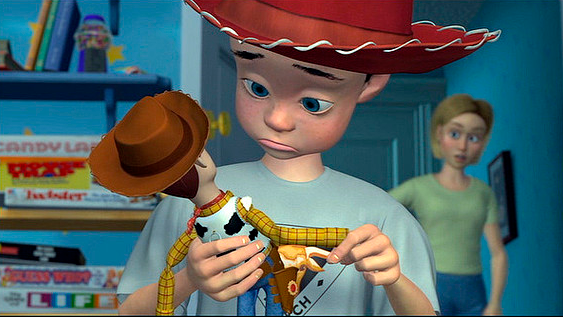 That makes this an old hat.
We know that Emily donated Jessie and her other "cowboy" accessories as a teen, so wouldn't the hat be included? If you watch closely, the hat isn't in the box. The box isn't even big enough to hold it.
We do see that Emily has short, auburn hair. It almost looks like...

Albeit her hair in the movies is lighter. Age is funny like that. And yes, Andy's mom is Emily, Jessie's previous owner.
Now you may be wondering if Emily/Andy's mom noticed that Andy suddenly had a toy she once had as a child. Think of it this way: how would you react if you saw that your kid had a toy that looked like one that you had? You probably wouldn't assume they're the same, even if you're in a Pixar movie.
The theory is that in a twist of fate, Emily (Andy's mom) loved a cowboy toy but gave it away during her adolescence. Her son would grow to love a cowboy toy as well, in a weird way that resembles the strong love she once had. She passed the hat down to him, and as destiny would have it, Andy would one day receive Jessie, as well. This would redeem his mother's abandoning of her, making Emily's story come full-circle.
And much like Emily, Andy also grew tired of his toys and moved on. He also gave them away and let them go.
And that, ladies and gentleman, is the true story of Andy's mom.
(This post originally appeared on jonnegroni.com)
Jon is also the author of The Pixar Theory, an award-winning theory about how all of the Pixar movies exist in the same universe and tell one, cohesive story. Yeah, it's about as ridiculous as it sounds.
Source
1
2
3
4