Michael B. Jordan & More Play in NBA All-Star Celebrity Game!
Michael B. Jordan shows off his jersey while playing in the 2014 NBA All-Star Celebrity Game at the New Orleans Arena on Friday (February 14) in New Orleans, La.
The 27-year-old actor was joined in the game by Erin Heatherton, Jesse Williams, Kevin Hart, and many others.
PHOTOS: Check out the latest pics of Michael B. Jordan
"Just made @SportsCenter tonight I think I can walk away from the game now! Hahaha," Michael tweeted after the game.
25+ pictures inside of Michael B. Jordan, Erin Heatherton, and others playing in the game…
John Wall leads Eastern Conference to 2014 Slam Dunk Contest title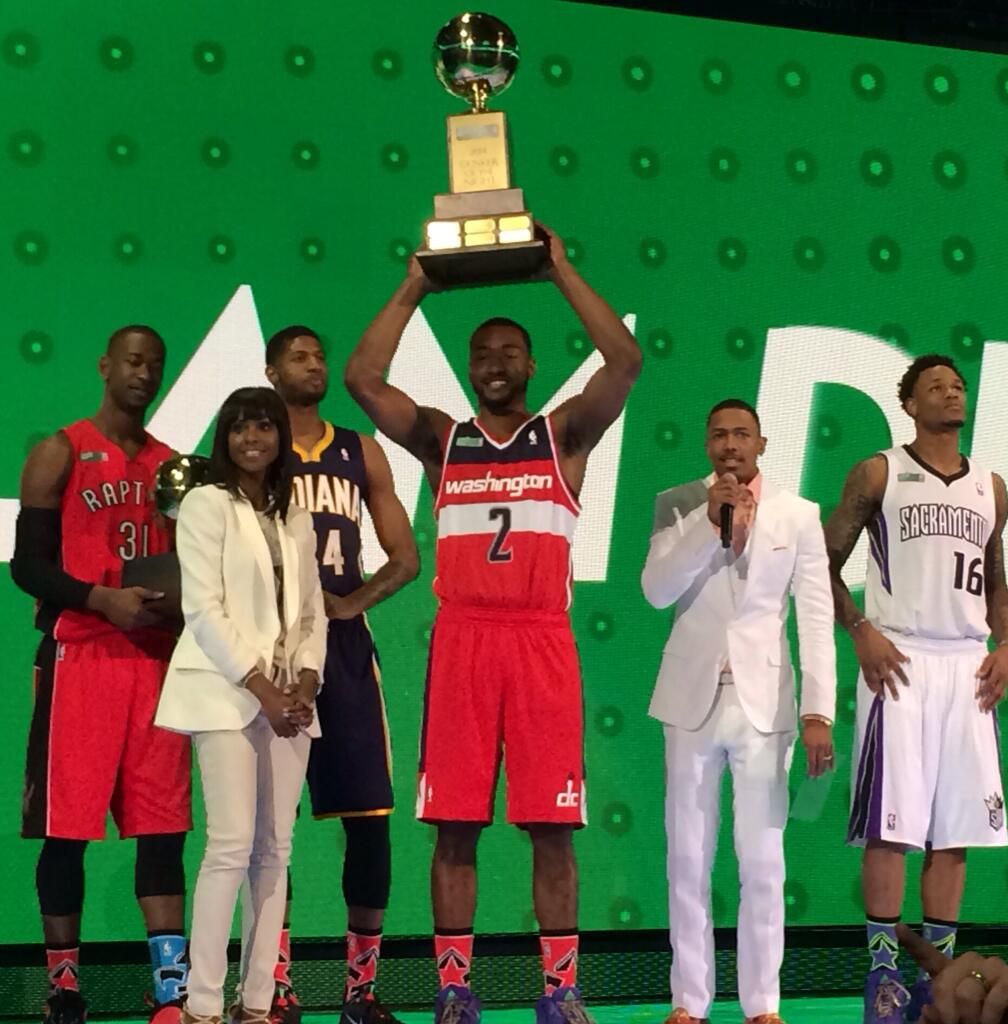 NEW ORLEANS — John Wall, Paul George and Terrence Ross of the Eastern conference won the 2014 Slam Dunk Contest, prevailing over the Western conference at the Smoothie King Center on Saturday. Wall was named "Dunker of the Night" as voted on by fans.
The Wizards' All-Star guard provided the highlight of the night when he jumped over the Wizards' mascot, G-Man, who held a ball over his head. Wall retrieved the ball, double-clutched and then threw down a two-handed reverse dunk that brought the crowd to its feet.
That dunk lifted Wall past Ben McLemore, giving the East a clean 3-0 sweep in the "Battle" round of the contest's new format. Previously, Terrence Ross defeated Damian Lillard with an assist from rapper Drake, while Paul George defeated Harrison Barnes.
George had the night's second best dunk, as he threw down a 360 dunk, spinning clockwise and moving the ball through his legs before finishing a right-handed windmill slam.
The contest was full of props and assistants. In addition to G-Man and Drake, McLemore came out onto the court wearning a king's outfit and was aided by Shaquille O'Neal, who sat on a throne in the paint as McLemore dunked over him.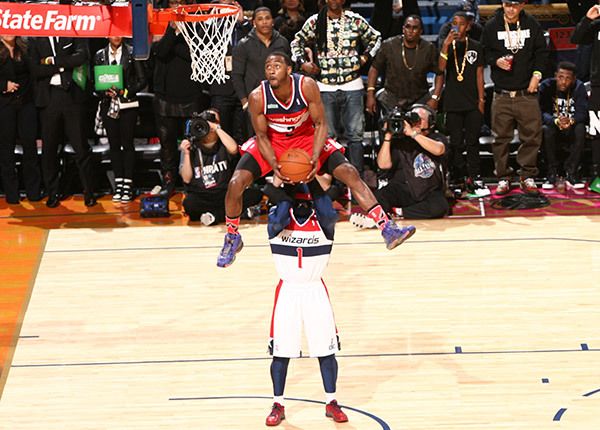 NBA legends Julius Erving, Magic Johnson and Dominique Wilkins served as judges for the contest, but they did not hand out 1-to-10 grades as in years past. Instead, they voted to determine which conference and player prevailed in each round.
The East also beat the West in the contest's opening "Freestyle" round, as the three players combined on an off-the-backboard, off-the-shot-clock, alley-oop combination that George finished with a thunderous slam.
Unfortunately, under the Dunk Contest's new format, Wall, George and Ross were unable to go head-to-head to crown an individual champion because both were on the Eastern Conference squad. Once Wall's slam knocked out McLemore, the contest came to an abrupt end.
Kendrick Lamar All Smiles, Vanilla Ice Makes Surprise Performance At NBA All-Star Weekend: Watch
Kendrick Lamar was in a playful mood as the headliner of the NBA's Entertainment Series presented by Sean John at Macy's on Saturday night (Feb. 15), performing a pair of songs in the New Orleans Arena before the Sprite Slam Dunk competition at All-Star Weekend.
Following Marco Belinelli's win in the 3-point contest on Saturday night, Lamar took the makeshift stage in front of a throng of fans and settled comfortably into two "good kid, m.A.A.d city" tracks as the arena announcer introduced him as a "Grammy-nominated rapper." Lamar may have been shut out at the Grammys ceremony last month, but the Compton MC didn't seem to mind too much on Saturday night, smiling through a rendition of "mAAd City" in which he was flanked by two guitarists.
NBA All-Star Weekend Preview
"If you're having a good time tonight make some noise!" Lamar told a New Orleans crowd that included Diddy, Drake, Nelly and Ludacris. Wearing a black hoodie and a pair of red Yeezys on his feet, Lamar slid through "mAAD City's" opening before segueing into "Bitch, Don't Kill My Vibe" and then graciously giving way to the Sprite Slam Dunk contestants.
Lamar was the only announced performer on Saturday night, but Vanilla Ice also showed up halfway through the dunk contest, in a surprise performance that was not televised. The MC performed his hit "Ice Ice Baby" with an army of backup dancers.
NBA All-Star Weekend continues Sunday night with a performance by Pharrell Williams during the player introductions; Janelle Monae, Dr. John, Gary Clark Jr., Trombone Shorty and Earth Wind & Fire at halftime; and Jason Derulo, Aloe Blacc and Mack Wilds at the Sprint Pregame Concert.
NBA ALL-STAR 2014 BY THE NUMBERS
NEW ORLEANS – NBA All-Star 2014 will bring together the league's most talented players for a global celebration, transforming New Orleans into the center of the basketball universe. Three days of live game action will culminate with the 63rd NBA All-Star Game at Smoothie King Center.
TNT will televise the All-Star Game for a 12th consecutive year, marking Turner Sports' 29th season of All-Star coverage. Fans in 215 countries and territories and in 47 languages will be able to experience a weeklong celebration of the game through an array of digital technologies offered by NBA Digital, TNT and ESPN. The following is a look at NBA All-Star 2014 by the numbers:
Clippers
25 – Blake Griffin is the 25th player in NBA history to make the All-Star team in his first four seasons as well as the only active player to do so.
7 – Chris Paul is an All-Star for the seventh time in his career. That's tied with Carmelo Anthony for the sixth most among current All-Stars and ranks in the top 15 among active players.
2 – Paul won the 2013 All-Star MVP becoming only the second player in the Clippers' franchise history to win the award (Randy Smith, 1978).
4 – In four years, Griffin had made four All-Star teams as a member of the Clippers. He is the only player in franchise history to be named an All-Star four times with the team.
NBA All-Star in New Orleans
2 -- New Orleans has hosted two NBA All-Star Games (2008, 2014).
3 -- NBA All-Star 2014 marks only the second time that the Sprite Slam Dunk will feature three All-Star Game participants – John Wall (WAS), Damian Lillard (POR) and Paul George (IND). (M. Jordan, D. Wilkins, C. Drexler - 1988).
5 -- Portland's Damian Lillard, first player to participate in five All-Star events.
77 -- NBA All-Star 2014 performers have received a combined 77 Grammy nominations (Pharrell – 25; Earth, Wind and Fire – 20; Dr. John – 15; Janelle Monae – 6; Kendrick Lamar – 7; Gary Clark Jr. – 2; Trombone Shorty – 1, Mack Wilds – 1).
All-Star Global Reach
1,800 - More than 1,800 media will cover events, including 265 international reporters.
90 - More than 90 international television and radio outlets and websites will be onsite, with 16 doing live courtside commentary including in Arabic, French, Greek, Hungarian, Mandarin, and Polish.
NBA on TNT
12 and 29 -- This is the 12th consecutive year the All-Star Game will be shown in prime time on TNT, and 29th season Turner Sports has provided All-Star coverage.
360 -- For the first time, TNT will utilize the innovative freeD™ – free dimensional video – technology providing fans a 360-degree defining replay view of the action.
NBA Digital
140 -- NBA TV, NBA.com and NBA Mobile will present more than 140 hours of All-Star coverage.
NBA Social Media
500M -- Over 500 million followers and likes combined across all league, team, and player pages on Facebook, Twitter, Instagram, Sina, and Tencent that will have access to All-Star.
NBA Cares
3,000 – The NBA Cares All-Star Community Caravan, led by more than 3,000 NBA family members, partners and volunteers, will include four days of hands-on community service, featuring more than 35 projects.
NBA All-Star Jam Session
500,000 -- Jam Session boasts over 500,000 square feet and more than 40 attractions.
80,000 -- More than 80,000 fans will attend Jam Session over the course of four days.
NBA Players and Legends
1,416,419 and 10 -- The Heat's LeBron James was the leading vote-getter in the NBA All-Star Balloting program presented by Sprint, with 1,416,419 votes. James will be making his 10th All-Star appearance.
NBA All-Star: Janelle Monae, Trombone Shorty, Earth Wind & Fire, Dr. John Discuss Halftime Show
Trombone Shorty wants this year's halftime show to be "a big party, the way we do here in the Big Easy."
While Pharrell Williams is headlining the NBA All-Star Game Entertainment Series this year, with a performance during the player introductions on Sunday night (Feb. 16), the halftime show -- featuring Earth, Wind & Fire, Janelle Monae, Trombone Shorty & Orleans Avenue, Dr. John and Gary Clark Jr. -- is the evening's event that promises to synthesize the vibrant musical culture of this year's All-Star Weekend host city, New Orleans. Earth, Wind & Fire's soul classic "Shining Star" and Monae's "The Electric Lady" title track will be among the songs performed, and everything will be played live at the New Orleans Arena.
"It's been a great process, and... I'm blessed to be a representative for my city," Shorty, the city's most high-profile brass musician, told Billboard on Sunday, hours before the performance is broadcast live on TNT. Shorty has acted as a musical ambassador for the NBA, personally contacting other artists to see if they would be interested in collaborating on the halftime extravaganza.

"I was like, 'This would be great, but I think it should be bigger,'" says Shorty, who recent made his GRAMMYs ceremony debut by performing alongside Macklemore & Ryan Lewis and Madonna last month. "I'm in my city, and I could have done something by myself, but I was like, 'No, we need some other people with us.'"
Monae, who was honored as the Rising Star at last year's Billboard Women in Music event, was one of the first people Shorty contacted. "I'm really great friends with Trombone Shorty, who's like the king of New Orleans in terms of live music," says Monae. "He played on [my song] 'The Electric Lady,' and we just thought it was fitting. He was like, 'There are no other females performing -- I want it to be you.'"
Despite having a gig on Saturday night in Tampa, the guys of Earth, Wind & Fire took an early plane out to New Orleans, after Shorty gave them a ring a few weeks ago. "They were actually going to use 'Shining Star' in the piece that they were doing," says the legendary funk group's Verdine White, "and an idea came to them to reach out to them and see if we could do it live."
More All-Star: Kendrick Rocks Slam Dunk | T.I. & Miguel's Club Show | All-Star Preview
All of the halftime artists gush about how easy it was to put together the collaboration, which was inspired by New Orleans jazz and funk music. "We love music, we love funk, we love soul, we love to jam," says Monae. "We didn't really even have to rehearse [the performance] as many times as we did. Everybody's fans of each other's music."
Fans tuning in should expect "musical diversity and a great energy onstage," says Earth, Wind & Fire's Philip Bailey. Shorty adds, "People will definitely be out of their seats dancing. That's what our focus is -- to have a big party, the way we do here in the Big Easy."
Dr. John, the brilliant blues troubadour, performed when the NBA All-Star Game was last in his hometown in 2008, and is looking forward to another go-round. "It's a blessing," he says. "It's the kind of blessing I look forward to."
Source
1
2
3
4
5
6
7
Show starts at 8pm , if anyjuan is around u can use this as a discussion post :)