[
Spoiler (click to open)
]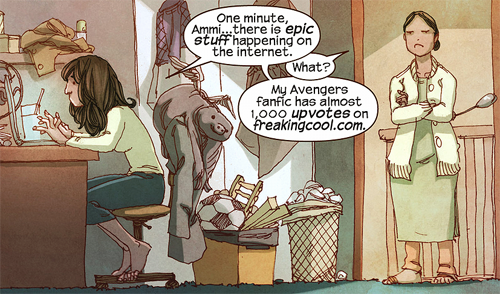 Marvel Entertainment is unveiling its latest heroine, with the comics giant debuting Pakistani-American teenager Kamala Khan as the new Ms. Marvel.

The character is part of the company's recent efforts to better reflect the diversity of its readership within its storylines.

The first issue of the rebooted series, which debuts in stores today, was written by noted graphic novelist G. Willow Wilson and illustrated by Toronto artist Adrian Alphona.

In the revamped, coming-of-age focused series, Khan inherits the Ms. Marvel alias from her predecessor Carol Danvers: a tall, busty, blonde U.S. Air Force officer who gained superhuman abilities after being caught in an alien explosion. In recent Marvel storylines, the Danvers character has since taken on the mantle of Captain Marvel.

Khan is depicted as a modestly dressed, slightly nerdy 16-year-old living in New Jersey with her parents — immigrants from Pakistan — and her conservative older brother.

Wilson, who worked with Muslim-American editor Sana Amanat on creating Khan, has said she wanted to write a character to whom real people, especially young women, could relate — a difficult and complex task.

"Because there are so few characters like this one, everybody wants to see their own particular point of view represented in that character," she said in a recent interview with CBC Radio's Q cultural affairs show.

source

Who picked it up?