These Cutie Wolves Invite You In !!
The Miami Heat Wore Terrifying Halloween Costumes To Dinner In New York
They've gone through most of the NBA like a buzzsaw, but seeing the Miami Heat dressed like people you least want to meet in a dark alley is still a freshly terrifying sight.
On Halloween night, the "Heatles," as they call themselves, hit up a New York City restaurant dressed like monsters, murderers, and dark comic book characters including Hellboy, Michael Myers, the Scream killer, and The Joker.
Can you guess who your favorite ballers are? Shane Battier is an obvious Batman (duh), and we know LeBron is straight out of Friday the 13th. Take a stab at the rest -- before they get you first!
What The Mavs say
Boston unveils statue of Celtics great Bill Russell
It's a day to honor another of Boston's greatest sports champions.
Former Celtics star Bill Russell watched the unveiling of his statue Friday at City Hall Plaza. Team owners, NBA Commissioner David Stern, Gov. Deval Patrick and Mayor Thomas Menino were there, along with NBA greats Bill Walton, Charles Barkley and Julius Erving.
Russell played center from 1956 to 1969, also serving as player-coach for three seasons. During those years, the Celtics won 11 NBA titles.
Russell was inducted into the Basketball Hall of Fame in 1975. Some believe the Boston honor was long overdue.
President Barack Obama awarded Russell a Presidential Medal of Freedom in 2011. Obama got a sneak preview of the statue by a local artist during the president's Boston visit Wednesday.
Dwayne Johnson to Lead SEAL Team 666
The Rock is cookin' up some demon battles.
by Max Nicholson
November 6, 2013
Submit Tweet Share +1 Share
Dwayne Johnson is now attached to star in MGM's actioner SEAL Team 666, based on the book by Weston Ochse.
According to The Hollywood Reporter, the story centers on "an elite group of Navy SEALS who battle demons and assorted threats and discover that there's a greater supernatural force bent on destroying the world." Evan Spiliotopoulos, who penned MGM and Johnson's upcoming Hercules movie, adapted the screenplay.
Johnson will produce the feature alongside Dany Garcia and Hiram Garcia, as well as Brendan Deneen and Peter Joseph of Macmillan Films. Currently, the studio has no director in place.
Johnson recently wrapped shooting on Hercules 3D, directed by Brett Ratner. That film is slated for a July 25, 2014 release. The actor has now moved on to filming Fast & Furious 7.
World Championship Match Confirmed for WWE Survivor Series PPV; Updated Match Card Following This Week's Smackdown *Spoilers*
John Cena vs. Alberto del Rio in a World Heavyweight Championship rematch has been confimed for this month's Survivor Series pay-per-view. Cena defeated del Rio to win the title at Hell in a Cell, coming off two months away from the ring. Vickie Guerrero made the match official on this week's WWE Smackdown.
Cena-ADR is added to the already announced WWE Championship match between Big Show and title holder Randy Orton. That match was made this week on Monday Night Raw, in a settlement between Show and WWE COO Triple H.
Ryan Lochte's father: Surgery probable on son's torn ligament
Ryan Lochte swims the breaststroke in the men's 200m individual medley semifinal at the FINA Swimming World Championships in Barcelona, Spain, in July.
Associated Press / Michael Sohn
Staff reports
Published: Wednesday, November 6, 2013 at 8:05 a.m.
Last Modified: Wednesday, November 6, 2013 at 8:04 p.m.
Ryan Lochte is still waiting to get a second opinion on his injured knee and could be facing surgery to repair a torn ligament, his father said.
Lochte, 29, an 11-time Olympic medalist, tore the medial collateral ligament and sprained the anterior cruciate ligament in his left knee this past weekend after an encounter in Gainesville with an enthusiastic teenage fan, his publicist said.
"We'll have to see what the doctor says," Steve Lochte said in a phone interview early Wednesday. "But the consensus is to go ahead and get the MCL repaired, instead of eight weeks of rehab. Ryan can't go without repairing the MCL. It will affect his breaststroke kick."
Later Wednesday, Steve Lochte, the head coach of Daytona Beach Swimming, said Ryan's MRIs were shipped out to "two or three doctors to get an evaluation.'' He said they hope to receive an answer and make a decision Thursday.
"If you tear an MCL, you need to get it taken care of and then go back to your rehab, so you're not wasting time,'' Steve Lochte said. "Arthroscopically you go in and get it done in one day.''
Steve Lochte said he expects his son to just rebuild the strength in the ACL, since it was not torn.
Ryan Lochte was scheduled to represent the U.S. in the Duel in the Pool competition in Scotland on Dec. 20-21.
"Ryan is OK. He's fine," Steve Lochte said. "But he just needs to plan on staying out of the pool until January."
Lochte, a Spruce Creek High graduate who has been training in Charlotte, N.C., was visiting his brother, Devon, in Gainesville this past weekend when an excited fan recognized him, his sister, Kristin Lochte-Keeler, said.
"A fan jumped on him, and he already has a bad knee and that knee buckled,'' said Lochte-Keeler, who is also a coach with Daytona Beach Swimming.
The teenage girl ran at Lochte, who tried to catch her, but the two fell over in the process, his publicist, Janice Lee, said in a statement.
Lochte, a 2002 Creek grad who went on to become an All-American at the University of Florida, has competed in three Olympic Games, winning five gold medals. He is the current world-record holder in the 200-meter individual medley and also owns world marks in several short-course events.
Lochte has been training for the 2016 Olympics in Rio de Janeiro.
Gearing Up For The Winter Olympics In Saratoga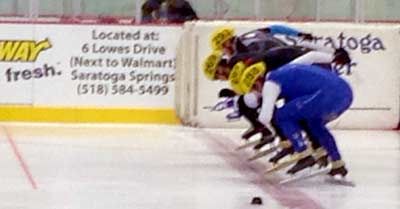 What's New in Saratoga
By Destiny Malone on November 6, 2013 6:57 AM
This past weekend, Saratoga played host to Winter Olympics hopefuls as some of the top speedskaters in the country competed in the American Cup Short Track Speedskating Championship at the Saratoga Winter Club on Weibel Ave.
The event was held in preparation for the US Speedskating Olympic Trials, which will be held in Salt Lake City, Utah around the holidays. The best of the best will then move on to Team USA to compete for those prized medals in the 2014 Olympic Winter Games!
This year, however, the Olympic speedskater who holds the unofficial title of "most medaled U.S. athlete at the Winter Games" has announced he will not be competing.
According to TeamUSA.org, "For the first time since 1998, the U.S. Speedskating Team will arrive at an Olympic Winter Games without Apolo Anton Ohno. An eight-time Olympic medalist... Ohno plans to work for NBC at the Sochi Games. Ohno won two gold, two silver and four bronze medals in three Winter Games, including one silver and two bronze in Vancouver."
Ohno will be missed, but this provides an opportunity for another speedskater to fill his skates! This past weekend, the Saratoga Winter Club was alive with anticipation and determination. These athletes are in it to win it. Seeing them race across the ice got our heart rates up just watching! Witnessing those speedy muscle machines racing side by side was akin to being at Saratoga Race Track... only colder! It certainly got us excited for the Winter Games.
The Winter Olympics will be held Feb 7-23, 2014 in Sochi, Russia.
Were you at the Weibel Ave ice rink watching the races this past weekend? Does this news get you excited for the Winter Olympics? Tell us your favorite Olympic Games to watch!
Dustin Pedroia Says Jacoby Ellsbury's Text Message Inspired Him to Play Through Thumb Injury
One exchange of text messages truly personifies the 2013 Red Sox. Dustin Pedroia, who is expected to undergo offseason thumb surgery, played all season with a torn ulnar collateral ligament. It was the ultimate display of grit by Boston's energetic second baseman, and according to Pedroia, a text message from teammate Jacoby Ellsbury helped inspire him to play through the pain. Pedroia suffered his thumb injury on Opening Day while diving headfirst into first base. At that point, surgery seemed likely. According to ESPN.com's Jackie MacMullan, Pedroia began mentally preparing for an operation, a cast and weeks watching from the dugout. A brief exchange between Pedroia and Ellsbury changed everything, though, and the second baseman ultimately decided to gut it out for the remainder of the season. "We had a day off and I got checked out and then I got this news," Pedroia reportedly said. "I'm driving home and I'm just sick about it.
Then I get this text from Jacoby.
He says, 'Are you OK?' "I tell him, 'I've torn the ligaments in my thumb. I might need surgery.' He comes back with, 'Is there any way you can play through it? We need you.'" Anyone who has seen Pedroia play knows that he doesn't need any extra motivation. He goes full-throttle every time he steps foot onto the field, and if he's able to physically play, you can rest assured that he wants his name penciled into the starting lineup. But, as MacMullan reports, Ellsbury's text message really struck a chord inside of Boston's catalyst. "Jacoby hasn't said something like that to me in seven years we've been together," Pedroia reportedly said. "I looked at [my wife] Kelly, and I told her about Jacoby's text. Then I said, 'I gotta play with this. He would do it for me. All the guys would. I have to do it for them.'"
Sure enough, Pedroia played in 160 regular-season games and all 16 of Boston's playoff games despite the thumb injury, which he'll now have repaired this winter. The 30-year-old's power was somewhat limited, but he was otherwise the same fiery competitor and productive player that he's always been. Pedroia, who ended the playoffs without a single home run, even thinks that two long fly balls — one versus Max Scherzer in Game 6 of the ALCS and one versus Michael Wacha in Game 6 of the World Series — would have had different fates had it not been for his ailment. "I couldn't follow through with my swing because of my thumb," Pedroia reportedly said. "That's why I was hooking the ball. If I'm healthy, both of those balls probably stay fair." Perhaps Pedroia is right. Maybe he would have ended the postseason with a couple of homers had it not been for his ailing thumb. Who knows? It doesn't really matter. What matters is that Pedroia left it all on the field in 2013, as did Ellsbury, and the Red Sox are champions because of it.
Source
1
2
3
4
5
6
Roman fell on his ass :(
Thank you
phillymademe