Kevin Love and Durant commit to Team USA
AS VEGAS – The Kevins – Love and Durant – delivered the news USA Basketball wanted and needed to hear on Wednesday.

Both will play in next summer's FIBA Basketball World Cup in Spain, giving the U.S. a boost in talent and experience as it goes for its fourth consecutive major international championship.

"For these veterans – although they are not old guys yet – to make that commitment is a huge step," U.S. coach Mike Krzyzewski said. "You have gold-medal winners in two events. Both of them were 21-year-old guys when we won in Istanbul (at the 2010 FIBA World Championship) and then at 23, they won gold medals (at the 2012 London Olympic Games). They are now part of the leadership of our program and they've been committed."

USA: Pistons teammates battling for position

COUSINS: Hoping to grow into Olympian

USA Basketball had expected Love to play in Spain, but chairman Jerry Colangelo and Krzyzewski were not sure about Durant, who played in the 2010 world championship and 2012 London Olympics. It would have been acceptable had Durant decided not to play.

"It's USA. That's it," Durant told USA TODAY Sports. "To play amongst the world and travel throughout this beautiful world and play basketball, you can't beat that. It's a great opportunity."

Getting the commitment from Durant is huge for the U.S., which will have a mix of 2012 Olympians and players with little international experience on the team. Plus, the U.S. must contend with Spain on Spain's turf.

"It's going to be hard," Durant said. "But we beat Turkey in Turkey in 2010. We know what it takes."

Durant's ability to score from anywhere on the court – especially at the international three-point line – provides the U.S. with an offensive threat that sorely would have been missing had Durant not committed. Love, whose game translates well in international play, provides an inside-outside threat, and is relentless on the boards.

Durant, Love and Coach K discuss Team USA

Love echoed the message Colangelo has delivered to players skeptical of spending a significant portion of their offseason with Team USA: it makes them better players.

"Being a part of USA Basketball has meant a lot for my career," Love said.

Colangelo had high praise for Durant.

"It's perfect timing for us. We've said this before, with all due credit to all of our guys, he's kind of the face of USA Basketball going forward," Colangelo said. "He committed a long time ago, and it's part of who he is.

Said Durant: "I try to not look at myself as the face because there are so many great guys. I appreciate him for saying that, but it's more of a team effort for me."

MORE: Team USA deep at point guard

Colangelo and Krzyzewski were not soliciting early commitments from 2012 Olympians, but Durant and Love flew to Las Vegas to let them know in person. They got the word Tuesday evening.

"Kevin said, 'Coach, I wanted to come here and look you in the eye and tell you that I'm doing it,' " Krzyzewski said. "I get chills just thinking about a guy of his stature and the accomplishments of these two guys to come here. It shows you what they think of the program and the people involved."

Durant, who just loves to play no matter the venue, had his mind set on playing after last year's Olympics.

"As long as I'm healthy, I'm going to play," Durant said, in between taking shots on the court. "I knew last summer I would play next summer. It was just a matter of me telling coach. I could've stretched it and told him in January or February, but they don't deserve to wait that long. I owe them more than that. I want to let them know early so they can get working on other guys."

Now, Durant is focused on making sure two more 2012 Olympians play next summer: James Harden and Russell Westbrook.

Durant's recruiting pitch? "It's kind of easy, "Do you want to play for your country and win a gold medal?"


Chris Paul Re-Considers Playing for Team USA in 2016 Olympics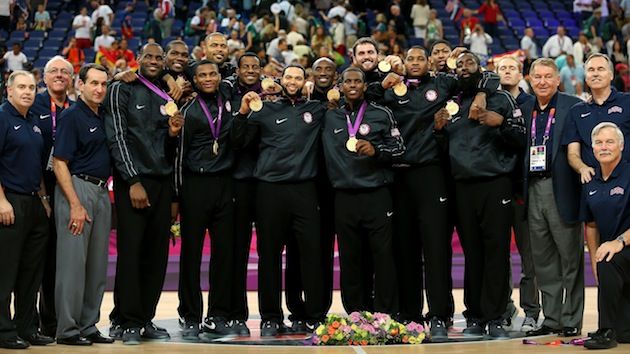 LA Clippers superstar point guard Chris Paul hooped in the 2008 and 2012 Olympics, but he was ready to walk away from the Team USA program before the 2016 Games. Team USA head coach Mike Krzyzewski has CP3 thinking twice now. Per ESPN: "If it had been another coach than Coach K, I was prepared to be done,' Paul said. Paul will be 31 when the 2016 Olympics, which will be held in Rio de Janeiro, Brazil, take place. He will still likely be a major piece for the team, despite a strong crop of young and talented point guards that includes Derrick Rose, Kyrie Irving, Russell Westbrook and Stephen Curry. Paul was in Las Vegas coaching his CP3 All-Stars summer league program this week shortly after returning from a trip to China with teammate Blake Griffin and New York Knicks star Carmelo Anthony. Paul also watched the Team USA intrasquad scrimmage in Las Vegas Thursday night, which featured nearly 30 of the top young NBA players. Paul admitted there were times when he and Griffin weren't on the same page last season, but said the trip gave the pair an opportunity to bond. 'We talked about everything,' Paul said. 'We talked more than we ever have. As we get more familiar with one another, we get more comfortable. Last year we had our moments, but we're both very competitive and just want to win.'"


Nathan Adrian, Jimmy Feigen Light Up 100 Free Semis With USA 1-2

FINA World Championships editorial coverage is proudly sponsored by SpeedoUSA. For all the latest coverage, check out our event coverage page.

BARCELONA, Spain, July 31. AFTER a morning that injected a bit of concern into the hearts of the American fans, Nathan Adrian and Jimmy Feigen let the world know that they were keeping their powder dry with a 1-2 finish in the men's 100-meter freestyle semifinals at the FINA World Championships.

Adrian, who is looking to become the first man since Alexander Popov backed up Olympic gold with a world championship twice in the 90s, clocked a 47.95 this evening to counter the 47.71 offered up by Australian rival James Magnussen this morning. Adrian's time moved him to third in the world this year, as the Olympic champ bounced back from a surprising 12th-ranked time of 48.93 this morning. Adrian is also recovering from an illness earlier this week that led to an unfortunate vomiting situation during the medal ceremony for the men's 400-meter freestyle relay.


Feigen, meanwhile, nearly broke 47 himself with a strong 48.07 to top the second semifinal of the night. That puts him fifth in the world this year as he could be looking at a medal during the finale. The last time the U.S. placed a pair of swimmers on the podium in the men's 100-meter freestyle was 1986 when Matt Biondi (48.94) and Tom Jager (49.79) finished 1-3 that year with France's Stephane Caron taking silver in 49.73.

The time should provide Feigen a confidence boost after he had Jeremy Stravius overhaul him on the anchor leg as France downed the U.S. in the men's 400-meter free relay on night one.

Brazil's Marcelo Chierighini, coming off a strong outing at the NCAA Championships this year, qualified third in 48.11, while Magnussen matched Russia's Vlad Morozov with 48.20s as the duo eased into finals.

France's Fabien Gilot (48.21), Australia's Cameron McEvoy (48.43) Italy's Luca Dotto (48.46) rounded out the rest of the championship finale, in what should be an exciting finish tomorrow night.


Ryan Lochte heads into 200-Meter IM final as top seed; World Championships day four recap


BARCELONA, Spain - Ryan Lochte sent a message to the 200-meter individual medley field by claiming the top seed in tomorrow night's finals with a blistering mark of 1:57.07. With a silver medal and a fourth place finish to show after two events at the 15th FINA World Championships in Barcelona, Spain, Lochte, the 2011 World Champion and world record holder in the event (1:54.00), has his eyes set on capturing his 13th World Championship gold medal.

After cruising to the fifth fastest swim in prelims (1:58.46), Lochte left no doubt in the semi-finals that he is the man to beat. Lochte's teammate and yesterday's 200 free silver medal winner, Conor Dwyer, narrowly missed joining Lochte in the finals after posting a time of 1:58.06 in the semi-final and settled for 10th. Dwyer's individual meet is complete after a stellar come from behind medal performance on the third day of competition.

Melani Costa-Schmid (Spain) ended her 200 free run in fifth place with a time of 1:57.04. Costa-Schmid set the Spanish record (1:56.19) in the event in the semi-final round.

Jemma Lowe (Great Britain) qualified for the 200 butterfly semi-finals after posting a swim of 2:10.21 in prelims. In the semi-finals, Lowe dropped significant time (2:08.53) but could not crack the top-eight and placed 13th overall.

Freshman Sinead Russell (Burlington, Ontario, Canada) continues to grow and develop on the international level after finishing 14th in the 50 backstroke with a time of 28.35. The seven-time All-American and 2012 Olympian improved from her prelim swim of 28.60 and will next compete in the 200 back.

In tomorrow's morning session, Lochte will swim the 200 back, Costa-Schmid will take part in her country's 4X200 free relay and Hilda Luthersdottir (Hafnarfjordur, Iceland) will compete in the 200 breast.

Morning heats begin at 10 a.m. (Central European Time) or 4 a.m. (ET). Semi-finals and finals will start at 6 p.m. (CET) or 12 p.m. (ET).

Universal Sports Network and NBC are currently airing 70 hours of premier pool action during the course of the week


Gabby Douglas Continues to Show Why She's an All-Around Star
.


U.S. women's Olympic gymnast Gabby Douglas is an all-around star, whether it be winning gold medals or helping the community.

The 17-year-old became the first American gymnast ever to win the gold medal in both the team all-around and individual all-around competitions in the same Olympics in London in 2012. She was the second-youngest American ever to win the individual all-around event (16 years, 215 days).

The Virginia native has looked at the big picture after her success at the London Olympics. According to Nancy Armour of the Associated Press, via NorthJersey.com, Douglas will be an athlete ambassador in the new partnership between USA Gymnastics and Right to Play.

Right to Play has used sports and programs to improve the health and teach life skills to disadvantaged children in more than 20 countries. Now, with the help of USA Gymnastics, the United States will join that list of countries.

As Armour's report notes, childhood obesity has tripled in the past 30 years, according to the Centers for Disease Control. It is the partnership's aim to reverse the trend and give children an accessible outlet to stay healthy.

Douglas said, via the report:

It was a struggle for me growing up. Gymnastics and sports are really expensive. If I didn't receive grants and people helping me get to my dream, I would never have got to the Olympics.

Hi-res-149695460_crop_exact Ronald Martinez/Getty Images

At just 17 years of age, Douglas understands more than a lot of athletes in their 30s. She understands that she can use her stature and popularity for good, helping those less fortunate than her to pave a road to success. It shows what kind of person she is, and it shows she has already developed into a role model for young, aspiring children.

Douglas, who said she will be participating in the 2016 Olympics in Rio in an interview with Anna Lanfreschi of HLNTV.com, wasn't required to do any of this. But it's no wonder why people fell in love with her during her gold medal run, given her upbeat, positive personality.

So many athletes in a variety of sports fail to recognize the positive impact they can have not only on the youth, but also on society. Fame gets to their heads, or they become too distracted, or they simply don't think about it.

But Douglas is showing how it should be done. Remarkable that it sometimes takes a 17-year-old to remind the world.



Hamill: Mets star David Wright does the 'Wright Thing,' honors heroes of Hurricane Sandy


David Wright visited PS 38 on Staten Island and met children and families displaced by Superstorm Sandy. 'It was heartbreaking,' the Met star says. His The Wright Thing program honors heroes of Sandy.

Honor the heroes of Sandy.

That's the basic theme of The Wright Thing, a program set up by Mets All-Star third baseman David Wright after he visited neighborhoods ravaged by the hurricane.

"After the storm, I visited PS 38 in Staten Island and met a lot of the kids who were displaced and impacted by Sandy," Wright said. "It was heartbreaking. New York is my second home, a city that's been very good to me, and so when I visited some of the neighborhoods that were destroyed by Sandy, my heart went out to these people."

But he was encouraged that a lot of good people, real heroes, had stepped up to the plate.
The Wright Thing recognizes heroes such as Tommy Woods, who jumped into action to save his family and neighbors when Hurricane Sandy ravaged his Queens neighborhood.
Joel Cairo for New York Daily News

The Wright Thing recognizes heroes such as Tommy Woods, who jumped into action to save his family and neighbors when Hurricane Sandy ravaged his Queens neighborhood.

RELATED: SANDY ACTIVIST HONORED BY WHITE HOUSE

"So many people did great things during and after the storm," said Wright, who donated $250,000 to the Mayor's Fund to Advance New York City to aid in Sandy relief. "We wanted to honor some of them in some small way, let them at least know that we don't forget once the storm is over."

One hero is an off-duty FDNY firefighter named Tommy Woods of Belle Harbor, Queens, whose story I told in this space right after the storm.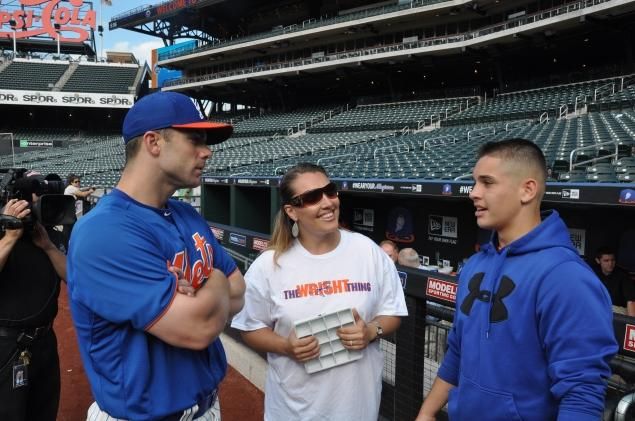 That awful night, Sandy's floodwaters surged and fires swept through the homes on Woods' block of 130th St. His own home ignited. Neighbors retreated to top floors as the floodwaters rose and flames hopscotched from one house to another in the 80 mph winds until 25 homes were ablaze.

Wright considers New York his second home, and donated $250,000 to Sandy relief.


As his own home burned, Woods donned a wet suit, grabbed a surfboard, strapped his 82-year-old mother to it and steered her five surging, wind-tossed blocks, past floating cars, downed power poles and toppled trees to his brother's house.



Then he and his son Brendan, 14, jumped in a kayak and returned to his flame-engulfed block, where, with the help of other firefighter neighbors, they evacuated 25 other stranded neighbors, including a woman in a wheelchair, to Woods' brother's house.

The FDNY awarded Tommy Woods the James Gordon Bennett Medal, the highest award in the department and the first one ever given for off-duty bravery.

Elaine Wepa Gil (center), another hero recognized by The Wright Thing, visits David Wright at Citi Field with her son Mateo. 'It wasn't just a meet-and-greet photo op,' Gil says.

Now The Wright Thing is doing the right thing by honoring Woods and his family at Citi Field on Aug. 21, where they'll meet the player, install third base before the game and be introduced to the crowd on the big Citi Vision screen.

"We're Mets fans and David Wright fans so it's a thrill," Woods said. "It's tremendous that a superstar like Wright actually has his heart in the right place. He's bringing a whole bunch of people out on different days to honor the great things they did for Sandy relief."



Another is Elaine Wepa Gil, a Zumba instructor and owner of Bubbles Playhouse for kids on Staten Island. The day after Sandy, Gil showed up at the Petrides High School hurricane shelter, which housed 900 displaced storm victims, including 200 children. Dressed in a costume, Gil entertained the kids and coordinated a Halloween party and parade that kept their minds off the horrors of the storm.

Though the superstorm 'has receded from the lead story in the media,' Wright still wants to meet Sandy heroes and have a chance to thank them.


With her husband, Israel, Gil organized a volunteer outreach program, going into the storm-ripped neighborhoods of Staten Island. "We showed up in buildings that looked unlivable and found people inside cold and hungry," she said.

Gil turned the basement of her Zumba studio into a donation center, where she collected and then distributed warm coats and vital supplies for the homeless and displaced. She also organized a Zumbathon fund-raiser.

Wright brought Gil and her family and friends out to Citi Field a couple of weeks back.

"It wasn't just a meet-and-greet photo op," Gil says. "David sat talking with us before the game for a long time, asking us all about Sandy. My son Mateo is 14, a big David Wright fan and an athlete. David gave him all kinds of advice, especially that the day you don't feel like working out is the day you work twice as hard. He was as interested in us as we were in him. He was a very humble, very gracious man. I was amazed that he'd even invited us."

"Elaine is exactly the kind of person we want to honor with The Wright Thing," Wright says, "people who just gave their time, energy, their hearts and their all to storm victims. I wanted to hear her story. I know the storm has receded from the lead story in the media. But we want to honor people like Tommy and Elaine. To say we haven't forgotten. Mostly I want to meet these heroes so I can have the chance to say, 'Thank you.'"



You, too.




ABC: Hope Solo here to win, not make friends


ABC's "Nightline" has discovered women's soccer in general and Hope Solo in particular.

The show's conclusion, which will air Friday night, is that the women have gone all bad girl to get recognition.

You've got Hope Solo getting naked in ESPN The Magazine's "Body Issue" and Alex Morgan in body paint for the swimsuit edition of Sports Illustrated.

Then there are the comments, the celebrations of goals.

Frankly, if these women played in the NBA or the NFL, you would be struck by their sportsmanship.

The show is interested in Solo and her "sexy bad girl image."

Solo told ABC that she is no phony.

Here's more:

"You know what, I'm not trying to be friends with anybody, I'm here to win,'" she said.

Although being typecast as the mean girl hasn't been easy for Solo, it has paid off in boosting her star status.

"Everything I do, I play to win, and I speak the truth, and people either love me or they hate me," she said.

The show is a Seattle-centric thing.

Megan Rapinoe, like Solo a member of the Seattle Reign, talks about U.S. women's soccer changing the "blond ponytail" image.

Sydney Leroux, who once played for the Seattle Sounders Women and also did the "Body Issue," defends her celebration of a goal against Canada in Canada in June.

The goal is apparently a big deal because Leroux was born in Canada and celebrated by kissing the US crest on her jersey, then putting her fingers to her lips to quiet the crowd. Oh, the horror.

Take a look:



And, of course, there's Alex Morgan, also once with Seattle Sounders Women and now with the Portland professional team.

Here's more Hope Solo:


AJ Lee Will Lead a New Divas Revolution in WWE



Crazy has never been more sexy cool in WWE.

Reigning Divas Champion AJ Lee has all of the spotlight on herself as of late and has been the most interesting part of her division for the past year or so.

There honestly has been quite the change with the ladies of WWE as of late. A new TV show, Stephanie McMahon taking control and the NXT women led by Sara Del Rey...things are definitely looking up.

Do you believe AJ has the power to lead a new revolution in the Divas division?
Yes, she is terrific! No, she is just warming up the seat for someone better She will contend with Stephanie McMahon for total control Submit Vote vote to see results

Who is more fit to lead them into the future than AJ?

No one. Not right now anyway.

This girl has the look, the ring skills and that all-important mic skill that seems to be rarer than gold.

Though she is cute when she plays the good girl, most fans dig the crazy chick inside. It worked for Mickie James and obviously works for AJ Lee.

A revolution is coming, the big turnaround everyone has been waiting for, and this little psycho will be in the driver's seat.

For too long these women have been the laughingstock of the entire WWE universe. So much potential ruined by bad writing and cowardice. That time is past, and now a new era in women's wrestling is about to begin.

AJ along with Kaitlyn come from NXT. Paige, Summer Rae and Sara Del Rey are in NXT right this minute. So much potential there.

The entire world will get some sort of new vision on things once that reality show starts, and if luck will have it, other wonderful talent may soon see the beacon and answer the call.

Imagine a division comprising of women like AJ, Sara Del Rey, Paige, The Bellas, Natalya and eventually Angelina Love and a returning Kharma (it's only a matter of time.)

These are but a handful of names, but with all of her talent, the little she-devil AJ may defeat them all and establish herself as one of the greatest performers of her time, maybe even of all time.

Pussycat Dolls are a thing of the past. Fans don't want to loosen up some buttons, they want to see real action. Kicks, punches, top-rope splashes and steel cage matches.

Who will unseat AJ as Divas Champion
Kaitlyn Natalya Paige The Bellas Kharma Submit Vote vote to see results

Give them a chance and they will surpass all expectations.

When it comes to AJ Lee, it is quite remarkable to see an innocent-looking woman garner so much attention and become an instant success.

Being a star seems to feel natural to her. Watching her on screen is far from being boring or irritating because she is that good at making people either love or hate her.

Not everyone can do that.

Watch for this girl to get a real feud in coming months.

On one side, she will not stay with Dolph Ziggler for very long; the guy is now turning "face," and AJ is not a good girl at all.

Explosions and fireworks are in the forecast.

Natalya is set to fight her on SmackDown this week. If she wins, this may be the start of a series of excellent matches.

For certain there are many out there looking forward to an AJ Lee vs. Natalya Divas Championship feud.

That title will finally start to mean something again.

Until then, all hopes and dreams for the Divas division rest with AJ at the moment.

Lots of pressure, no doubt, but she will rise above and meet this challenge head on.

Go on, girl, the world is your oyster.

Source 1 2 3 4 5 6 7 8



YOU GUYS IT'S ALREADY BEEN A YEAR SINCE OUR EPIC FFAO ;__; this post is dedicated to
brandon198403
and
ectypes