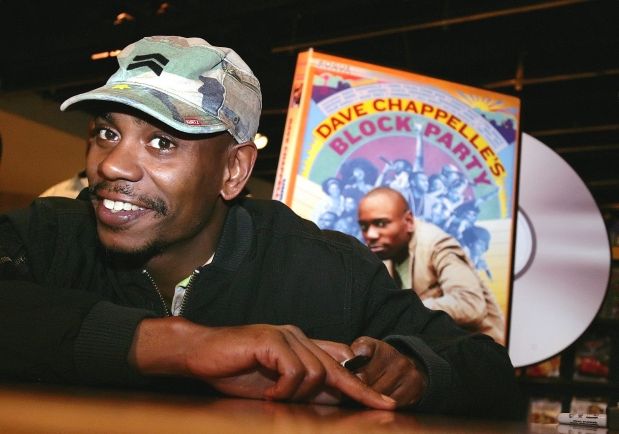 MONTREAL — Dave Chappelle, the comic many believe to be the best on the planet, is coming to the Just for Laughs festival for a solo show, July 24 at 9:30 p.m. at Théâtre Maisonneuve in Place des Arts.

While Chappelle's booking will come as great news to comedy aficionados, it will also represent something of a dilemma. Chappelle will be going head-to-head against another two of the festival's major acquisitions: Seth Meyers, who will be hosting a 10 p.m. gala at Salle Wilfrid Pelletier that evening, and Amy Schumer, who will be doing her solo show at Metropolis at 9:30 p.m.

Decisions, decisions. However, there is already some speculation that the Chappelle show will sell out so quickly that one or more could be added. As of Friday night, there had been no official confirmation of this, but if one were a betting person ... (They added 9 other shows)

Regardless, when Dave Chappelle comes knocking, no comedy programmer can say no. And Just for Laughs programmer Robbie Praw didn't.

"We've been trying to get Dave Chappelle for the last decade, since he was last at the festival in 2000," Praw said Friday night. "In the entire comedy business, he is the biggest person around. He is one of the most cutting-edge figures of our times, who happens to be a comedian and who has influenced a generation of fans, comedians and artists of every discipline."

Praw started up the conversation with Chappelle's people a few weeks ago, but it intensified over the last couple of days. He had even been negotiating outside Club Soda on Thursday night, while the Ethnic Show was taking place inside.

"We had been telling Chappelle's representatives for years that all he had to do was show up at the festival and we would find him a venue," Praw said. "Honestly, there is nobody in the comedy world we have been trying harder to get. We're so unbelievably proud that we can finally bring him back. He is truly one of the biggest geniuses of our generation."

Chappelle's retirement was short-lived, but he has performed sporadically and unpredictably — though no less effectively — in the ensuing years, thus heightening demand for him.


I am so happy I will finally see him! I fought hard to get tickets. Anyone else going?


SOURCE