We recently heard some exciting news , that's right The Simpsons and Family Guy will join forces in the fall of 2014 . The two series have been head to head for quite sometime and we will finally see the characters interact with one another. In celebration of this occasion lets take a moment and celebrate some memorable crossovers and collaborations in animation ,music , television , and video games that really stood out .


Animation
Cartoon All-Stars to the Rescue
Year : 1990

This drug prevention special featured pretty much every popular saturday/sunday/weekday cartoon character you could imagine in the late 80s - early 90s joining forces to help teenage Michael say no to drugs and alcohol


Captain N: The Game Master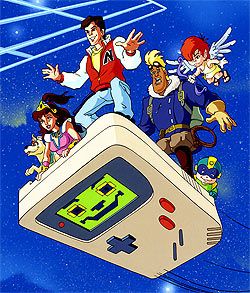 Year : 1989


This story originated from Nintendo Power magazine and was given a series soon after . It featured a boy named Kevin traveling with his dog and meeting with famous videogame characters such as Mega Man , Kid Icarus , and Simon Belmont.
I guess that gamers were not as elitist as they are today because this series had some bizarre ass character designs to the point where you can't really recognize any of them :/ but it served it's purpose to help market the Nintendo Entertainment System and entertain gamer kiddies for 34 episodes.

Space Jam
Year : 1996



In what world could you ever imagine the NBA'S GOAT and Bugs Bunny being chummy ? A very random collaboration but it worked out so well and still holds up in the year 2013.



Who Framed Roger Rabbit
Year : 1988

A crossover between live action and animation , Who Framed Roger Rabbit would probably be considered the " It's A Mad Mad Mad Mad World " of the cartoon world ... or something along those lines. From Betty Boop to Bugs Bunny , from Donald to Daffy , this film is what a fanboys dreams are made of and it is truly classic.
Comic Books
Archie Meets Glee

Year : 2013

The folks from Riverdale get caught in some confusion with that one Glee club thanks to Dilton Doiley.
DC vs. Marvel

Year : 1996

Two brothers who personify the DC and Marvel Universes become aware of the other's existence, and challenge one another to a series of duels involving each universe's respective superheroes. The losing universe would cease to exist. The story had an "out of universe" component in that, although there were eleven primary battles, five outcomes were determined by fan vote

Worlds Collide: Sonic and Mega Man


Year : 2013

Archie comics who have published the Sonic comic books for about 20 years acquired the rights to adapt the Blue Bomber. It didn't take long for Capcom , Sega , and Archie to join forces and have two of the most iconic ( and very blue ) video game mascots of all time crossover for the first time since that one time in an old EGM magazine ( I wanna say it was EGM ) let's hope that Nintendo is nice to us and brings Sonic back so that we can have the holy trinity in the upcoming Super Smash Brothers.



Music




Black Republican - Nas and Jay-Z

Year : 2010


The Boy Is Mine - Brandy and Monica


Year : 1998

Not Tonight ( Ladies Night ) - Lil Kim , Angie Martinez , Missy Elliot , Left Eye , and Da Brat


Year : 1997

Scream - Michael and Janet Jackson


Year : 1995

Telephone - Beyonce and Lady Gaga



When You Believe - Mariah Carey and Whitney Houston


Year : 1998

Walk This Way - Aerosmith and Run DMC


Years : 1976 / 1985

We Are The World - USA For Africa

Year : 1985

Television

Cheers/St. Elsewhere

Batman / Green Hornet

Boy Meets World / Sabrina The Teenage Witch



Family Matters / Fresh Prince



Some people do not believe this actually happened because in some of the syndicated versions of Family Matters they cut this scene out , but here is the rare moment when Uncle Phil barges into the Winslow household.


Family Matters / Full House



Fresh Prince / The Jeffersons



Seinfield / Mad About You


Power Rangers / TMNT



I can't recall anybody asking for this , but it was still a great moment in tv history to see the Power Rangers and the Ninja Turtles together.


Video Games

Capcom vs. SNK: Millennium Fight 2000

Year: 2000

Despite the swag jacking and weak attempts at shade throwing , Capcom was feeling charitable and decided to do a few crossover titles with their longtime bitter rivals over at SNK to make the fans happy. It worked out fairly well especially for Capcom since the titles they published sold more than the ones that SNK published.

Kingdom Hearts

Year : 2012

Disney and Square Enix joined forces and created absolute perfection. Cloud Strife and Aladdin in the same game ? sign us up please !!! It has the Disney magic and the flare of Square Enix and this title touches gamer's hearts so much that some even shed a tear once they hear " Dearly Beloved " or " Simple and Clean " . Perfection example of east meeting west and snatching wigs in the process.

Marvel vs Capcom ( series )

Year : 1995

Capcom began a partnership with Marvel in the early 90s and halfway through they finally go the go ahead and paired Marvel Superheroes with their own and create pure excellence with X-men vs Street Fighter. Many believe that the reason that the Marvel vs Capcom franchise was so successful and beloved was because aside from the characters crossing over Capcom always cared about the quality of their games that were based on comics and cartoons ( see all of their Disney games ) and that appeared to be very uncommon back in the day. Capcom and Marvel spent almost a decade apart but in 2011 they rekindled their relationship and revived the series. The mutual respect each company has for one another is what makes this series so amazing , you have Viewtiful Joe looking up to Captain America and Chun Li joining the X-men ... it's just beautiful.

Super Smash Brothers ( series )

Year : 1999

This Nintendo crossover was originally released in the days of the N64 and doubled it's popularity with it's Gamecube follow up. When the second installment of the series was released for the Gamecube fans were lead to believe that Sonic and Tales would be included in the game but it turned out to be an April Fool's joke which enraged many in the community. However in Super Smash Brothers Brawl gamers rejoiced when Sonic The Hedgehog ( who was Sonic's main competitor in the early 90s and even defeated him in some areas ) was included along with Solid Snake from Metal Gear Solid as playable characters despite being third party characters. Mario and Sonic also went head to head in the Olympic games for the Wii .
The fourth installment of the series was announced at E3 back in June and the first third party character to be revealed was Mega Man who has always been seen as a cousin in regards to Nintendo , will Sonic return to complete the holy trifecta of gaming ? Let's hope ^__^

Source Me + Wikipedia

* I think I left out some stuff so I can make a part 2 ^_^ *