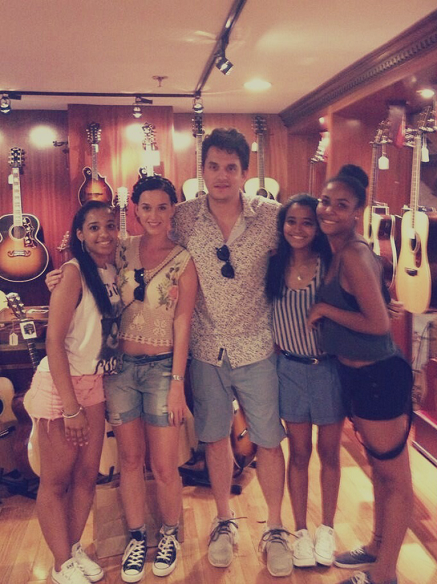 Sure, celebs can sign a fan's guitar, but how many actually buy them one?

"I started crying and screaming. I was the luckiest and happiest person alive," aspiring musician Julie Fermin tells PEOPLE of being gifted a guitar from her idol John Mayer.

Fermin, 16, was browsing the selection at Rudy's Music in New York City Friday when Mayer – who had performed on Today that morning – and his girlfriend Katy Perry entered the shop.

"[My friends and I] started freaking out and getting super excited," Fermin says of happening upon two of her "favorite singers."

Noticing their warm reception, Mayer and Perry greeted their young fans and conversed with them about their love of music – Perry, 28, even complimented and took a photo of one of the girls' earrings, according to Rudy's employee Brad Tertola.

"They treated them so beautifully," Tertola, 36, says of Mayer and Perry's interaction with the teenagers. "They were just so comfortable and sweet and as nice as any couple."

After Mayer, 35, casually asked Fermin how long she'd been playing and to show him which guitar she liked best, he and Perry said their goodbyes.

It wasn't until after the couple left the store that Fermin was told Mayer had purchased the guitar for her on the way out.

"I was so shocked," says Fermin, who first picked up the instrument at age 11. "I cannot describe all the emotions I was feeling at that moment."

The story also touched the store's employees.

"I was so happy about it," says Tertola. "I experienced first-hand the kind of sweet guy John is. He and Katy are just wonderful people."




Source.

That was really sweet. But damn, John looks terrible.