How Serena Williams's Game Is Growing
Serena Williams has raised the bar for her competitors with her skills and willingness to change, adapt and learn new ways to play.
Serena Williams may be the best women's tennis player in history, and she's improving before our very eyes.
Her straight-sets victory over Maria Sharapova for her second title in the French Open (she last won in 2002) signals a renewed commitment for Williams. Her game has grown more nuanced and balanced, and she ran through the field while dropping only one set, to Svetlana Kuznetsova in the quarterfinals.
What was most impressive about Williams was the sheer variety of shots in her arsenal. For years, she won with powerful serving and fearsome ball striking off both sides. It was brutally effective, the tennis equivalent of shock and awe. But her game could implode on the occasional bad day. A year ago at Roland Garros, Williams lost in the first round to Virginie Razzano, beating herself with countless unforced errors. She looked miserable on the red clay, at war with both herself and the humbling surface.
But against Sharapova, a player who looks to take control of the point from the first strike, Williams showed her much improved ground game. Rather than go for a winner on the first or second ball, she used spin and height and change of direction to outmaneuver her taller, less agile opponent.
Williams's magisterial serve was still dominant, and she was not afraid to go toe to toe and slug it out with Sharapova, but what struck me was her willingness to slide and defend, to run wide and play a looping topspin shot to restart the point. She was playing a much more complete game than she did a year ago. Yes, she still ripped winners off both sides, but she also used touch like a seasoned clay courter.
On one point early in the second set, Williams played a feathery forehand drop shot up the line, then closed with perfect timing as Sharapova slid into a backhand chip up the line. Williams anticipated beautifully, then played a lob volley over Sharapova's head. The knowledgeable French crowd murmured appreciatively at the softly devastating shot.
The change in Williams's approach to tennis bodes well for the future of the women's game. She has raised the bar for her competitors, not only with her sublime play, but with her willingness to change, to adapt and learn new ways to play. In the past, I had the sense that Williams chafed at the burden of being so prodigiously talented. The weight of the crushing expectations placed upon her seemed to sap the joy out of the game for her. I think that's why she played a sporadic schedule for a few years.
Tennis was a business, she was darn good at it, but it was also a tough and lonely life. To see her play with a sense of fun and creativity breathes life into the women's game, which has paled in comparison with the men's game in recent years.
Just as Roger Federer lifted the men's game out of its monotonous, power-serving doldrums with his all-court athleticism, daring and artistry, the evolving Serena Williams can raise the level of the women's game to similar heights. But for tennis fans, it's simply wonderful to see her enjoying the game that she's given so much to.
Maurice Cheeks hired to helm Pistons
Former All-Star point guard Maurice Cheeks is getting his third shot as an NBA head coach.
Cheeks, an assistant in Oklahoma City for the past four seasons, on Monday formally agreed to take over as coach of the Detroit Pistons, replacing Lawrence Frank, the team announced Monday.
Glory Behind, Glory Ahead?
Mo Cheeks was hired to do what the last three coaches couldn't. Before 2009-10, the Pistons had appeared in seven straight postseasons, a span in which they had the third-most wins in the NBA and won the title in 2004.
"After spending some time with Maurice, I was very impressed not only with his basketball knowledge but his communication and leadership skills," Pistons owner Tom Gores said in a statement. "We are very excited to have someone of his experience and talent help take this franchise into the future."
ESPN.com reported on June 2 that a third interview in Detroit, after two previous meetings with Gores, appeared to nudge him ahead of co-finalist Nate McMillan.
Cheeks has posted a career mark of 284-286 in stints coaching the Philadelphia 76ers and Portland Trail Blazers, with three first-round playoff exits in his six full seasons as a head coach.
Besides former Portland and Seattle coach McMillan, the Pistons interviewed Atlanta Hawks coach Larry Drew, former Phoenix Suns interim coach Lindsey Hunter, San Antonio Spurs assistant coach Mike Budenholzer, and New York Knicks assistant Darrell Walker.
The Pistons announced in May that former coach Phil Jackson, a longtime friend of Gores, was acting as a consultant during the search. But the hiring of Cheeks came without Jackson's favored candidate -- Indiana Pacers associate head coach Brian Shaw -- ever interviewing for the job.
Allen Iverson -- Ex Wants Him Tossed In Jail Over Unpaid Child Support
Allen Iverson has a date this week with the judge who earlier this year called him a horrible parent ... and seeing as his ex claims he owes $40,000 in child support ... this new hearing will probably go as poorly for Iverson as the last one.
As TMZ first reported, when Iverson's divorce was finalized back in February, the judge in the case tore Iverson's parenting skills a new one ... saying, "He does not know how to manage the children" and he "has been a hindrance to their spiritual and emotional growth and development."
Now TMZ has learned Iverson's ex, Tawanna, has filed docs with the court saying that Iverson has failed to honor the child support agreement that was handed down back in January. The order stated that Iverson was to pay $8,000/month in support for their 5 kids ... but Tawanna claims Iverson has missed every payment he was supposed to make.
The two are set to be in court this week, where Tawanna wants the judge to order Iverson to fork over the $40,000 he owes in support and even suggest the judge lock Iverson up for his actions.
Should be a fun day in court.
Fergie's key
to Becks job
DAVID BECKHAM'S chances of becoming a global ambassador for Manchester United rest with Alex Ferguson.
United's American owners the Glazers hope Becks will help boost the club's already huge profile worldwide.
But he would be working alongside his former boss, so Fergie — who flogged Becks to Real Madrid in 2003 — will be consulted over any decision.
A source said: "The Glazers feel Becks' profile would be a huge benefit to the club."
But if Becks gets this ambassador role he will be answerable to the board — and Sir Alex. "So before the move goes forward Sir Alex will have his say, so that could prove interesting."
Beckham, 38, is weighing up a string of lucrative opportunities after hanging up his boots with Paris Saint-Germain last month.
He has already signed up to Sky TV in a five-year deal said to be worth £20million.
Sports at E3: A Viewer's Guide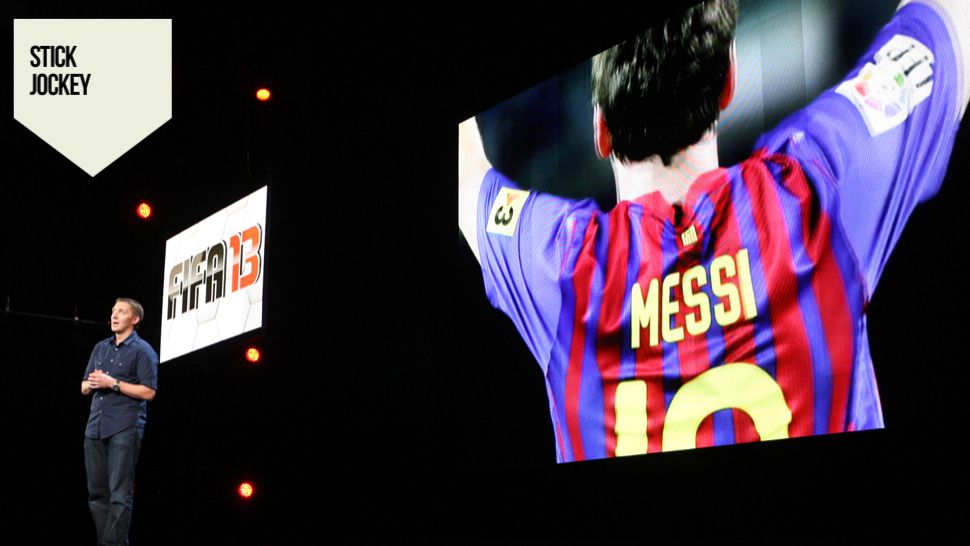 Covering E3 always felt like going to a midlevel bowl game for me. It's a salad of over-produced photo opportunities with big props, costumed actors and nonplussed celebrities, and when you do get one-on-one time with the real players, they're on heavy guard to say nothing but the right things before the big game.
Every time I left Los Angeles, I felt like right as I figured out how to cover the show, the thing was over. The first two days are a track meet of nonstop showcase events from publishers and console makers. The next two days are a marathon of booth tours that, if plotted on a map, your path would look like Billy walking home from school in the Family Circus. A lot of the breaking news of the event ends up being written away from the show floor, anyway. That's for previews and impressions.
I won't be going to E3 this year but I can still keep an eye on it, the same as any other sports fan. We can even watch it together. This is what I'll be looking for from the comfort of my home.
EA Sports
Sports' biggest publishing label usually gets about a 10-minute segment to itself on stage at the Orpheum Theater. (It will be tomorrow from 4 to 5 p.m. You can watch it here.) EA Sports already has sent the message that this E3 will be about Madden, FIFA, NBA Live and its new UFC game. I'm sure NCAA Football and NHL will be playable in the Electronic Arts booth, but as neither will have any presence at the launch of the next-generation consoles, I don't expect to hear much from them. NCAA is basically done, anyway; it ships 32 days after E3 is over.
EA Sports had an outsize presence at the Xbox One's debut today in Washington, peeling the tape off something called the Ignite Engine and… Read…
UFC and NBA Live have the potential to show the most of the new hardware's capabilities. As neither will release before November, they're also the most likely to show little more than pre-rendered footage. A news release said E3 attendees will "experience next generation sports titles in the EA Sports Ignite Lab," referencing the name of the new game engine. That sounds, at best, like a behind-closed-doors hands-off demo to me.
Even hands-on it is hard to form solid impressions of a sports video game under the nonstop din of E3. You almost never see the career mode, something that a supermajority of players—and nearly all of the returning ones—flock to. Granted, we just don't know what next-generation consoles will offer beyond ultra-refined gameplay and more lifelike visuals—no small consideration for those who hate 2D crowds, but is that why you really buy the game?
The bottom line is whatever looks good coming out of EA's news conference, or off the South Hall floor, it's probably going to be shouted down by commenter distrust of the label. Except for FIFA, which is on a four-year stretch of doing no wrong and, in mainstream gamer opinion, seems to live outside the realm of most sports video games.
Related
If It Hasn't Already, EA Sports Should Get Out of the NBA
It's at least a five-day drive from Burnaby, British Columbia to Maitland, Fla.—if you're using Google Maps, that is. I have no idea what… Read…
NBA Live, weirdly enough, could be the surprise of the show. It is, smartly, a next generation-only title and will get some bounce from impressive visuals—and EA Sports, even up to NBA Elite's collapse, could be counted on for solid facial modeling. Nothing could cover up the kind of bird-brained AI seen behind closed doors last year, but if the brand carries baggage, at least it comes to Los Angeles with a totally new version. And, more importantly, critics have no real frame of reference for it, being a next generation release that hasn't appeared on current consoles in three years.
Bigger picture, we still have heard very little about digital distribution on these consoles—other than how they will or won't restrict used game sales or trades. If it's going to be with us the next 10 years, then Xbox One and the PlayStation 4 will have to usher in the era of people buying games from their living room, rather than going to the store.
Wednesday was supposed to be a day of no news in Major League Baseball. There are no league games in January, of course; pitchers and catchers report … Read…
As I've written, this has huge ramifications for annual sports releases and a publisher that has long viewed its software as a service. Some sort of announcement, about subscribing to your favorite EA Sports title, if not more than one, is not out of the question, though it may be too early in either the promotional plan or the consoles' life cycle to start discussing such things.
Finally, EA Sports' deal with the NFL expires at the end of this season. While it seems like the perfect time to announce an extension, doing so on stage is not the NFL's style, and it's nothing you can really hype to a consumer, either. They'd all flock to message boards to say NFL 2K5 is better, anyway. But don't rule it out.
Baseball
Oh, By the Way, Don't Count on a Curtain Call for Video Games' MVP
Getting an Internet signal inside LA's Orpheum Theater is always a crapshoot. For years, it's been both a daydream and a nightmare that… Read…
Baseball titles, which hit shelves the first Tuesday in March, have never had much of a presence at E3. Even though people take it for granted that EA Sports has the money and the interest to redeploy MVP Baseball on the next console generation, don't get your hopes up. Despite my cheerleading and others, which I'm told is very much appreciated, I've been advised EA Sports has nothing to announce about baseball, this console generation or next, at E3.
Xbox One could be in the same situation its older sibling was this time last year—no baseball title for the machine come opening day. It's a question of who loses face more under such a situation—Major League Baseball (with only the PlayStation 3 and, presumably, PS4, as a dancing partner), or Microsoft, whose May 21 showcase had sports tied for first with TV as a console use (with games coming in somewhere around third).
I can't fathom that 2K Sports is actually sinking any secret investment into a next-generation version of the game that made it so unhappy for the past five years. Not after MLB 2K13, which they were happy to self-plagiarize to deliver the first real payday the license had ever shown. Barring something really off-the-wall, like Microsoft building a first-party sports title all along, baseball's absence will linger into the winter, serving as a cautionary tale, if not an embarrassment, to leagues that cut exclusive deals with publishers.
Earlier this week Nintendo said it wouldn't do a pre-conference keynote event at E3, though it'll still have a booth there. 2K Games… Read…
2k Sports
2K Games will have no booth on the E3 show floor this year. Typically it had a low-key presence, giving just a behind-closed-doors, hands-off, unguided preview of NBA 2K that always left me trying to guess what subtle differences they were showcasing. I was real proud of myself for spotting an aiming arc for free throws in NBA 2K12; then they went and scrapped it before the game released.
Solidly established as professional basketball's best player and a mortal lock for the hall of fame, LeBron James, after 10 years as an A-list… Read…
But a curious choice of words from 2K's director of sports operations indicates that NBA 2K14 will have some kind of presence at the event. "We will have some more to see and hear next week at E3," Jason Argent said during a conference call announcing LeBron James as the game's cover star. To me that sounds like a stage appearance with Sony.
FIFA, Madden, NBA Live and UFC will all launch for Xbox One in the next year, Andrew Wilson, EA Sports' head, just said at the Xbox One event.… Read…

Remember these two got together on stage for E3 2011 (during which Kobe Bryant repeatedly ran out of bounds trying to control himself with the PlayStation Move.) With EA Sports getting in bed with Microsoft two weeks ago for the Xbox One reveal, Sony could have gone to NBA 2K to shore up the PlayStation 4's sports cred. They'd be smart to, it's a top-10 seller and a day-and-date launch title for the next generation.
Pro Evolution Soccer won't have Xbox One or PlayStation 4 versions. No surprise there. It won't have a Wii U version. Even less of a… Read…
Though Konami already had a pre-E3 event, Pro Evolution Soccer got a gameplay trailer and little else to expand on the new feature set it announced earlier in the week. PES closes out this console generation with the Fluidity engine, based on the Fox engine driving games like Metal Gear Solid. The game is in the curious position of being a publisher's centerpiece without having any next-generation version. Even if its once-dominant series has been a runner-up for much of this console generation, Konami's looking to close out strong.
Everything Else
MLB The Show will be part of Sony's vanity reel and not much else. If we hear anything about WWE 2K14, it will be in videos, screenshots and social media that 2K Sports releases independent of E3. Drive Club, Forza 5 and Gran Turismo 6 should all pump out high definition car porn and promises of realism that are utterly impossible to judge from the show floor or a demonstration event.
It feels like the sports landscape coming out of E3 2013 will be largely the same as the one we saw going into it. Sports aren't looked to as disruptive products within video games publishing and, anyway, the best they can do is take something we see every day and make it look more like what we see every day.
But if there was ever the potential for a big surprise, this would seem to be the year to deliver it.
A Pair of Kings: NBA 2K14 Gets LeBron James for Its Cover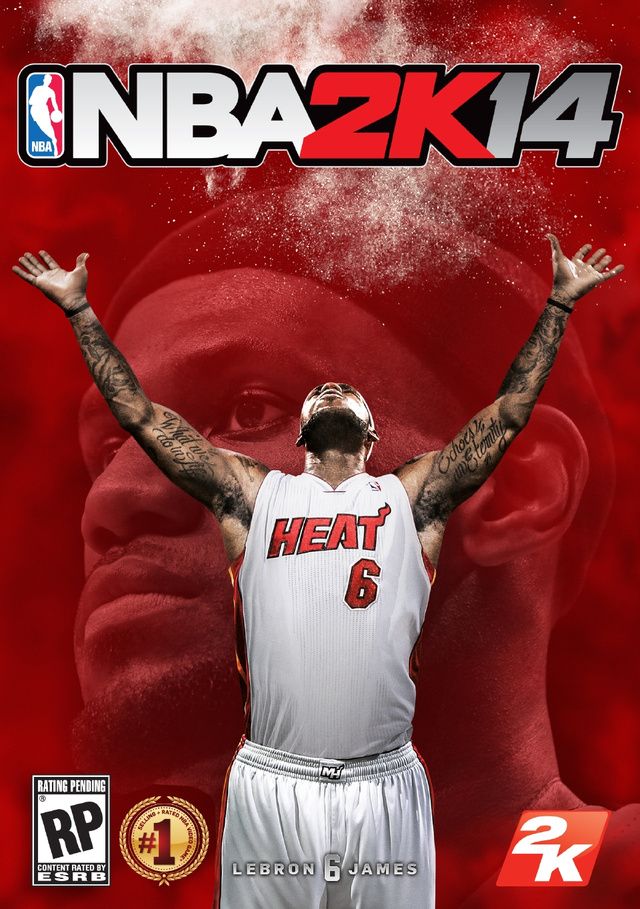 Solidly established as professional basketball's best player and a mortal lock for the hall of fame, LeBron James, after 10 years as an A-list superstar, will finally appear on the cover of a video game when NBA 2K14 hits shelves this autumn.
2K Sports has made a practice of luring MVPs of the present and all-time greats of the past to its cover over the past several years. Yet James' absence, to now, implied that even he was beyond the reach of one of sports video gaming's flagship brands. He will join previous all-galaxy stars Kobe Bryant, Michael Jordan, Larry Bird and Magic Johnson at a pivotal moment, as NBA 2K transitions to a new console generation and seeks to crush EA Sports' NBA Live insurgency there, once and for all.
"The fact he's never been on a cover before helped build the mystique of LeBron and perhaps built the anticipation for some day when he may appear," said Jason Argent, the senior vice president of sports operations for 2K Games. "We've been asked about it for years and years, and we think he picked an ideal time to partner up with us."
James, 28, came within one vote of being a unanimous selection for NBA Most Valuable Player this year. He has won the award four times in the past five seasons, and was the most valuable player of last year's NBA Finals, in which he won his first NBA championship.
The announcement of James' cover appearance was timed for today's Game One of the NBA Finals, in which James and the Miami Heat will seek to repeat as league champions against the San Antonio Spurs. This 30-second advertisement aired shortly before tip-off.
James will grace a packshot (full size at the end of this article) appearing on five different platforms—the Xbox 360, PlayStation 3 and PC, arriving on the traditional first-Tuesday-in-October date of Oct. 1; and on the Xbox One and PlayStation 4 when those new consoles arrive. Argent said NBA 2K14's Xbox One and PS4 versions will launch the same day those two consoles arrive. Their launch dates have not yet been announced.
2K Sports will not publish NBA 2K14 for Wii U. "We are not doing a Wii U version this year," Argent said. "The decision was made internally that our resources would be best put toward making a really amazing current-generation and next generation game, and we did not want to take resources away from making a great experience on those platforms."
Argent, in a conference call Thursday afternoon, teased a new mode of play called "Path to Greatness," but wouldn't elaborate on it or any other gameplay features, except to say that the mode "will involve LeBron." He said that the game's current and next generation console versions "will provide uniquely different experiences that harness the power of the platforms."
"We will have some more to see and hear next week at E3," Argent said, a curious choice of words as 2K Games will have no booth at the annual expo. 2K Sports could be appearing in a console maker's keynote, as it did with the PlayStation 3 in 2011."We have a lot more news coming out with regards to both games, on both console generations," Argent said, when asked if the next generation version of NBA 2K14 will have all of the features coming to its Xbox 360 and PS3 releases. "There is some overlap, of course, in the core gameplay. But both current generation and next generation will be uniquely distinct experiences. Both will be really, really great, in their own ways."
NBA 2K is, annually, one of the top selling video games across all genres, according to NPD sales figures. Its most recent release is the third straight edition to sell more than 5 million units (counting all versions) and is on pace to break its own sales record.
The headliner to last year's edition was not so much the cover stars—Blake Griffin, Derrick Rose and Kevin Durant, representing a new generation of performers—but hip-hop mogul Jay-Z, who came in as the game's executive producer, and personally cajoled players from the 1992 U.S. Olympic "Dream Team" to appear. That seems to have been a one-year arrangement only.
"Jay-Z's not a prominent figure in NBA 2K14," Argent said. "He continues to be a great friend of the brand, and his work continues to inform some of the decisions we make with the game. But he's not directly involved to the extent he was last year."
Source
1
2
3
4
5
6
In honor of E3 and the NBA Finals .....
btw this is the discussion post for Game 3 for the 5 people who care lol