Even the most elite NBA players have long stepped up their style game, from just rocking oversized suits (although some clearly still can't locate a tailor) to draping themselves in designer garb and colorful getups, both pre- and post-game (See: LeBron's murse).

That said, the 2013 playoff season brings a whole new set of wardrobe wins and fails. While some look phresh off the runway, others would appall the fashion police. Click through for some of the best and worst styles at the NBA Playoffs so far.




The Player: James Harden
Style Verdict: Thumbs Down
Mixing and matching is the norm in fashion, but Harden's forest green vest fails to complement this distressed denim shirt.



The Player: Blake Griffin
Style Verdict: Thumbs Up
Griffin puts a solid spin on the denim shirt trend by adding a striped tie.



The Player: Carmelo Anthony
Style Verdict: Thumbs Up
Carmelo skews safe and simple with his choice of a fedora with a hint of color.



The Player: Lebron James
Style Verdict: Thumbs Down
LeBron's Staple Fallon floral crew neck from streetwear brand Staple Design raised a lot of questions, but no answers. Bron became the joke of Instagram memes all over the web, but that's nothing new for him.




The Player: Russell Westbrook
Style Verdict: Thumbs Up
The usually flashy Russell Westbrook played it cool in a black leather shirt. Due to his leg injury, we'll have to catch Westbrook's bold fashion choices on the sidelines.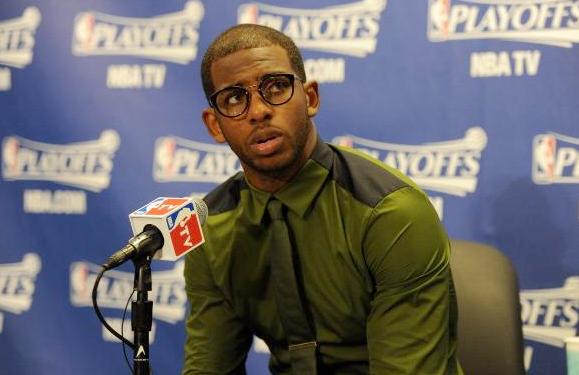 The Player: Chris Paul
Style Verdict: Thumbs Up
The Clippers PG has a knack for subtle style, opting for this down-to-earth green and black Givenchy contrast shoulder shirt that's the perfect fit.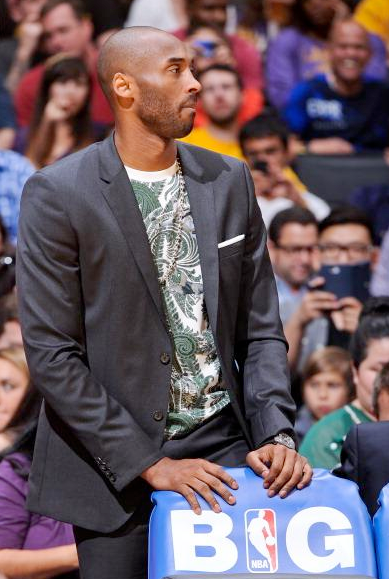 The Player: Kobe Bryant
Style Verdict: Thumbs Up
Although the Lakers were on their way out of the playoffs at this point, that didn't stop an injured Black Mamba from showing love to his team. The Givenchy Green Paisley Shirt he donned with his suit looks formal yet fashionable.



The Player: Dwyane Wade
Style Verdict: Thumbs Down
The Heat will likely sail through the NBA Finals and take home another chip. And Dwayne Wade is well aware of this. It's the only explanation for this ankle-length, semi-capri pants plus double-breasted blazer look he sported when the Heat took on the Bulls in round 2. We're all for style daredevils, but had D-Wade paired his capris with more chill gear, it might've worked.

More @ Source

Russell and CP3 remain fab as always !!