HOW SWEET! LeBron James Gives His "Wife-To-Be" Major Thanks During MVP Ceremony, Savannah Brinson Gushes Over Her "Mr. MVP"





It was a Miami Heat lovefest this afternoon as LeBron "King" James accepted his 4th NBA MVP Award. Check out his official trophy photoshoot, the sweet words he had for his wife and his mom, plus how his fab fiancee' Savannah Brinson gushed about her boo....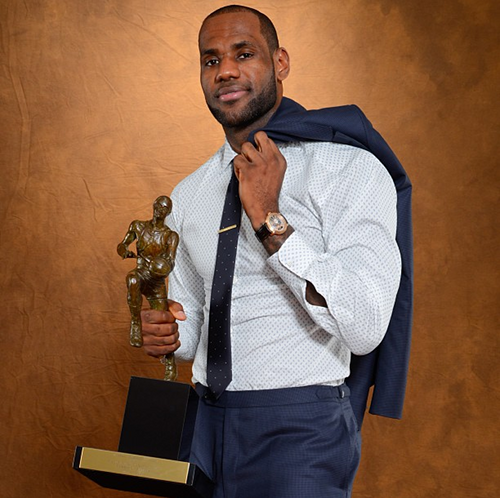 Bron Bron joined the company of four legends today as the only NBA players to become 4-time MVPers. And the Heat baller's fiancee, their kids, his teammates and his mom, Gloria James, were all at the American Airlines Arena to watch him accept his Award.

But it was the super sweet words from Savannah and his teammate Dwyane Wade during a mini-tribute video that had everybody in tears.

'Vannah posted a pic of her boo (above) and one of herself before the ceremony (below):

The gorgeous chick, rocking a printed design center panel dress with a green Birkin bag, gushed, "My Mr. MVP! Words cant explain......Getting ready to support the babe for his amazing accomplishments!! #MVP @kingjames"

Awww.


Their boys LeBron, Jr. & Bryce were front and center as well since they're daddy's biggest fans.


After thanking his mom Gloria for raising him with everything he ever needed, despite not being financially stable, LeBron gave his fiancee a special thank you too:

"To my wife-to-be, I want to thank you for the sacrifices you make every single day. With me being a professional athlete and not being home every day or as much as you would like, I thank you for your support and what you do for our boys."


And he even thanked HER parents for helping their family so much while both Bron & Savannah travel for road games and wedding planning:

"I don't even think they know I'm about to thank them, but this is for my Future mother and father-in-law. I thank them for the sacrifices they make every single day for our two boys. When I'm traveling on the road and playing games and Savannah's all over the world having wedding meetings about a table or a chandelier going up, you guys wake up in the morning and take LeBron, Jr. and Bryce to school every single day, pick them up every single day, pick them up from practice and help them with their homework. You guys are a blessing to me more than you guys know. And I appreciate you so much."

Sweet! Check out Bron's full acceptance speech below:





Will Jacoby Ellsbury Ever Regain His Power?




In 2011, Jacoby Ellsbury was the best player in Major League Baseball. He finished the year with a .321 average, 32 home runs and 39 steals while also playing stellar defense (16 UZR, fourth overall in MLB) in center field.

His 9.1 WAR led the majors, and his all-around season was quite the pleasant surprise for those who had been following his career since he was drafted out of Oregon State in 2005.

After hitting .313/.390/.426 with nine home runs and 103 stolen bases over nearly 1,000 minor league at-bats, it looked like he would continue that type of production once he reached the majors.

As a 23-year-old in 2007, Ellsbury hit .353 in 33 games after a late-season call-up, and continued that success in the World Series. In Boston's four-game sweep of Colorado, he hit .438 with four doubles.

For the next two years, Ellsbury solidified his place as the Sox's everyday center fielder. In 2008-2009 he averaged .291/.346/.405 with eight home runs and 60 stolen bases per year. He accumulated 6.2 WAR over the two seasons—not quite All-Star level, but definitely the production you'd want from someone anchoring a team's lineup at the leadoff spot.

After a lost 2010, though, during which he played only 18 games because of a rib injury, Ellsbury emerged as a power threat to start the 2011 season. His four home runs in April were the most of any month in his career, and his seven doubles tied for second.

And when the summer months hit, Ellsbury heated up like never before. In 69 games after the All-Star break, he hit 21 home runs, had 56 RBI and had a .625 slugging percentage.



Any Sox fan following the team that season can tell you that seemingly every time Ellsbury came up with the game on the line, he came through with a clutch hit. In August, for instance, he had back-to-back walk-off hits, the second night a walk-off home run.

Jacoby finished fourth in the majors in FanGraphs' clutch statistic, which measures "how much better or worse a player does in high-leverage situations than he would have done in a context-neutral environment."

Unfortunately, Sox fans were robbed of an encore performance after Ellsbury was limited to 74 games following a shoulder injury in 2012. When he returned, he clearly wasn't the same player, as his .271/.313/.370 line suggested. The verdict on whether Ellsbury could repeat his 30-homer output would have to come in 2013.

So far, in 29 games—just under a sixth of the season—Ellsbury has one home run. His slugging percentage sits at .402, and he's stolen 12 bases so far—right on pace for his 2008-2009 numbers. It seems that he has reverted back to performing as he did when he first came up to Boston.

After stealing just 11 bases in the second half of the 2011 season, he's already surpassed that total four games into May.

His start to this season brings up the question: Was 2011 just an aberration, or does Jacoby Ellsbury have the potential to hit 30 home runs once again?



Batted Ball

Ellsbury's batted ball rates, which are in the table to the right, explain some of his variation in power. His 2013 numbers—line-drive percentage, ground-ball percentage and fly-ball percentage—line up almost exactly with his career rates.

The same can't be said in 2011, though, when he had a career-high line-drive percentage, a career-low ground-ball percentage and his second-highest fly-ball percentage. Throughout his career, Ellsbury has hit .682 on liners, .251 on fly balls and .255 on grounders, but in 2011, he hit .344 on fly balls.

There's more evidence that shows Ellsbury hit with much more authority in 2011 than he has in any point of his career. His HR/FB ratio was 16.7 percent, despite him never having a full season of over 7 percent. But that figure wasn't the case of Ellsbury being lucky by having a large number of home runs barely get out of the park.

Ellsbury's average home run distance in 2011 was 398.6 feet, higher than the MLB average of 396.3. He had only four "just enough" home runs—described by Home Run Tracker as home runs that "cleared the fence by less than 10 vertical feet, OR that landed less than one fence height past the fence." That tied for 131st in baseball; the leader, Miguel Cabrera, had 16.

The players at the top of the home run leaderboard each season tend to have a HR/FB ratio of 18-23 percent and a fly-ball rate of 35-50 percent. Out of the 23 players to reach 30 home runs in 2011, Ellsbury ranked second-to-last in fly-ball percentage at 34.1 percent and 17th in HR/FB ratio.
Screenshot2013-05-05at12 Left: 2011, Right: 2012; Provided by baseballanalytics.org powered by TruMedia Networks



Most of these players have a proven track record of hitting at those rates. Take Cabrera for example: The 2012 Triple Crown winner had a HR/FB ratio in the range of 18.3-19.8 percent from 2007-2011. When he jumped to 23 percent in 2012, Cabrera set a career high in home runs.

If Ellsbury had other years during which he had rates similar to those he reached in 2011, there'd be more hope that he could duplicate that 30 home run pace. But considering he has not come close to the 16.7 percent HR/FB ratio before or after his near-MVP campaign, it seems unlikely he'll reach that number again in the years to come.


Of the 32 home runs he hit in 2011, Ellsbury pulled 26 of them and hit a mere two to the opposite field. That's a strong split, even for a pull hitter—something Ellsbury's not known to be.

Above is a comparison—provided by Baseball Analytics—of Ellsbury's slugging percentage by pitch location in 2011 and 2012. It's as big of a one-year difference that you'll find for an MLB player.

In 2011, Ellsbury crushed pitches over the inner half of the plate, especially those in the lower third of the strike zone. In 2012, he just could not do the same with those pitches. It seems he lost the ability to pull balls for power between the 2011 and 2012 seasons.



The pitch types he was thrown were consistent for 2011 and 2012: 61 percent fastballs, 10 percent sliders and 5 percent cutters. The only major difference is that Ellsbury was thrown more changeups and fewer curveballs in 2012 than 2011—about a 2 percent trade-off.

The biggest disparity is how he's hit these pitches. In 2011, he hit for 1.43 fastball runs above average per 100 pitches, which ranked top 15 in the American League. That number has sunk to .17 in 2013, which is lower than his career average of .54.

This likely has to do with his inability to hit those fastballs inside for power. The numbers don't suggest pitchers are throwing to him any differently, just that his performance has declined from his 2011 peak.

The difference between 2009 Jacoby and 2011 Jacoby is likely the difference between a Michael Bourn-type deal (five years, $60 million) and Josh Hamilton's contract (five years, $125 million).

Perhaps that's the silver lining to his low power numbers: The Sox may now have enough money to sign him when he becomes a free agent at the end of the season.

Having 30-home run power at the top of the lineup is great, but maybe having the best fielding outfield in the majors—once Jackie Bradley is ready—is even better.

Stephen Sikora is a former Red Sox featured columnist and current contributor to Bleacher Report. He's a junior at Boston College and also writes about BC sports for his school's student newspaper, The Heights.



A Letter of Love to Brittney Griner and Jason Collin


Black Men Writing to Live send a letter of support to the brave athletes who are making LGBTQ history
Mark Anthony Neal
By Mark Anthony Neal Writer


Dear Brittney and Jason,

We are a small collective of Black male writers, activists, cultural critics, artists, scholars and athletes. We are straight, gay, cis and transgender men who love other Black men intentionally in the best way. We are Black men in community with Black women, and, indeed, all women. We are Black men who are committed to standing against sexism, homophobia, classism, violence, and rape culture. We are Black men who move positively, productively and peacefully in this world. And we are Black men writing this letter of love in open community to publicly affirm you, Brittney and Jason.

We live in a culture that takes pride in its support of dissension and in its antagonism towards difference. And considering such a climate, for one to disclose publicly one's sexual identity in it does, in fact, matter. Make no mistake, Brittney and Jason, you did not "come out" of someone's imagined closet of self-degradation. You, instead, offered an invitation to the wider public to enter the personal spaces of your already abundant lives.

You've reminded us of a too-often forgotten elementary school lesson in respect: no one is allowed to control the personal spaces of another person's life. That's perverted democracy. And more important than that is the fact that no one is endowed with the right to barter another human's dignity for his or her marketability. What we are challenged by you both to do is unapologetically bear witness to the human right of personal agency and choice. That charge is powerful. And for that we say, thank you.

We should never feel forced to "come out" for the sake of entering another rigid box designed by a heteronormative fear impulse. We should not have to wait to share our truths because of what may await them on the other side: violence, hatred, disregard, or death.

You've committed to your truths and that is the strongest assault to fear. We recognize that your identification as lesbian and gay athletes in this country—a country whose legal mechanisms still serve as proofs that we have yet to accept the fullness of your humanity—was a courageous act. And for that, again, we thank you.

It is no secret that we live in a society that is deeply fascinated with the sexual lives of others even though the same society makes it often impossible for non-straight people to express freely their sexualities. Indeed, the sexual lives of Black folk, however we've identified or expressed ourselves sexually, have always been targets of a fetishized preoccupation with the Black body. That you are both Black and lesbian and gay is not your problem. The brilliant James Baldwin states it in this way, after all, "Everybody's journey is individual. If you fall in love with a boy, you fall in love with a boy. The fact that many Americans consider it a disease says more about them than it does about homosexuality." Your journey to your truth is no problem or solution, for that matter. It is just that – your journey. And we celebrate this journey as that which belongs to you.


Ricky Rubio, Kevin Love and A Wolves Wedge Issue

Ric Bucher reported from a bunker beneath the Alamodome AT&T Center during halftime of the San Antonio Spurs loss to the Golden State Warriors:

The Timberwolves' relationship with Kevin Love will undoubtedly improve with the ouster of David Kahn, but how will

it impact Ricky Rubio? Sources say the Rubio family is disappointed in the decision, largely because Kahn is the one who stuck his neck out and drafted Rubio knowing he couldn't come over right away and did a lot of the legwork to expedite the start of Rubio's NBA career. Maybe it blows over — Rubio wouldn't be the first player who disagreed with a decision yet eventually put it behind him — but it bears watching.

Well, I guess nobody would really call that reporting.

The nice manners and pleasant disposition Ricky Rubio possesses had to come from somewhere, right? David Kahn was probably the only person in the entire Minnesota Timberwolves organization to travel to Spain and sit with the Rubio family. Kahn is probably the only one in the Wolves front office who has spoken with Grandma Rubio.

It's been said elsewhere, Kahn's creepiness factor probably doesn't register as clearly in Europe as it does domestically. So it is possible the Rubios were upset that the only management mouthpiece they've ever heard from directly was removed and maybe they're just being nice about the transitional period and paying their respects to a guy who, kinda-sorta, helped to negotiate Ricky's way to the States in extricating him from his prohibitive Spanish contract.

But "reporting" in this way sure looks like an attempt to create a wedge between Kevin Love and Ricky Rubio via imagined contractual slights and saying Kahn 'stuck his neck out' to draft Rubio is like saying Pat Riley stuck his neck out to sign LeBron. Ricky fell into Kahn's lap.

In truth, Rubio knows the garbage he's had to work with on the wings in his career so far. He hates losing. Love hates losing. Maybe Flip can go have tapas with the Rubios sometime later this summer.


Omar Miller Joins Dwayne 'The Rock' Johnson's HBO Pilot

Omar Miller Joins Dwayne 'The Rock' Johnson's HBO Pilot

May 9, 2013 by EURpublisher02 Leave a Comment

*"CSI: Miami" alum Omar Miller is set to co-star opposite Dwayne "The Rock" Johnson in HBO's untitled dramedy pilot Johnson executive produces with Mark Wahlberg and Steve Levinson, reports Deadline.

Written by Levinson, the project chronicles the lives of athletes — some retired, some still active — living in Miami.

Miller will play Charles, an affable former pro athlete who is searching for his next career.

Peter Berg is directing the pilot and will executive produce, along with Johnson's manager Dany Garcia, who runs his production company.

Miller will next be seen in the action feature "Homefront," written by Sylvester Stallone and directed by Gary Fleder.


Dolph Ziggler Gets a Concussion, WWE Extreme Rules Status Unknown

By
Tom Clark


Dolph Ziggler suffered a concussion at WWE's SmackDown taping, which occurred Tuesday night.

According to WWE.com, the injury happened during Big E Langston's match against Jack Swagger when Dolph received a blow to the face. But the real headline here, as Wrestlezone.com pointed out, is that Dolph's status for Extreme Rules is now up in the air.

This is obviously not good news for Ziggler or WWE.

As we all know, Dolph just won the championship from Alberto Del Rio on the Monday Night Raw following WrestleMania 29. The victory was a very big deal in Dolph's career, as he finally reached that all-important main-event level in the company.

Fans have been praising Ziggler and his ring ability for quite some time now. He has been a real workhorse for WWE—a guy who has kept his head down, kept his mouth shut and did everything asked of him.

His talent in the ring has never been in question, and as time went on he began to impress nearly everyone who watched him perform. Dolph just seemed to get better every time he stepped into the ring.

Dolph has seemingly always been just on the verge of winning the "big one" in WWE. He had carried the blue briefcase containing a World title shot around with him since he won it on July 15, 2012.

WWE had teased us with a potential title win on more than one occasion since then, but every time Dolph would make an attempt to cash in, something would ultimately stop him.

But after it finally happened, fans all over the world celebrated his victory. Ziggler has earned respect among many of the WWE faithful, and the gold belt that he wears around his waist is proof that he has earned the company's respect as well.

Dolph_postmatch4crop_original photo by wwe.com

But now that news of his concussion has been reported, I am a little worried for Ziggler.

After all, there have been some fans who believe that the possibility always existed that WWE would eventually ruin The Showoff's title run. He has been the victim of bad booking before, how did we know if WWE would actually see this through and let Dolph have a proper title reign?

Concussions are a big deal in the sporting world, and WWE is no exception. In professional wrestling, men and women are bashed on the head all the time, and those talents are not wearing protective helmets like they are in the NFL.

So what will happen for the World champion now? Will WWE perhaps take the belt off his waist and ruin the upward momentum that Ziggler had going for him? Or will Vince McMahon's company stick with Dolph as World champion and go in a different direction for the Extreme Rules pay-per-view?

Right now, it's anyone's guess.

I, for one, feel that Dolph will be allowed to keep the belt and continue to cut promos on TV. This would keep him on the air and in the minds of fans, as well as give him the opportunity to build heat as only he can.

This was Ziggler's time. He has earned his spot as World champion and deserves the main-event spot. Hopefully, none of that will change now.


Cristiano Ronaldo: Will He Still Return to United Now That Ferguson Has Retired?


By
Jerrad Peters


Cristiano Ronaldo wasted little time in congratulating Manchester United manager Sir Alex Ferguson after Wednesday's announcement that the 71-year-old would be retiring at the end of the season.

Ferguson, whom Ronaldo has often referred to as a "father figure," acquired the Portuguese attacker from Sporting Lisbon in 2003, and over six seasons together, the two combined to win three Premier League titles, the FA Cup, two League Cups and the Champions League.

Even after Ronaldo joined Real Madrid for a world-record transfer fee in 2009, he continued to speak highly of both Ferguson and Manchester United, and as recently as December, Ferguson hinted that a move to bring Ronaldo back to Old Trafford wasn't out of the question, telling reporters he'd "love to see" the 28-year-old return to the club (via the Guardian).

"You never know," he said, adding, "I don't know when his contract finishes. He may want to go to another club at some point in his career, and I'd hope he would want to come here. But that's a long way off."


Speculation that Ronaldo also fancied an Old Trafford return only increased, as the winger put off agreeing a contract extension at the Bernabeu this season, and just two days before he announced his retirement, Ferguson revealed the owners were willing to make a big splash in the summer transfer market.

"Everything is in place for a big signing," he said. "I think that the [Glazer family that owns the club] have been great. "Whenever I have asked, they have delivered. If I ask to go for a certain player, I think they will do that," he said (via the Mirror).

But with Ferguson set to retire as manager, would Ronaldo even consider a return?

On Thursday, Real Madrid assistant Aitor Karanka insisted the club's top scorer would be best served by remaining in the Spanish capital, saying, "[Ronaldo] will keep getting better. Here is the ideal place, and for Real Madrid it is great to have him" (via BBC).

Ronaldo congratulates Ferguson on his bronze statue outside Old Trafford.

Maybe so, and while Ronaldo did score his 200th goal for Madrid (in 197 matches) on Wednesday against Malaga, it has long been thought that he is very much outside the club establishment, on the outskirts of the group of players the Madridistas fancy—namely Iker Casillas, Sergio Ramos and Xabi Alonso.

This lack of affection may well have been behind his famous non-celebration of a goal back in September, after which he told the press he was "sad," and that the club knew why he was not happy.

But it was his agent's comments in the days after that provided some much-needed illumination.

In a statement, Jorge Mendes revealed he had been aware of Ronaldo's feelings for some time and said that his client was "at liberty to divulge them" if he wished (per the Telegraph).

He added, "These comments have not surprised me and certainly not upset me. Those who know the relationship I have with Ronaldo know that he can always count on my solidarity."

Incidentally, shortly after Ferguson's retirement announcement, it was revealed United chief executive David Gill had recently travelled to Madrid to speak with Mendes in person (Daily Mail).

Ronaldo refers to Ferguson as a "father figure" in a recent interview with Sky.

Given Ronaldo's fondness for his former manager, it's possible the trip was meant to help convince the player that although Ferguson would no longer be in charge of the team, the club would still be operating according to the template he spent more than a quarter-century installing.

And while Ferguson will no longer be patrolling the touchline on matchdays, he is set to become a director at the club and will only be a telephone call, or even a short walk down the hall, away.

What has become apparent is that Ronaldo, much like his current manager, Jose Mourinho, craves affection. And he'd get it in abundance if he returned to United.





Source 1 2 3 4 5

6 7 8





tyfyt ONTD