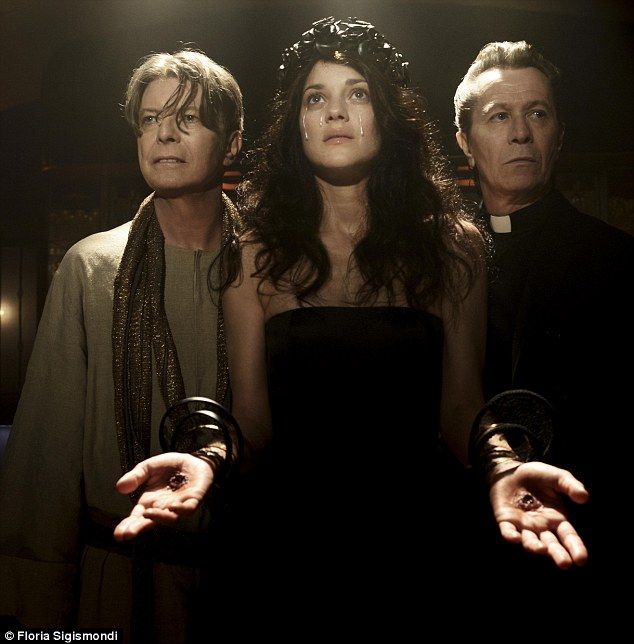 David Bowie's new music video for The Next Day (the title track from his album of the same name), featuring Gary Oldman and Marion Cotillard, has worked spectacularly well in the sense of drumming up controversy. In less than 24 hours, it has been (temporarily) banned by youtube, slammed by the Catholic league and labelled 'juvenile' by Lord Carey, former Archbishop of Canterbury.

Check under the cut for what they have to say!





David Bowie's new video 'juvenile', says Archbishop

The former Archbishop of Canterbury Lord Carey poured scorn on an attempts by David Bowie to attract controversy by posing as Jesus in his new video - questioning whether he would have been so willing to offend Muslims.

He urged Christians to "rise above" the "juvenile" promotion for the single The Next Day, adding: "I doubt that Bowie would have the courage to use Islamic imagery - I very much doubt it."

Other Christian commentators dismissed the move as "desperate" adding that, rather than leaving them shocked, it confirmed that Christianity is still important.

The video was temporarily pulled from YouTube, seemingly because of its controversial content.

But the website quickly moved to reinstate it, insisting it had been taken down in error - although adding an adult only rating.

The sequence shows Bowie, wearing robes, striking a Christ-like pose in a dimly lit bar with a beam of light shining down on him.

Gary Oldman appears dressed as a priest while the Oscar-winning actress Marion Cotillard is dressed in underwear with blood spurting from two nail scars on her hands.

It also features flagellation, a writhing topless bride and a debauched cardinal.

Lord Carey said: "If imitation is the sincerest form of flattery perhaps Christians should not worry too much at such an exploitation of religious imagery.

"I doubt that Bowie would have the courage to use Islamic imagery - I very much doubt it.

"Frankly, I don't get offended by such juvenilia - Christians should have the courage to rise above offensive language although I hope Bowie will recognise that he may be upsetting some people."

Jack Valero of the Catholic Voices group said: "I wouldn't give him the time of day, it is just desperate.
"He used to be famous, why does he need to do this?"

Andrea Williams, director of Christian Concern, added: "It is actually just a bit sad – what is he seeking to achieve?"
Source
BOWIE'S "JESUS" VIDEO IS A MESS



Bill Donohue comments on David Bowie's video that accompanies his song, "The Next Day":

David Bowie is back, but hopefully not for long. The switch-hitting, bisexual, senior citizen from London has resurfaced, this time playing a Jesus-like character who hangs out in a nightclub dump frequented by priests, cardinals and half-naked women.

The video is strewn with characteristic excess: one priest bashes a homeless man, while others are busy hitting on women; self-flagellation is depicted; a dancing gal with bleeding hands makes a stigmata statement; and a customer is served eyeballs on a plate. The lyrics refer to the "priest stiff in hate" and "women dressed as men for the pleasure of that priest." The song concludes with, "They can work with Satan while they dress with the saints." In short, the video reflects the artist—it is a mess.

Bowie is nothing if not confused about religion. He once made a public confession: "I was young, fancy free, and Tibetan Buddhism appealed to me at that time. I thought, 'There's salvation.' It didn't really work. Then I went through Nietzsche, Satanism, Christianity…pottery, and ended up singing. It's been a long road." Too bad the pottery didn't work.

But Bowie didn't give up trying to figure out who he is. "I'm not quite an atheist and it worries me. There's a little bit that holds on. Well, I'm almost an atheist. Give me a couple of months."

Well, Bowie has had more than a couple of months—it's been ten years since he spoke those words. Not sure what he believes in today (anyone who is "not quite an atheist" is not an atheist), but it's a sure bet he can't stop thinking about the Cadillac of all religions, namely Roman Catholicism. There is hope for him yet.


Source


And so it isn't forgotten, here's the offending video itself - re-instated on youtube complete with an 18 and over age restriction-



Picture Source