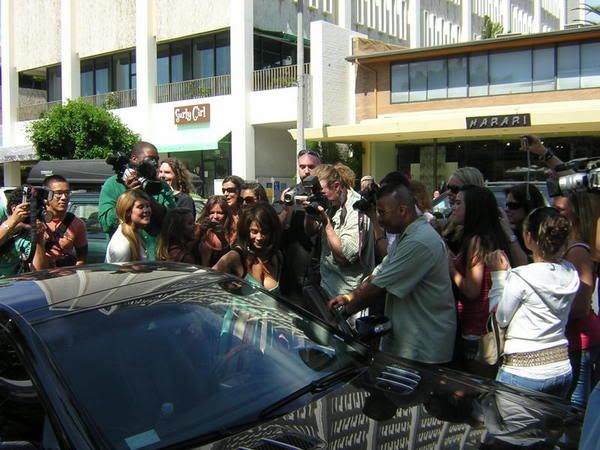 My friend and I were at The Ivy for lunch on Wednesday, when no other than Paula Abdul comes and sits at the table next to us. It took me a second to realize it was her but I did notice her right away because of her beautiful, yet revealing dress. (I didn't notice any sagging at that point). She had obviously come knowing she would get her picture taken. I smiled at her and she smiled back flashing her stunning white teeth, but I was NOT going to be one of those annoying girls who go up and say "OMGZ are you lyke famous?". But sure enough another girl comes up to her with her demo cd and asks "Are you Paula?". Paula couldn't have been nicer about it though. She told the girl she would listen to her cd (I'll bet) and gave her a hug.

I was waiting for the valet to get my car when Paula left. I've never seen anyone so swarmed by the paparazzi before. Fans ran up to her car as she was getting in and asked for some last minute autographs. At that point I just wanted to get out of there but I decided to capture that shot as long as I was there.

During this a paparazzi came up to me and asked me about Paula, that went something like this:

Him: So tell me, what did she have for lunch?
Me: Ivy Chopped salad and an iced tea.
Him: REALLY? you mean she wasn't drinking??!

lol.. guess he was used to following her.

After a few minutes Paula said "Thanks for caring enough to take my picture!" and drove off in her Mercedes. All and all she was a sweetheart... and not drunk to my knowledge.