Welcome to your Kourtney Kardashian Fashian and News Roundup. Under the kut you will find the latest news and photos koncerning my Kween, now new and improved with more dashing Disick photos than previous posts!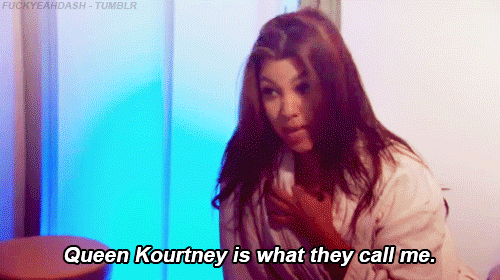 Kourtney went super kasual for some quick shopping with Lord Disick the other day. Here she is spotted wearing a sweatshirt by Alo, Monrow t-shirt (Dash), Converse sneakers and Dita sunglasses (Dash.) Disick looks particularly dapper these days, and thus I have added more photos of him to this Kween Kourtney post to please those of you who only kame under the kut for him. Enjoy!



Kourtney is rarely spotted out without at least one of her younguns, and wisely chooses clothes that are chic yet comfy enough to be baby friendly. Here she is with Penelope Scotland and her GQMF wearing a Stylestalker top (Dash), J Brand pants, Balenciaga shoes, Dita sunglasses (Dash), and a Prada bag.




For her evening wear, Kween Kourtney typically favors solid chic colors with bold pops of color. For a recent appearance on Jimmy Kimmel, the superior Kardashian paired a timeless Alice and Olivia suit with Kardashian Kollection top and Alaia shoes. The bold red lip color she chose is the perfect accessory to her awesome ensemble.



Here's another shot of Kourtney looking kute and kool while running errands with her precious Penelope. She is wearing a Kova & T shirt (Dash), Monika Chiang pants (one of her staples), Balenciaga flats, Dita sunglasses (Dash), and a Prada bag.



Kween Kourtney & Lord Disick ran into her parents while dining out for Valentine's Day, and I'm posting this one because I honestly don't think either Kourtney or Scott have ever looked hotter. They make one seriously smoking couple, imo!



Kourtney posted this pic of her hanging with Chelsea Handler to her blog a few days ago. In the past Chelsea has poked fun of the Kardashian sisters, but klearly she has seen the error of her ways and kome to realize that Kourtney is fabulous, fun and flawless.




Kourtney also posted this new Kardashian Kollection promo for their Sears 2013 Spring collection to her website the other day. I think we can all agree this photo would be better if it was merely Kween Kourtney and Glamazon Khloe.
In other Kourtney News....
Kourtney Slaps Jonathan Cheban Because He is a Douchey Dickhead
Kourtney Kardashian has slapped her sister Kim's best friend Jonathan Cheban in a dramatic show-down aired in last night's episode of Kourtney & Kim Take Miami.
Kim's best pal Jonathan was seen giving Kourtney a few home truths in the latest show, following complaints from Khloe and Kim that Kourtney was being lazy and using her children Mason and Penelope as an excuse to get out of work.
The tension reached boiling point when Kim agreed to cover Kourtney's slot on QVC on her day off following by the mother-of-two leaving a photoshoot early for the UK's Cosmopolitan magazine so she could take her daughter home.
Kourtney Kardashian Slaps Jonathan Cheban After He Says: 'Without Kim You'd Be Nothing'.
"It's like Kourtney to get her photos down first so she can rush off and get home to her kids," Kim moaned.
For some reason, Jonathan took it upon himself to get involved in the family drama and told Kourtney she needed to sort her work ethic out.
"Without Kim you'd be nothing. She'd been working 360 days while you've been pregnant and doing nothing," Jonathan told her.
While Kourtney sniped: "Your entire job is following Kim all the time. You are shoved so far up Kim's ass."
To which Jonathan snapped: "Now I know why Scott's never going to marry you. Because you're a bitch," which led to Kim slapping Jonathan around his face. Kim rushed after Jonathan when he stormed out, threatening to get Kourtney arrested.
"That's a sick bitch," he told Kim before heading home to "cool off".
Kim later told the camera that she was surprised at how far things escalated, by saying: "They always bicker but I've never seen them be so nasty to each other."
She later told Kourtney to apologise to Jonathan. It seems that the eldest Kardashian sister saw the error of her ways, and not only apologised to Kim and Khloe, but met with Jonathan at a lunch organised by Kim.
Jonathan also said he was sorry for the "bad things" that he said too, and you'll be pleased to know said that he would not be meddling in Kardashian sister drama again.
"I let my hormones get the best of me," Kourtney said. "I don't need to be slapping anyone."
(OP Side Note: OMG how DARE she put her children first! The absolute NERVE!!!! RMFE)
Kourtney Kardashian: I Schedule Early Morning Workouts to Avoid "Mom Guilt"
Kourtney Kardashian appears on two reality shows, co-owns a handful of DASH boutiques with her sisters Kim and Khloe and raises two adorable children -- all while looking effortlessly chic. How does she do it? By budgeting her time very wisely!
Gaining 45 lbs. during her second pregnancy with daughter Penelope, 7 months, the 33-year-old was determined to shed her unwanted baby weight in a healthy way -- especially after struggling to look picture-perfect within months of having son Mason in 2009. "I was comparing myself to other people and putting all this pressure on myself," she admitted to Us Weekly in January. "I was working out and not eating enough. I definitely pushed myself too hard."
Delivering her daughter with boyfriend Scott Disick in July 2012, Kardashian made it a priority to lose weight slowly -- and vowed not to miss a moment of her kids' development in the slim-down process. "This time, the focus is early on being a mom and being present, knowing my priorities," explained the 5-foot, 106 pound star, who scheduled sweat sessions with pregnant sister Kim and tackled pro Tracy Anderson's 90-minute dance-focused workouts when she couldn't meet with her personal trainer.
"The trainer comes over at 7 in the morning when my kids are still asleep so I don't have any mom guilt," says Kardashian of her key to weight loss success. "Sometimes I think, Why should I work out when I can spend time with my kids? I feel guilty doing something for me. So working out at home is really nice. And when I don't do that, I go for a jog or do morning yoga. Sometimes when I'm playing on the floor with Penelope, I'll do a few sit-ups."
Keeping trim by employing the tried and true trick of eating everything in moderation, Kardashian says she indulges once in a while on her son's snacks. "Lately I've been obsessed with these little gluten-free animal crackers that I give Mason. They're called KinniKritters," she tells Us. "Mason and I bake a lot too, but we make healthy things, like gluten-free cupcakes. I love to eat the dough!"
As she lost the weight, Kardashian kept things in perspective. "I definitely had some moments when the weight was at a standstill," she recalls. "It was frustrating and I'd start to wonder, Am I ever going to get my body back? Then I'd be like, OK, you just had two kids. Take it easy."
This konkludes my Kween Kourtney posts. I hope you have enjoyed yourself and have a fab Sunday!
Source 1
Source 2
Source 3