WWE 'Raw' still running wild after 20 years
Published: January 14, 2013 11:21 AM
By THE ASSOCIATED PRESS
Photo credit: AP | Alberto Del Rio flips over the top of Rey Mysterio as they fall out of the ring during the WWE Monday Night Raw in St. Louis. (July 23, 2012)
WWE superstars such as John Cena and Big Wrestlers meet with U.S. troops John Cena and The Rock exchange their trademark WrestleMania 28: The People's Elbow The quot;Rated-R Superstar,quot; former WWE star Edge, meets Kidsday on Edge
John Cena celebrates over a fallen Mark Henry WWE superstar John Cena Dwayne Johnson arrives at the premiere of Walt Dwayne 'The Rock' Johnson Hulk Hogan fires up the crowd between matches Classic Wrestlemania photos
PHILADELPHIA - Let's put this just how "Stone Cold" Steve Austin would quiz all his fans on Monday nights.
If you think World Wrestling Entertainment's "Raw" is the original wild and live sports entertainment show where anything can happen and any personality from The Rock to Bob Barker can show up on any given Monday night, then give me a "Hell yeah!"
(This is the part where thousands of fans at the arena and millions more watching at home repeat back his catchphrase).
Then it's agreed: There's nothing on TV quite like the promotion's flagship show, the one that rocketed Austin and
Dwayne "The Rock" Johnson into stardom, shook the wresting industry out of its staid Saturday morning ways, and filled highlight reels for 20 years with over-the-top personalities, eye-popping feats, total silliness, outrageous storylines, and memorable matches -- with so much more yet to come.
From its birth on Jan. 11, 1993, "Raw" set out to be a special kind of wrestling show, from the name, to the locale and the live action.
"Welcome everyone, to Monday Night Raw!" announcer Vince McMahon bellowed. "We are live from New York City!"
Since that greeting, "Raw" has become as much a fixture on Monday nights as the NFL and remains one of the highest-rated weekly shows on cable television. The 20th anniversary show Monday on USA is about as big as two behemoth Big Shows -- episode
No. 1,025 -- and the promotion has long outlasted its closest competitor. Heck, it even changed its name from the World Wrestling Federation over that span. In the anything-goes reality landscape of Honey Boo Boo and Snooki, the WWE has proved there's still room on the dial for Hornswoggle and The Funkasaurus.
"We're an animal of entertainment," WWE star John Cena said.
Oh, he's right. "Raw" has had an Animal. And a Hawk. HBK and RVD. I.R.S and C.M. Punk. A lord of darkness. An Olympic gold medalist. "Raw" has been more welcoming than the United Nations. It takes all types of revolving characters to endure 20 years in prime time and WWE has found a way to make the mix of gimmicks work.
"It's successful because it changes with the times," said Punk, the longest-reigning WWE champ of the "Raw" era. "It's not just a wrestling show, it's a complete spectacle."
The bulk of pro wrestling television before the 1990s was mostly one-hour weekend shows filled with noncompetitive matches in which a superstar would squash some enhancement talent. WWE, though, had been a staple on Monday night's since "Prime Time Wrestling" debuted on USA Jan. 1, 1985. The show featured taped matches from arenas around the country before the format for the weekly wrestling show was revolutionized with "Raw."
The one-hour debut aired live from New York's Manhattan Center and kicked off an uncooked, uncut and uncensored slice of wrestling history with the 500-pound Yokozuna making quick work of Koko B. Ware ("Go get him, Birdman!" McMahon exhorted from the broadcast booth).
Punk, who knew at the time he wanted to become a pro wrestler, appreciated the quick shift into more main event quality matches. Ric Flair vs. Mr. Perfect and Shawn Michaels vs. Marty Jannetty were early indicators to Punk this was not a normal wrestling show.
Wrestling fans and promoters took notice.
Ted Turner's now-defunct World Championship Wrestling would follow with a Monday night show ("Nitro") that heated up the race for ratings and marquee talent. The Philadelphia-based Extreme Championship Wrestling carved a niche with its hardcore style.
Soon, one wrestler would turn "Raw" into a phenomenon.
Austin.
The foul-mouthed anti-hero interrupted a Mike Tyson segment in the buildup toward 1998's WrestleMania. Tyson shoved Austin to start a wild melee and the WWE's "Attitude Era" was soon in full swing. Austin easily became WWE's biggest star in 20 years of "Raw." The Rock, Mick Foley, Degeneration X, and The Undertaker rumbled their way up toward 9 million viewers for one 1999 show. McMahon shed his good guy announcer's gig to become the hated boss who messed with Austin at every edge-of-the-seat turn.
"We were editing the ECW television show. We had 'Nitro' on one monitor and 'Raw,' on the other," WWE personality and former ECW owner Paul Heyman said. "When I saw Steve (confront) Mike Tyson, I realized we have entered into a new era and Steve Austin is leading the way."
WCW would go out of business and so would ECW. By mid-2001, WWE was left without any serious competition.
The show expanded to two hours a couple of years after its 1993 debut, then jumped to three hours for the 1,000th episode in July 2012. "Raw" also left USA for TNN in 2000 before returning to its original cable network home in 2005.
"RAW" turned to guest hosts for a spell, where stars as varied as Barker, Shaquille O'Neal, Snoop Dogg, Johnny Damon and Jewel did everything from backstage segments to making matches.
The early years of "RAW" marked the end of the cartoon characters that made up the "Say your prayers" heyday of Hulk Hogan before giving way to the rebellious Austin. Cena has led a shift to more PG family-friendly programming -- though the cage matches and brutal battles still remain -- over the last 10 years.
"We have fans who loved the 'Attitude Era' and still watch today, that are upset with where the product is," Cena said.
"But we have a lot of newer, younger fans, and more family fans, that are now introduced to a product they never would have thought to watch before."

The frivolity has paused through the years when life hasn't followed the script.

"Raw" held tributes following the deaths of Owen Hart and Eddie Guerrero. A similar show that aired for Chris Benoit was denounced the next night by McMahon after it came out the wrestler had killed his wife and his young son before committing suicide.
Long-time wrestler and announcer Jerry "The King" Lawler collapsed with a mild heart attack while calling the show in September 2012. He returned to the air in November.
Lawler, who said he won't stop wrestling, has called more "Raw" matches than anyone over the last 20 years.
"I'm the voice of the fans," Lawler said. "I just try and react to what I see like most of the fans would."
Fans still tune in: last week's show averaged 4.42 million viewers, a stout number against the BCS championship game.
The third hour, highlighted by a confrontation between Punk and The Rock, averaged 4.65 million viewers. Alabama's 42-14 rout over Notre Dame drew 26.4 million viewers. "Raw" was the highest-rated, non-sports programming cable show of the night.
"We still feel like we're an underdog and we have to work harder to get attention," Foley said. "But enough people give us attention. Our biggest report card comes from our fans."
At a recent "Raw" stop at Philadelphia's Wells Fargo Center, some building employees couldn't help but gawk as they walked by the oversized wrestlers stretched out on a sofa for interviews.
"I see you guys everywhere," one small child said.
"We are everywhere!" a smiling Lawler replied.
For 20 years and counting, the biggest stars always been found on Monday nights.
WWE Power Rankings: Del Rio, Cena rise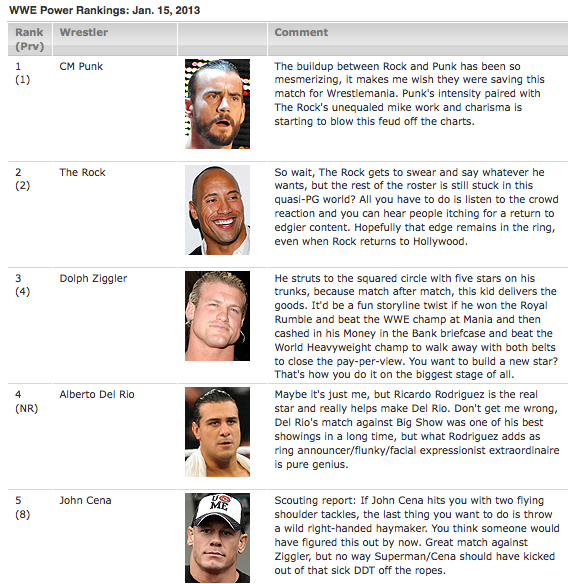 More @ source #2
CM Punk and The Rock maintain their spots, while John Cena rises after a strong "Raw" showing.
What a difference a week makes. Since ESPN's first WWE Power Rankings, we've seen a new World Heavyweight Champion, a new Divas Champion, Eve Torres quit the company, Ric Flair pass the figure-four torch to The Miz, Dolph Ziggler's shockingly white (I'm talking Sheamus pale!) backside debut inside a steel cage and Mick Foley announced as the first inductee into WWE's 2013 Hall of Fame.
We also saw a fun night of memories, matches and mayhem on the 20th anniversary show of "Raw," with flashbacks triggering reminders of Edge and Lita's wedding (complete with Kane tombstoning the priest) and Stone Cold showing Mike Tyson his signature style of sign language.
It's the induction of Mick Foley that I'd like to focus on for a second, though, as this is a guy who was not only thrown off the Hell in a Cell roof for your enjoyment, but he also rolled on thumbtacks, flew into barbed wire and was speared through a flaming table just to leave his mark on the business.
But Foley is more than just a walking medical chart of bruises and broken bones, as he also provided some of the funniest and most honest moments I can remember throughout all my years watching WWE, and it's because of these rare glimpses inside the mask that Foley stands out as truly one of the great ones (top 50 all-time).
Mick Foley to Enter WWE Hall of Fame: Top 5 Potential Inductors
By
Big Nasty
The WWE recently announced that Mick Foley has earned a well-deserved Hall of Fame induction. Mick Foley teased uncertainty toward the induction on his Twitter account, but only one question remains: Who will induct the hardcore legend?
An intriguing list of names comes to mind given Foley's tenured history in professional wrestling. From former rivals to famous allies, Foley's short list of likely inductors is a list of Hall of Famers itself.
Those eligible to induct Foley have a well-documented history with the artist formerly known as Cactus Jack for better or worse. They would also be able to make a formidable speech of the many accolades that have made Foley a Hall of Fame inductee.
5. The Undertaker
The Undertaker and Mick Foley took hardcore wrestling to a new level with their Hell in a Cell match in 1998. Their rivalry from 1996 to 1998 is widely considered one of the top rivalries in pro wrestling history.
The Undertaker is a prime candidate to induct Foley from a historical standpoint. But the WWE's tireless dedication to The Undertaker's supernatural character will limit him from such a human act.
One of The Undertaker's last kayfabe-breaking interviews came in 2010, and other such instances are few and far between.
4. Tony Schiavone
Mick Foley's finest hour was nearly soiled the night he won the WWE championship. During the famed Monday Night Wars between WCW Nitro and WWE Raw, Tony Schiavone was produced to give away the result of Foley's pre-taped victory.
The bush league move backfired when droves of viewers switched channels to spark a ratings victory for WWE Monday Night Raw.
Tony Schiavone would be an ironic candidate to induct Foley, and though their notable history is quite brief, it certainly is significant.
3. Paul Bearer
Paul Bearer was referred to as "Uncle Paul" when Mick Foley portrayed the Mankind character. Paul Bearer joined forces with Mankind after an unthinkable heel turn on The Undertaker after a five-year alliance.
Bearer's history with Mick Foley didn't include very many iconic moments, however, and in Bearer's lengthy managerial career, he is more closely associated with The Undertaker than Mick Foley.
2. The Rock
The Rock will obviously be on hand during WrestleMania weekend. He'll be the guy breaking box office records while the WWE continues to hemorrhage in-house star power.
The Rock joined up with Mick Foley to form the Rock N' Sock connection, one of the most entertaining tag teams in WWE history.
The two teamed together sporadically from 1999 to 2004, and their partnership included a memorable "This Is Your Life" segment.
The Rock makes sense schedule-wise and based on his friendship with Mick Foley.
1. Terry Funk
Mick Foley and Terry Funk had every type of relationship two pro wrestlers can have. They've been rivals, allies, tag team partners and they even share a mentor-student type of relationship based on their hardcore styles.
Both men share the "hardcore legend" namesake and have had a litany of brutal matches over the course of more than a decade.
As a WWE Hall of Famer himself, and one of the all-time greatest in-ring performers, Terry Funk inducting Mick Foley would serve as an ultimate honor.
Source
1
2
3
For your time ^___^