With 2012 firmly behind us, it's time to look to the future and 2013 is already shaping up to be a promising year for video game soundtracks. Most of the triple-A titles in Q1 and Q2 feature prominent composers meaning 2013 could very well give 2012 a run for its money. Here are the top 5 soundtracks to keep your eyes open for:







Dead Space 35. Dead Space 3 – The "Dead Space" series has certainly never lacked for atmosphere. From the dark, blood-covered innards of the USG Ishimura to the cramped quarters of the Sprawl, Jason Graves' haunting strings have followed Isaac through his necromorph nightmare. "Dead Space 2″ was particularly effective in its use of the cello and one of the best soundtracks of 2010. Which is why you should be excited for Graves' return in "Dead Space 3," along with EA soundtrack veteran James Hannigan. Hannigan is more known for the bombastic sounds of the "Command and Conquer" series, which should play well with "Dead Space 3′s" venture to Tau Volantis. The series has never led us wrong in the past and we have no reason to think it will this year, either.



4. Company of Heroes 2 – You don't have to be one of the hordes of "Company of Heroes" fans to be excited for Cris Velasco's "Company of Heroes 2″ soundtrack. Velasco frequently works with Sascha Dikiciyan, and appeared on last year's "Mass Effect 3," and the utterly amazing "Warhammer 40,000: Space Marine" in 2010. If you missed either of these soundtracks, you owe it to yourself to check them out. But Velasco's solo work on 2010′s "Darksiders" is why you should be excited for CoH2′s OST. If there is one thing Velasco knows, its how to convey a strong, military tone without going overboard. With "Company of Heroes 2″ being set on the rarely-seen (in video games) Eastern front, we're anticipating some Russian influences in the soundtrack, giving it the potential to be a hidden gem of 2013.
Joe Hisaishi Discusses Soundtrack for 'Ni No Kuni: Wrath of the White Witch' Jen Bosier Jen Bosier Contributor


3. Tomb Raider – Marking Jason Graves' second appearance on this list, Square-Enix's "Tomb Raider" reboot deserves acknowledgement for no other reason than Graves' instrument. For those unfamiliar, "Tomb Raider" finds a young, inexperienced Lara Croft trapped on a mysterious island (because where else would she be?) which needed a specific sound and feel for the soundtrack. Unhappy with conventional instruments, Graves custom built something which is part sculpture and all instrument. The resulting sound was prominently featured in the E3 gameplay video last year and frankly, it's hard to not be excited for something this unique and innovative.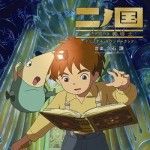 2. Ni No Kuni: Wrath of the White Witch -- Studio Ghibli has a track record for memorable music that plays an integral part in the story-telling process. Which is probably why it was key for staple Joe Hisaishi to score Ghibli and Level-5′s "Ni No Kuni: Wrath of the White Witch." The JRPG has received acclaim in Japan, with reviewers touting how well Hisaishi's score helps immerse the player in the world. With so many iconic scores under his belt, it's impossible to not consider this one of the most exciting soundtracks of 2013.


1. The Last of Us – Everything about Naughty Dog's post-apocalyptic PS3-exclusive looks amazing. A new IP, an original twist on the post-apocalyptic survival tale, promise of solid gameplay — it has it all. Most of all, it features prominent movie composer Gustavo Santaolalla at the helm of the original soundtrack. After watching Santaolalla play the main theme live at the Spike VGAs last year, there is little question that "The Last of Us Original Soundtrack" may rival "Journey" for critical acclaim. Boasting Santaolalla's trademark guitar and Spanish-themes, the soundtrack is merely the finishing touch on one of the most anticipated games of 2013.




Source

Wank it out bitches !!!