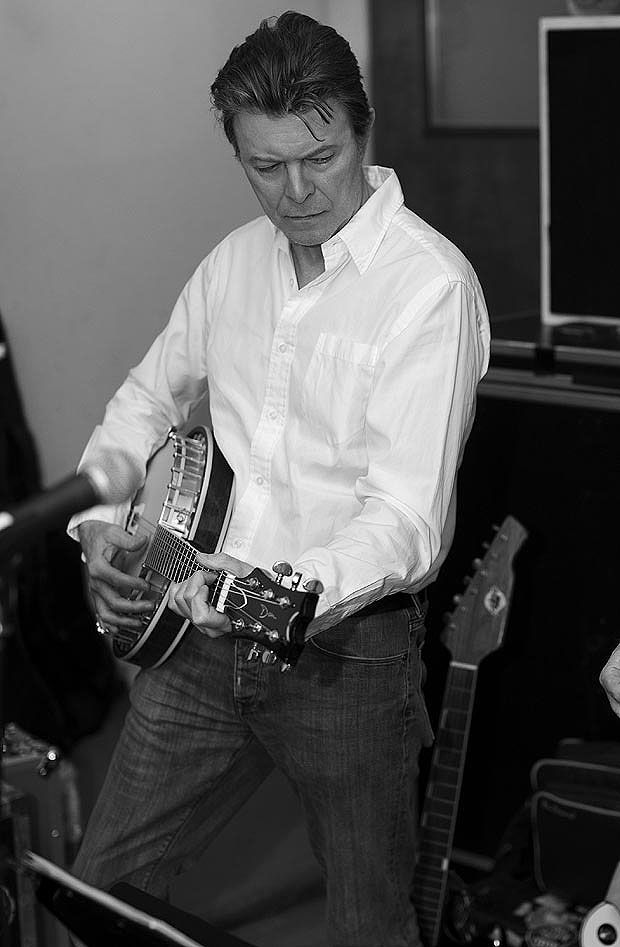 Bowie playing the banjo during the recording of 'The Next Day' – Source

Since David Bowie's new single 'Where Are We Now?' hit the web yesterday (along with news of the forthcoming album The Next Day) there have been an absolute deluge of news stories and updates. In light of the fact this is the single-most important news for Bowie fans in years, I decided a news round-up was in order.

Buy the song/pre-order the album; Watch the Music Video

David Bowie's Album Tops iTunes Charts in 17 Countries Before Release

David Bowie, the 66-year-old rocker who released his first song in a decade this week, is on top of the music world again — at least on iTunes. His forthcoming The Next Day album has already claimed the top spot on 17 countries' iTunes Store Top 10 Albums charts. The album is number one Wednesday in the United Kingdom, France, Germany, Austria, Belgium, Canada, Denmark, Finland, Greece, Iceland, Italy, Luxembourg, Netherlands, Portugal, Spain, Sweden and Switzerland.

David Bowie's producer says new record is 'quite a rock album'

Despite its wistful lead single, David Bowie's surprise new record is "quite a rock album", his producer Tony Visconti said on Tuesday. The Next Day is a mixture of "classic Bowie" and "innovative Bowie", Visconti promised, made by an artist who is both happy and in good health.

The album was recorded in New York and in secret, on and off over the past two years. "We never spent more than two to three weeks at a time recording," Visconti told BBC News. "Usually we'd work on one or two songs in an afternoon, and whip them into shape so they'd sound like great rock tracks." They would only add vocals later. "That's the way I've been working with [David] since The Man Who Sold the World [and] he hasn't really changed in his approach."

Updated: David Bowie comeback single 'Where Are We Now?' still chart eligible

David Bowie's new single 'Where Are We Now?' could still chart in Sunday's Official Top 40, despite earlier reports stating it wasn't eligible.The track, which is currently number one on iTunes, is available for free when pre-ordering his forthcoming album The Next Day. This would have prevented it from entering the chart.

However, the Official Charts Company has since said that sales of the single track do count towards the official Top 40, meaning 'Where Are We Now?' will enter if it achieves enough sales.

Their earlier statement read: "Owing to chart rules which are agreed in partnership with UK record companies and retailers, data relating to the David Bowie single 'Where Are We Now' cannot currently be counted towards the official singles charts, as the release is linked to an album pre-order promotion and it is not possible to distinguish album sales from track sales from the retail data received."

David Bowie's producer Tony Visconti on the new album

[Video interview at link]

Music producer Tony Visconti has worked with David Bowie frequently over the past four decades. The pair have spent the past two years working on the new album.

He told the BBC he was surprised by Bowie's choice of Where Are We Now? for the first single, saying it was far more reflective than the rest of the album.

Replying to rumours about the singer's health, Mr Visconti said Bowie is "very healthy... rosy-cheeked... I worked with a very happy David Bowie in the studio."

David Bowie 'Where Are We Now?' Reviews: What Do The Critics Think Of His Comeback Single?

David Bowie stunned fans when he unexpectedly released his first new single in a decade at midnight on Monday.

The unveiling of a new track, 'Where Are We Now?', along with a video and the news that he'll be releasing a new album in March, was his brilliant way of celebrating his 66th birthday.

'Where Are We Now?' climbed to number two in the iTunes download chart just 12 hours after its release and it's had some great feedback from the critics so far. Check out some of their first impressions below...

The Telegraph's Neil McCormick wrote: "Lush, stately, beautifully strange, weaving resonant piano chords, decaying synths and echoing drums around a simple chord progression and a weary, tenderly understated, quietly defiant vocal, David Bowie's elegiac new single may be the most surprising, perfect and welcome comeback in rock history."

The Evening Standard's David Smyth called his efforts "gentle, elegiac and stunningly beautiful" and praised Bowie for - on his 66th birthday - giving his fans a present.

The Mirror's Alun Palmer said: "Wistful and full of yearning, Where Are We Now? is Bowie looking back on the seismic changes, both personal and political, since he left Berlin at the end of the Seventies."

I'm still wondering if this is some kind of wonderful, prolonged dream...