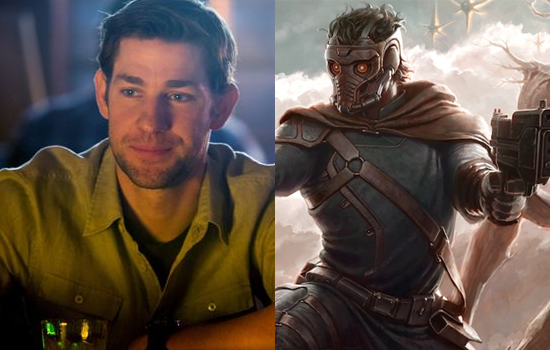 Rumor: John Krasinski Up for Star-Lord in GUARDIANS OF THE GALAXY; Isaiah Mustafa, Brian Patrick Wade, and Dave Bautista Vie for Drax the Destroyer

Earlier today we added Michael Rosenbaum to the shortlist to play Peter Quill (aka Star-Lord) in Guardians of the Galaxy alongside Joseph Gordon-Levitt, Jim Sturgess, and Zachary Levi. One more possibility has surfaced for Star-Lord, but the casting rumors have branched out with a shortlist for Drax the Destroyer. First up: CBM hears that Marvel is "still high on" John Krasinski for Star-Lord, a "master strategist and combat expert who wears an ability-enhancing suit and pilots a psychically-linked ship." Marvel had their eye on Krasinski for Captain America once upon a time. Although that didn't work out the studio is still understandably keen on Krasinski. Peter Quill is set up to be the central character in James Gunn's adaptation of the Marvel comic.

For Drax the Destroyer, Marvel is reportedly looking at Isaiah Mustafa, Brian Patrick Wade, and Dave Bautista. Interesting list: Mustafa is best known as the Old Spice Guy and Bautista is a former WWE professional wrestler. Wade by comparison is just your typical actor—given his unspectacular resume, we can conclude Marvel is not seeking big names to play Drax, a superhuman warrior created to defeat Thanos. Hit the jump for character bios.


Wikipedia has this backstory for Star-Lord:
"Peter Quill is born during an unusual astronomical phenomenon when many of the planets align. Seeing no resemblance, the man who believed he was Quill's father accuses his wife Meredith of infidelity and attempts to kill the infant, but dies of a sudden heart attack. Quill is raised by his single mother until she is killed by an alien. Quill is placed in an orphanage but escapes and eventually becomes a trainee NASA astronaut. An alien entity called the Master of the Sun eventually visits the space station that Quill and other astronauts are inhabiting, and offers the mantle of Star-Lord (an interplanetary policeman) to a worthy candidate. Quill volunteers, but is rejected in favor of a colleague he once treated badly.

Quill is outraged, and NASA orders his return to Earth and discharge for his conduct. Instead, he steals a scoutship, returns to the space station, and takes his colleague's place. Quill becomes Star-Lord, with the Master of the Sun first creating an illusion in which the character is able to find and kill the aliens that murdered his mother to free him of his past. Equipped with a sentient vessel called "Ship", Quill commences his role as Star-Lord."

And the origin story for Drax:
"While driving through a desert with his wife and daughter, Arthur Douglas' car is attacked by a spaceship piloted by Thanos, who thinks the humans have seen him. His daughter, Heather, survives the crash and is adopted by Thanos' father, Mentor, and raised on Titan. She later becomes Moondragon.

Needing a champion to combat the threat from Thanos, Mentor and the Titan god Kronos capture Douglas' spirit and place it in a powerful new body. He is rechristened "Drax the Destroyer," and his sole purpose is to kill Thanos."


source
idk anything about this character/comic/etc but SO HURR for jkras to join the MCU!!!