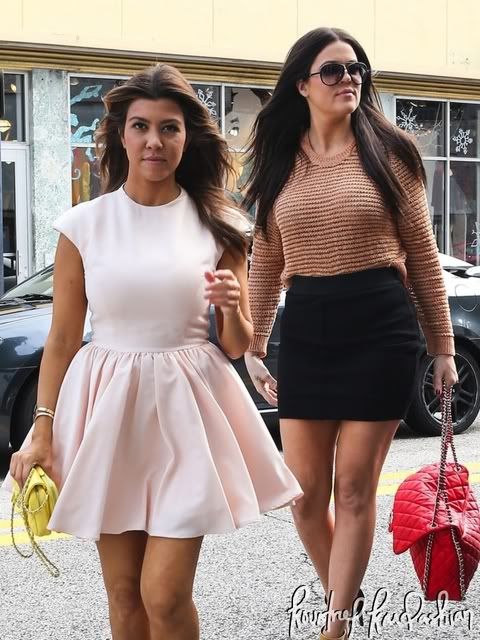 Welcome to your weekly Kourtney Kardashian Fashian Roundup, ONTD! Let's talk klothing, shall we?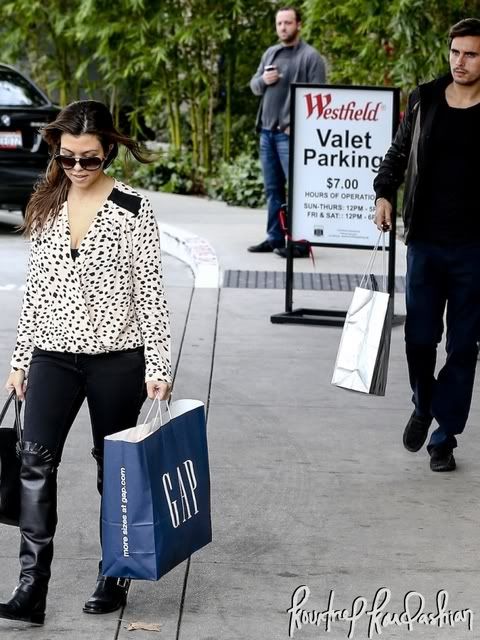 For a bit of shopping this week, my Kween Kourney paired a chic Sam & Lavi top (Dash) with Black Orchid jeans, Valentino boots, a Hermes bag and Fits sunglasses (Dash.) Lord Disick accompanied her on said shopping trip and looks as dashing as ever. He needs to keep that stubble. It's really working for him.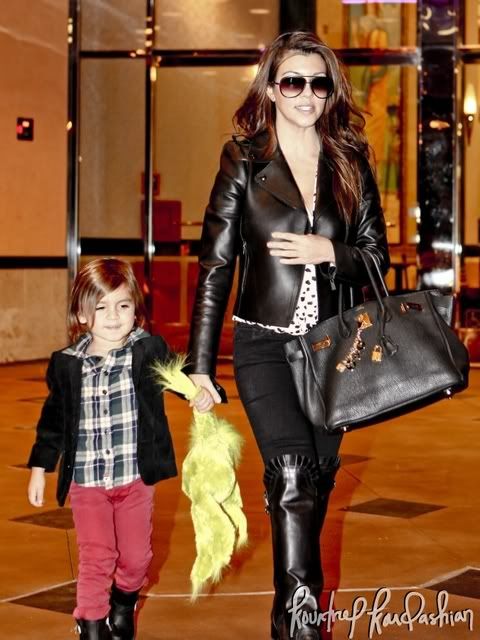 For date night later that evening with her main squeeze Mason, Kourtney accessorized with a delicious black Valentino jacket. But of course her best accessory is that adorable little boy of hers. Preeeeecious.




Being the family gal that she is, Kween Kourtney is rarely spotted without at least one of her two children in tow. For a family lunch this week, the hot momma wore a black Gucci jacket, Kain t shirt, Donna Karan leggings, Chanel boots, Celine bag and Dita sunglasses (DASH). She has been seen wearing those Chanel riding boots many times in the past and they have become quite a staple of hers. They are really versatile and I'm jealous of them tbh.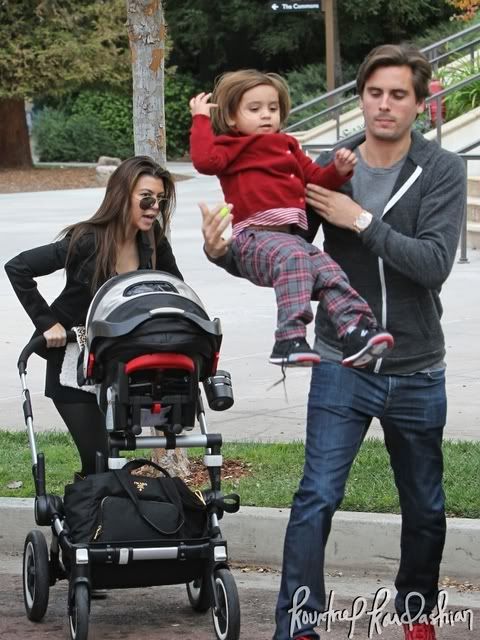 lol and I just thought this picture was cute. When did Scott become so hot, ONTD? It seemed to happen overnight. What a strange phenomenon.




For a trip to visit her DASH store, the brunette babe went simple chic with a Pencey dress (DASH), Rebecca Minkoff sandals and Celine bag. I love how the zipper on the dress matches the bag. Again, it's a simple look but very stylish.



Best of the week!!! I am practically drooling over this sweet and sassy baby pink Cameo dress (DASH). It fits Kourtney perfectly and really accentuates her petite figure. She paired the dress with Alice and Olivia floral print pumps (DASH) and yellow Chanel bag. I also love Glamazon Khloe's red quilted Chanel bag and heels. It seems she has also become quite fond of her miniskirts which make her sexy stems look even longer than they are.



Finally here is a candid photo of my Kween wearing a Kardashian Kollection hat. She sure does love her boho, that girl.

And now for the latest news on Kourtney:


Kween Kourtney on Staying Out of a Style Rut:

Kourtney Kardashian has revealed the secret to not getting caught in a "style rut" is to travel to different locations.

The mother-of-two confessed that despite having a very healthy bank balance thanks to her successful career, she still struggles with wardrobe dilemmas on occasions.

The Kardashian Kollection is just one of the fashion lines Kourtney's collaborated on with her sisters Kim and Khloé, and the designer shared her advice on how best to get inspiration for your look.

"I hate feeling stuck in a rut, which happens to all of us at some point, so it's fun when you visit another country," Kourtney told British magazine more! Style even varies greatly from state to state, and you can get inspiration from the styles across the country as well. "There's a totally different vibe in Miami than in New York or LA for example."

Kourtney continued to reveal her latest way of dressing. She gushed about the trend for masculine tailoring on women's clothing styles, and shared how she has chosen to wear this hot fashion-forward trend herself.

"I've been wearing a lot of menswear recently," she continued. "I love tailored shirts, which I tuck into trousers, or little skirts that cinch you in at the waist."

(for the rest of us, Pinterest is probably our best bet. I can't go to Malta, but I can sure google the shit out of that motha')

On Getting Married & Letting Kanye Design Her Dress:

Kourtney Kardashian might be the mother of his children but she is no close to being Scott Disick's wife following the allegations that the reality TV star rejected Scott's proposal of marriage whilst they filmed Kourtney And Kim Take Miami.

According to Life & Style, Scott was planning to get all romantic and get down on one knee to ask for Kourtney's hand in marriage but an insider revealed that Kourtney had other plans.

An insider claimed: "She didn't allow for an engagement to be filmed.

"They did not film a proposal, and it was because of Kourtney. She said, 'No.' She does not want to be engaged."

Kourtney Kardashian 'Rejects Scott Disick's Marriage Proposal Whilst Filming Reality TV Show'Kourtney Kardashian 'Rejects Scott Disick's Marriage Proposal Whilst Filming Reality TV Show'

These two have faced rumours about their relationship in the past (WENN)

Another source claimed to the publication that Kourtney has no plans to marry Scott anytime soon.

They said: "Kourtney really has been very vocal and told everyone how she does not want to marry Scott.

"She does not think their relationship is perfect and is scared of divorce. But Scott's not happy about her never saying yes to a proposal."

The alleged report that Kourtney has refused to marry Scott comes after Kourntey revealed that she wants Kanye West to design her wedding dress. Talking ot More! magazine, the star said:

''I'm going to let Kanye design my wedding dress. Just not right now!''

(Let's hope it's not right EVER. On second thought, I would love to see the hideous ass mess Kanye would design for someone's big day.)

Brother Rob on His Sister's Offspring:

In other Kardashian news, Rob has criticized sisters Kim and the goddess Kourtney for having babies out of wedlock. When asked what he thought of his sisters having dem babays, Rob said, "I'm so proud of my sisters, but I'll be married before I have a baby." As for whether Kanye will make an honest woman out of Kim, Rob replied, "Probably not, especially as she is already married He added,"I think everyone is just excited about and focused on the baby right now. Kim and Kanye are over the moon happy. I'm so excited to be an uncle again!"

(Personally I don't think anyone without a uterus should put their two pennies in. Especially considering the fact that I'm sure he's not celibate and condoms are not 100% effective, but moving right along....)

Thank you for your time. I hope you have enjoyed this post about my Kween. Stay tuned for tomorrow's Fashian post where we'll count down Kourtney's Top Ten Looks of 2013.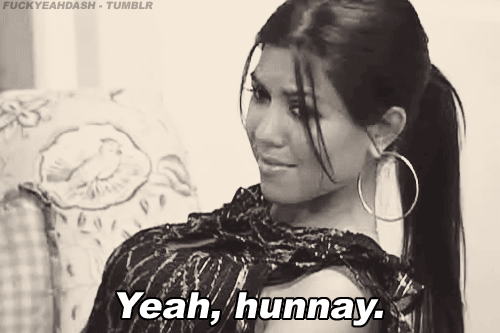 Source 1
Source 2
Source 3