The Disney Prince has been busy! (And sorry mods, I meant to change the link on these so as to not hotlink, but they are linked to my Photobucket account!)
First, Disney Prince Hiddles singing for cancer research! Tom At Cancer Research UK Christmas Carol Concert At St. Paul's Cathedral
Tweets to him thanking him for the pro bono work, how kind of him to do that event, him being gracious as ever, etc (this man...)
More
here
and
here
. Source is Getty and this
Tumblr
.
Next, Prince Hiddles enjoys a dinner at C restaurant in Mayfair with female friend (I think it's Sian, his bff, but cue the Tumblr meltdown in 3...2...1...) in London, UK on Dec 11, 2012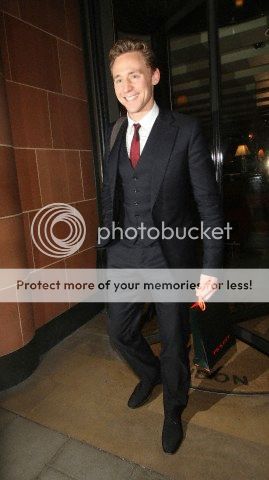 More pictures here (and source)!
Opening a Christmas Charity Sale at The Dragon:
We are delighted to announce that celebrated stage and screen actor Tom Hiddleston (OD 1994) is to open the 69th Dragon Christmas Charity Sale this year. Tom is very much looking forward to returning to the Dragon as he attributes his acting career to winning the school Balloon Debate in 1993 - quite something when you consider that in in the past year alone Tom has starred as the villainous Loki in Hollywood blockbuster
The Avengers
and in Steven Spielberg's
War Horse
and Woody Allen's
Midnight In Paris
as well as performing the title role in the BBC's production of
Henry V
and playing the young Prince Hal in
Henry IV
parts I and II!
"I had the time of my life at The Dragon. I don't remember actively 'learning' anything because it all seemed so much fun at the time, and yet in retrospect I realise I learned everything, including the most valuable lesson of all, which is that curiosity - intellectual, physical, imaginative, academic, experiential - should and always would be fun. That's the whole point of education: to expand the heart, mind & body in every possible direction. I discovered so much during my time at The Dragon - my love of literature and language, my passion for rugby and running, my eternal ineptitude on the cricket pitch, my independence, and some of my very closest friends. I feel so honoured to have been asked back to open The Dragon Sale this year. I remember being inspired by Ronnie Corbett, when he came to open the Sale when I was in E Block. I can't hope to offer the same level of inspiration, but I'll do my best!"
Source
RADA Big Give Christmas Challenge
Source: YouTube
Attending the Moet British Independent Film Awards at Old Billingsgate Market on December 9, 2012 in London, England (and also getting mobbed by autograph hounds, drama may or may not have ensued)
Source
And, finally, the bastard using his perfect voice talent for some dark humor on Robot Chicken!
Source:
YouTube
Personally, I bet this flawless fucker can fold a King-size fitted sheet perfectly. Stupid man, ruining my life. Part post y/n? It's been a while....