After Monday's exciting news that Life-Size, Tyra Banks' greatest contribution to television, is getting a sequel, a world of opportunity opened. The 2000 straight-to-TV movie became an instant guilty pleasure, but it was just one of Disney's many original movies to premiere on ABC or Disney Channel. There are plenty of others that deserve sequels of their own, but we're focusing on the best of the pre-High School Musical era -- because let's be honest, nothing was ever the same after that. Before that franchise, Disney Channel movies were adorably cheesy with cute, if completely unbelievable, storylines. Since the ill-fated day that Zac Efron had to choose between drama club and the basketball team, the movies lost all of their charms and became mere vehicles for the network's latest stars (all of whom were required to sing, apparently). Here are some of the classics (we use the word lightly in all respects) that haven't gotten sequels yet, and are long overdue:
Brink!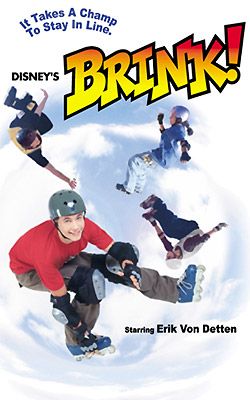 Does it get more '90s than an entire movie about rollerblading? Or as the cool kids of Brink! call it, inline skating. The movie stars Erik von Detten, whom you might recognize as the popular guy that "ugly" Anne Hathaway has a crush on in The Princess Diaries -- or as the voice of Sid in Toy Story (!?). For anyone very familiar with Disney Channel movies, it's a Johnny Tsunami-esque plot about two rival skating crews, the Soul Skaters and Team X-Bladz, and what happens when von Detten's Brink -- yes that's his name -- betrays his group for money. There are plenty of options for a sequel; it just needs a little updating. Like maybe a title that people actually understand, and a sport that's a bit more... hip.
Don't Look Under the Bed
Only the bravest Disney fans could sit through this one, and it's time to put the next generation up to the challenge. Seriously, this movie is legitimately scary at times, with main character Frances being blamed for freaky stuff happening in her town, only to find out from a guy invisible to everyone else that a Boogeyman is framing her. Even the commercials for this were frightening at the time, with a kid's legs dangling off the edge of a bed before being grabbed by a monster. But hey, today's viewers might be better equipped to handle it, as this was before everything, even Harry Potter, started getting dark. It'll take a lot more to scare people now, but maybe they can start with the boogeyman taking away everyone's cell phones.
Model Behavior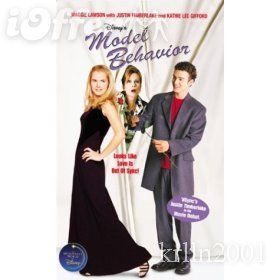 In the midst of N'SYNC mania (don't you dare even mention the Backstreet Boys), Justin Timberlake made many young girls' dreams come true when h starred in Model Behavior. Not only did it feature the biggest heartthrob of the time (though unfortunately he wasn't sporting the frosted tips) but it involved a scenario usually reserved for Mary Kate and Ashley, in which a normal girl switches lives with a model and gets to date Timberlake. Kathie Lee Gifford also appears, pretty randomly, as the model's mother. A sequel would only work if Timberlake came back, especially since he went from boy band cutie to legitimate superstar. Since Kathie Lee is busy drinking with Hoda, maybe Kelly Ripa can take her place. As for the girls who switch places, Lindsay Lohan has some experience in that area and her recent attempt at a comeback wasn't exactly a success.
Mom's Got a Date With a Vampire
Apparently Aunt Hilda just can't stay away from the supernatural. Somehow in the midst of dealing with a teenage witch and a talking cat, she had time to date a vampire. While Don't Look Under the Bed was actually creepy, Mom's Got a Date with a Vampire has a more fun Hocus Pocus Halloween vibe. Really, it was just ahead of its time, because if Twilight has taught us anything, it's that moms love vampires. Maybe with that franchise coming to an end, Mom's Got a Date with a Vampire could be the next big thing. A sequel can lead to all kinds of spin-offs: Mom can have a date with a werewolf, a zombie or a wizard, and Dad can even start dating, too. We just need someone to replace Caroline Rhea as the titular mother -- maybe she can pass it down to Sabrina herself, as Melissa Joan Hart doesn't seem to be up to much these days.
The Luck of the Irish
The high school basketball player at the center of The Luck of the Irish is played by Ryan Merriman, who also starred in Smart House, which basically makes him Disney Channel royalty. Smart House is also long overdue for a sequel, but for all we know Apple could be working on a real-life version at this very moment. Anyway, The Luck of the Irish is bizarre, even among other Disney Channel movies, what with a main character who thinks he's just lucky, finds out he's of Irish descent and then turns into a leprechaun. It's the insanity that makes it entertaining, especially the leprechaun vs. leprechaun competition and a very complicated gold coin. Looking back, the entire thing is rooted in a giant stereotype but hey, let's embrace that. The sequel can be about someone who thought they tanned easily finding out that they're Italian and then turning into a meatball.
Cadet Kelly
Just kidding! It's a load of garbage.
Pup n Sud Sauce
I guess this can be a saturday 90s nostalgia post =)