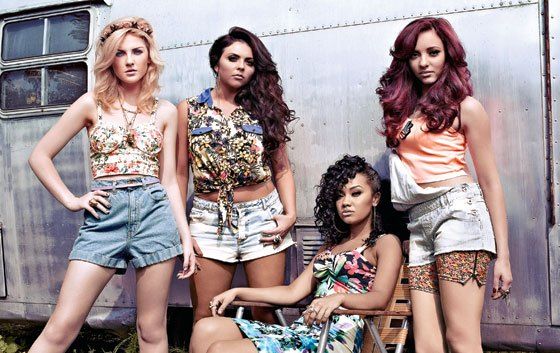 Little Mix Talk 'DNA', Gaining Respect And Why 'Being A Girl Is Hard'
"There's a lot of focus on our image rather than our music. Being a girl is hard," says feisty Little Mix star Perrie Edwards.
"If we want to wear a jumper and it says something weird on it and everyone says 'what are they wearing', we don't really give a crap," adds Leigh-Anne Pinnock.
Little Mix became the first group ever to win the 'X Factor' last year, a feat that even JLS and One Direction didn't manage. Now - almost twelve months later - their debut album 'DNA' has hit the shelves and they're eager to be taken seriously...
Geordie singer Perrie explains:
"We're not worried about being "cute", but we have evolved a bit. We still like dressing how we did on the show but we have grown up a lot. When we auditioned for the show, some of us were 17 so we're obviously not going to wear the same thing."
The girls' latest music video for their current single 'DNA' (the title track from their album) sees them take on a vixen look in dark leathers, red lips and plenty of studs.
It's a far cry from their bubblegum pop video for 'Wings', their number one single which sold over 107,000 copies in its first week. But Jade Thirlwall insists: "Really, we think our music shows how much we've grown up rather than the way we look.
"When we brought out 'Wings', that was about having fun and all about just being girls and being who you are. And then 'DNA' comes out and it's more about a darker side of us, but we also did 'ET' on the 'X Factor' and that was quite dark and that was the week we got the most votes."
Perrie adds: "Our image is going to be commented on a lot at the minute because we've only got two songs out, but once the album comes out people will know our music more and hopefully respect us more as music artists. It's just a matter of time really."
source
negativity will not be tolerated herein, tell em Jade