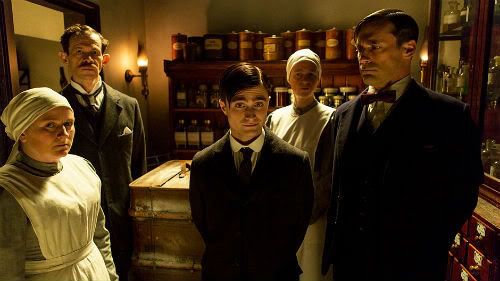 There's less than two weeks to go until
A Young Doctor's Notebook
airs on Sky Arts, and a few snippets are starting to be released. Under the cut are three different promos, courtesy of me, my TIVO, and my DVD recorder:
BBC2's
The Review Show
discussed
A Young Doctor's Notebook
on last night's episode, and broadcast several new clips from the series:
General consensus seems to be that it's good, though the Bulgakov stan doesn't care for it because of reasons.
Dan will be appearing on the 7th December episode of
The Graham Norton Show
to promote
A Young Doctor's Notebook
.
On the
Horns
front, filming was scheduled to finish this week. Dan will be hanging around long enough to make an appearance at the
Whistler Film Festival
on 30th November to talk about his career and upcoming films
Horns
,
Kill Your Darlings
and
The F Word
.
He recently spoke to ET Canada on the set of
Horns
. The broadcast version let us have a sneak preview of his American accent. The video doesn't want to embed, so watch it
here.
An uncut version was made available on their website:
Dan goes into more detail about the film, and says that Wallace in
The F Word
is the character most like him.
Dan also guest-voiced an episode of
Robot Chicken
, Hemlock Gin and Juice, playing mullet boy and Thomas the Tank Engine.