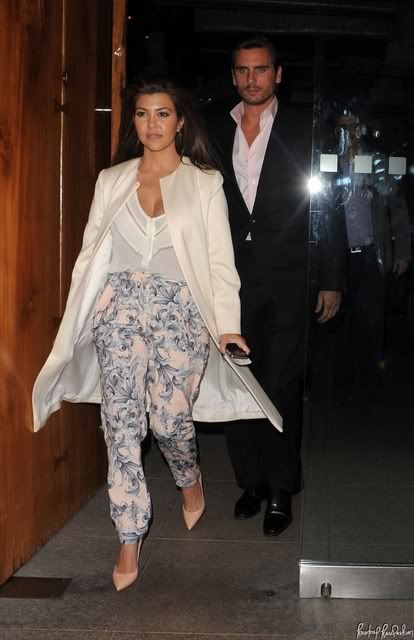 For a hot date with Lord Disick last night, Kourtney went chose an uncharacteristic pastel pattern. Here she is wearing a Kardashian Kollection top, Raoul coat, Cameo pants, Gianvito Rossi shoes.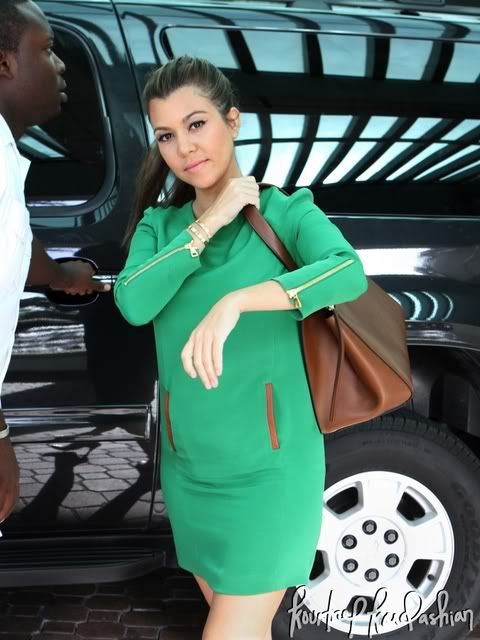 For lunch with Khloe in Miami, Kourtney keeps it kool in a Max Fowles dress, Christian Louboutin shoes and Celine bag.




For an afternoon out in London with that peasant Kim, Kourtney dons a Cameo dress, Kardashian Kollection jacket, H&M necklace, Wolford tights, Giuseppe Zanotti boots and Hermes bag.




Kourtney is klearly loving leather this season. Perhaps this is due to the excess exposure to Kim during the shooting of this season's "Kourtney and the Other One Take Miami: Part Deux". Here's the stylish mom at the airport with Mason wearing a Valentino jacket, LNA shirt (DASH), Donna Karan leggings, Chanel boots, Celine bag and Balenciaga sunglasses.




Mo' black leather! For a boat ride down the Seine river in Paris with Mason and Lord Disick, Kourtney again dons black on black. Here she is wearing an Alaia coat, Alexander McQueen shoes and Hermes bag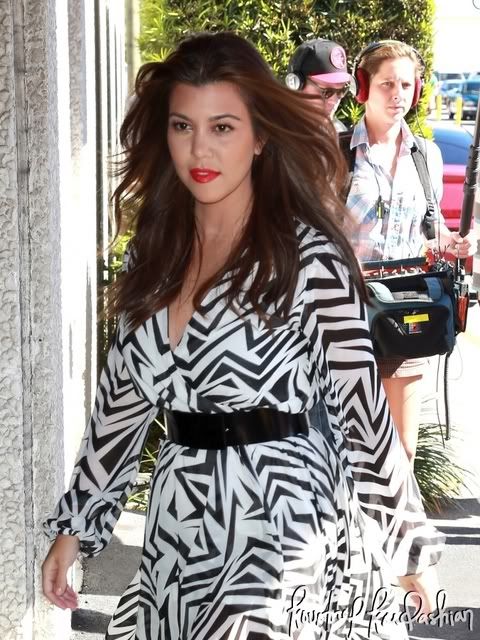 Although I'm not sure who made this graphic print dress, it is my favorite look of the week. Here she is getting the keys to the city in Miami. Ed. Note: She has already received the keys to my heart.



For a laid back night on the town with Lord Disick, Kween Kourtney decides on a Valentino jacket, Helmut Lang shirt, Bec & Bridge pants, Valentino boots and Hermes bag.




For an afternoon stroll in Paris with Scott, Kourtney paired her Valentino boots with an Alice and Olivia coat, Helmut lang top, Rick Owens skirt, and Wolford tights.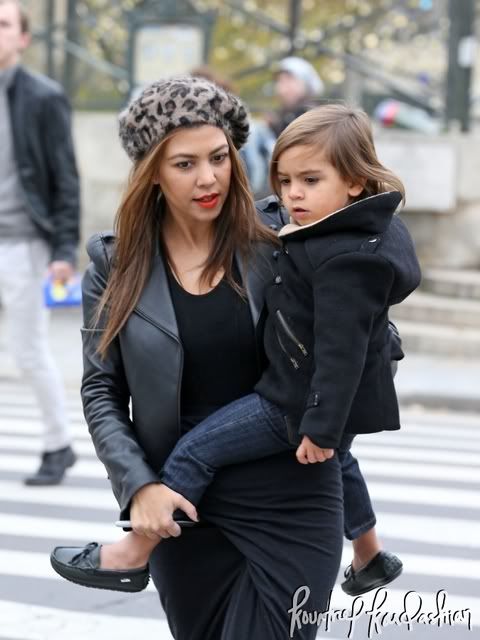 Earlier in the day Kourtney sported the same Helmut Lang top and Rick Owens skirt, but topped it off with a stylish leather jacket and leopard print beret.




Lord Disick also had a blast in Paris. Here he is enjoying a ride in Paris on his own private jet. Finally the treatment this man deserves.



In addition, check out this new promo for "Kourtney and the Other One Who is Neither as Funny or Interresting as Khloe Take Miami: This Time It's Personal"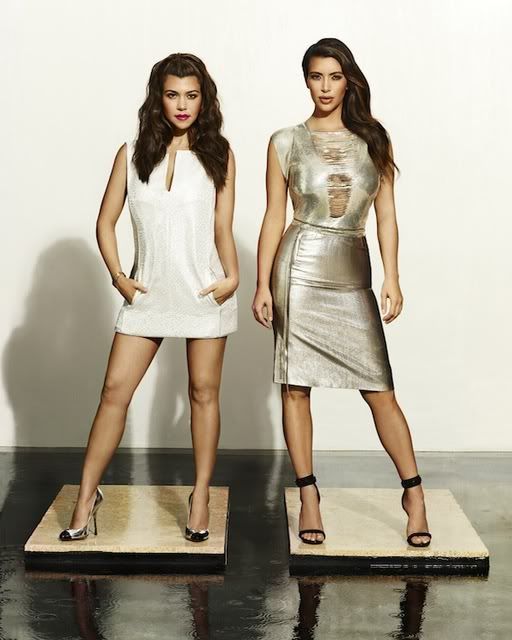 Also awesome is this random pic of Kourtney threatening Joel McHale. If someone wants to make me an icon out of this fresh flawlessness, I would love you forever.



This post brought to you by the following:
Kween Kourtney




Glamazon Khloe, whose presence is severely lacking in this post



Lord Disick



And my bored ass



Mods: Fixed the link for the...
Source