Macy's Thanksgiving Day Parade Goes Interactive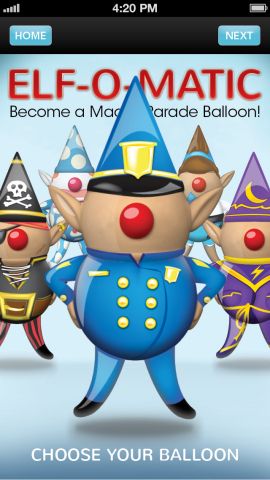 The nation's most cherished holiday spectacle goes interactive, as the Macy's Thanksgiving Day Parade® launches a host of initiatives to bring fans closer to the magic this November. From a dedicated App by MyCityWay to its partnership with zeebox and to the launch of Pop-Up Shops, the Macy's Parade is set to give fans new ways to experience America's Parade.



"The Macy's Parade has always been about creating magical experiences that touch millions of spectators," said Amy Kule, executive producer of Macy's Thanksgiving Day Parade. "This year, in addition to an amazing line-up of balloon characters, floats and performers, spectators in New York or in homes nationwide will be able to join the fun and become a part of the spectacular. Whether it's through our enhanced mobile app, the up-to-the minute behind the scenes content and interactivity of our new social television platform on zeebox, or the opportunity to take a piece of the pageantry home from our new Pop-Up Shops, this year spectators have fun new ways to enjoy this national tradition."


PARADE APP-TITUDE

Parade fans can kick-off the multi-platform social experience by downloading the free Macy's Thanksgiving Day Parade App, powered by MyCityWay. The app, developed for iOS and Android devices, will give live spectators and viewers nationwide the chance to interact with the march in real time. From the ability to follow the procession of elements through the streets of the city to the opportunity to tap into traffic cameras along the route for a bird's eye view or even the chance to add themselves to the line-up via the exclusive Elf-o-matic feature, which allows fans to transform themselves into an Elf balloon and share their high-flying debut with friends; the app is a one-stop destination for all things Macy's Parade. Available now, with an additional update for the Elf-o-matic feature slated to hit before Thanksgiving, fans can download it from the iTunes App store or from Google Play.


INFLATE THE SPECTACLE AND TAKE HOME THE MAGIC

Before the Macy's Parade takes to the streets, the star attractions must come to life at Macy's Balloon Inflation. From 3 p.m. to 10 p.m. on Wednesday, Nov. 21, the Parade's signature balloons will come to life as the Macy's (NYSE:M) team inflates the giants in preparation for their Turkey Day flights. This year, to celebrate this Thanksgiving eve spectacle, the first-ever Macy's Parade pop-up shops will sprout at the school yard of P.S. 334/The Anderson School. Fans in New York City can enter via West 76th Street near Columbus Avenue to shop for collectible Macy's Parade merchandise including apparel, toys, unique Parade-themed tablet covers and even emergency clown noses, for those goofy moments when a red nose is most in- need.


SECOND SCREEN / BIG PICTURE

The Parade of magic will reach even more screens this year as Macy's partners with zeebox to bring an exclusive content experience to second screens everywhere. While the spectacle unfolds on the NBC-TV national broadcast, zeebox app users will have relevant Parade content presented to them in real-time on their second screens. The experience is available for iPhone®, iPod® Touch, iPad® and Android devices or at zeebox.com. The free app serves as the TV viewer's ultimate sidekick, pulling relevant behind-the-scenes Parade content from various sources while they watch. Viewers can also invite their friends to join them to chat live during the broadcast. With social viewing, Parade fun facts, special polls and more, zeebox makes TV even better by allowing spectators to interact with and add their voices to the Parade revelry.






Macy's Thanksgiving Day Parade Pros & Cons On 'Late Night With Jimmy Fallon' (VIDEO)
Goldfish Cracker Float Part Of State's Macy's Parade Connection
For 50 years, Goldfish crackers have been a staple of kids' diets. On Thursday, the snack made by Norwalk-based Pepperidge Farm will receive some high-level exposure during the Macy's Thanksgiving Day parade in New York with the debut of a fish-themed float.
"We are thrilled," said Jared Konstanty, senior vice president, general manager snacks, at Pepperidge Farm.
After Pepperidge Farm and Macy's got together to discuss the theme, Macy's Parade Studio devised a float featuring Finn and his Goldfish friends -- Gilbert, Brooke and Xtreme -- having a parade with their very own Goldfish balloon. The characters may be familiar from TV ads.
"They created something that reflects their values of optimism, goodness, confidence, playfulness and imagination," Konstanty added in a press release.
Macy's shared in the excitement.
"We are truly honored to have this glorious brand join the Macy's Thanksgiving Day Parade family," Amy Kule, executive producer of Macy's Thanksgiving Day Parade, said in the press release.
"On this one-of-a-kind float," Kule said, "Pepperidge Farm's illustrious Goldfish characters have decided to create their own version of the Macy's Parade. The Goldfish friends have shown an incredible sense of imagination and have transformed the ordinary into the extraordinary. I'm confident their inaugural march down to 34th Street will delight and astonish millions of spectators on the streets of New York City and in homes across the nation."
About a year ago, Pepperidge Farm approached Macy's to participate in the pageant, according to Pepperidge Farm spokesperson Geri Allen. When Pepperidge Farm officials pitched the idea, they told their brand story. Pepperidge Farm was founded in 1937 by Margaret Rudkin, a Fairfield homemaker who started baking fresh, all-natural bread for her son, who was afflicted by allergies, Allen said.
"Macy's is just such an iconic part of our culture that it just made sense to do it now," she said.
Pepperidge Farm agreed to pay for a three-year contract to march, according to Allen, who would not disclose the fee. Macy's spokesperson Ansley Brown said the department store does not release any financial information, including cost, associated with the parade.
The parade is enjoyed by more than 50 million TV viewers nationwide and 3.5 million street spectators, according to Macy's. It is scheduled to air nationwide on NBC from 9 a.m. to noon.
The Pepperidge Farm float, dubbed Goldfish on Parade, will join the other floats that have been part of the procession before, including the Tom Turkey, 123 Sesame Street and Big Apple floats. There are several other new floats this year, including the Teenage Mutant Ninja Turtles.
The floats, created by the artists at Macy's Parade Studio, are considered engineering feats. Macy's boasts they are 360-degree masterpieces that stand several stories tall -- and must collapse to fit through the Lincoln Tunnel, which connects New York to New Jersey, where the floats are made.
About 600 Pepperidge Farm employees and their immediate families will be enjoying a private room at the Hilton New York along the Avenue of Americas or Sixth Avenue in Manhattan -- the first year the parade is not marching along Fifth Avenue. They will be enjoying goldfish-colored Mimosas and finger foods that will include, of course, Goldfish crackers.
"There's a ton of heart here," Allen said, "and the company is very excited."
Also representing Connecticut in this year's parade will be Danbury High School student Emily Joseph. The 15-year-old, one of 8,000 parade participants, earned herself a spot in the color guard of Macy's Great American Band by submitting a tryout tape.
It's a dream come true for the teenager who is a member of the Danbury High School Marching Band and the Brookfield Independent Winter Color Guard.
"I've watched the parade for as long as I can remember," she said.
She thought of joining in while watching the parade last year --- and saw an ad for tryouts on the internet this year.
Her visit to the Big Apple will include a shopping spree in Times Square and a visit to Broadway with the others, who she's only met on Facebook. But the focus will be on three days of practice.
"On the day of the parade, we wake up at 4 o'clock in the morning to have a practice at Herald Square," she said.
Family and friends will be recording her television debut.
"I'm really excited..." she said. "I'm going to be, 'Well, I was on TV?' Like, it's still kind of sinking in."

It's tommorrow morning ONTD ^__^
I look forward to chilling with you all





Source 1 2 3




Happy Thanksgiving Eve ONTD ^__^