Megan & Liz Set to Release 'Bad for Me' EP November 18 & Perform at Macy's Thanksgiving Day Parade
One of our favorite singing sister duos, Megan & Liz, announced some big news today.
The duo will be releasing their third EP, Bad for Me, on November 18 and it will feature brand new music. In addition, Megan & Liz will be the digital correspondents for the American Music Awards Red Carpet Online Pre-Show and will be performing in the Macy's Thanksgiving Day Parade! Talk about a busy November!
The Bad For Me EP will feature 7 songs including "Bad For Me" along with brand new music such as "Like I Would," a song dedicated to their loyal fans. The multi-talented duo wrote or co-wrote all of the 7 tracks on the EP.
Megan & Liz recently stopped by our studio to chat all about the new EP, meeting Taylor Swift, and what's next for them. Check it out!
Bad For Me Tracklisting:
Bad For Me
Dare
Boys Like You
Closer To Me
Sunset Somewhere
When You Were Mine
Like I Would
Trace Adkins to Perfom During Macy's Thanksgiving Day Parade
Trace Adkins will be spending his Thanksgiving in New York City. He's scheduled to perform during the 86th Annual Macy's Thanksgiving Day Parade which airs live on NBC on Thanksgiving Day, November 22, at 9a|8c. Other performers include Carly Rae Jepsen, Flo Rida, The Wanted, Karmin, Neon Trees, Cody Simpson, Jimmy Fallon & The Roots, Jennette McCurdy, Chris Isaak and Don McLean.
"The 86th Annual Macy's Thanksgiving Day Parade will again make history as it debuts three impressive giant balloons, six over-the-top floats, an amazing array of talent and the most remarkable high school, college and professional marching bands in the nation," Amy Kule, executive producer of Macy's Thanksgiving Day Parade, said.
The parade will be one of New York City's first major events following Hurricane Sandy. "As it has during turbulent times in our history, we hope the Macy's Parade serves as a beacon of hope and renewal for all Americans, who will gather with friends and family to give thanks this season and begin to heal from the devastating aftermath of Superstorm Sandy," Amy Kule said.
The Macy's Pardade has marked the beginning of the holiday season since 1924. This year's line up includes 16 giant character balloons, 40 novelty/ornament balloons, balloonicles, balloonheads and trycaloons, 28 floats, 1,600 cheerleaders and dancers, 900 clowns, 11 marching bands, celebrity
New Macy's Thanksgiving Day Parade balloons undergo test flight
EAST RUTHERFORD, NJ (CNN) - With Thanksgiving looming in the near future, crews for the annual Macy's Thanksgiving Day parade prepared for the event by testing out their equipment Saturday.
Staff inflated this year's new balloons for a test run.
New additions to the parade's cast of characters include the Elf on the Shelf, Hello Kitty and Papa Smurf.
The balloons are being stored in New Jersey until their official debut on Nov. 22.
The new additions are expected to be floating alongside old favorites, including Buzz Lightyear, Spider-Man and Kermit the Frog, for more than two miles on Thanksgiving morning.
New Macy's balloons: Hello Kitty, Papa Smurf & Elf on The Shelf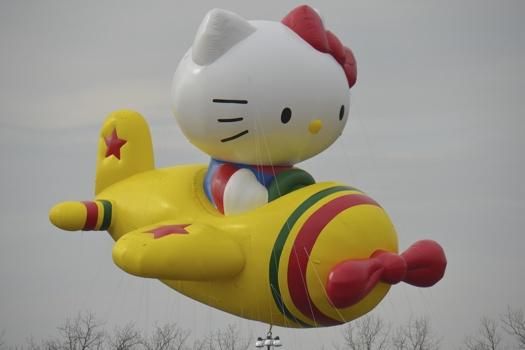 The new Hello Kitty balloon.
They passed with flying colors.
These three new Macy's Thanksgiving Day Parade balloons, Hello Kitty in a retro air plane, a dancing Papa Smurf and The Elf on The Shelf storybook character, debuted yesterday in their first test flight over New Jersey's Meadowlands Racetrack.
"The Elf on The Shelf" co-author Chanda Bell watched her beloved little character plump into a giant 46-foot tall, 28-foot wide, 64-foot long helium balloon.
"When you're old and grey, you can look back and just be proud." said Bell, as 70 ground crew members handled ropes to navigate each balloon.
Macy's veteran balloon designer John Piper said each new balloon takes about a year to create.
The major challenges this year involved making Hello's Kitty's trademark red bow and balancing Papa Smurf's blue legs to appear as if he's dancing.
"The payoff is seeing three million jaws dropping and six million eyes popping. Whether your three or 103, you're a kid on Thanksgiving when those balloons go by," he said.
He said choosing the characters comes from kids.
Among the 16 floating balloons in this year's 86th annual parade along 6th Avenue are Charlie Brown, Underdog and SpongeBob Square Pants.
Alexander Michael
Papa Smurf and the Elf on The Shelf, also making their debut this Thanksgiving
Source
1
2
3
4
Don't forget to join in on the fun Thanksgiving Morning you guys ^__^
we had so much fun last year especially when the 610 Stompers came out dancing lol