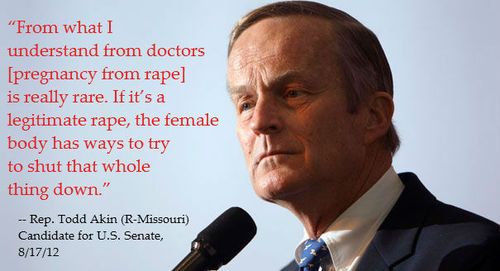 Still trailing Sen. Claire McCaskill in polls, embattled GOP Senate candidate Rep. Todd Akin is desperately trying to recapture Republican support. After a lengthy public shaming by Republican PACs and politicians, Akin has recently earned support from Mike Huckabee and secured endorsements from Missouri Republican icon Kit Bond and former Missouri Sen. Jim Talent. But retired politicians are nothing compared with the endorsement Akin is going to uncork today.

Michelle Duggar, prodigious baby factory and star of TLC's 19 Kids and Counting, will speak at a luncheon in Springfield on Monday. Duggar (who also blogs for TLC's website) will speak with Huckabee's wife, Janet, to "Women Standing with Todd Akin," a group the campaign set up following Akin's legitimate-rape comments.

The campaign also announced that the Duggars will host events across the state in the coming week to advocate for Akin. The Duggars aren't new to campaigning. During the GOP primary race, Michelle and her husband, Jim Bob, campaigned for Rick Santorum. And like Akin, Michelle knows a little something about making controversial political statements. This past spring, she told a Christian television show that overpopulation was "a lie."




Source.