Shawn, Topanga and Cory. Michelle, Stephanie and DJ. Tia and Tamera. Will, Carlton and Jeffery. Raven, Lizzie and Wren and Lewis. If you can name the shows these characters came from, your childhood was awesome. During the 1990s and early 2000s TV shows directed at kids offered productive role models and truly funny worlds to escape to.
(Before I carry on, you should know the answers above: "Boy Meets World," "Full House," "Sister Sister," "Fresh Prince of Bel-Air," "That's So Raven," "The Lizzie McGuire Show" and "Even Stevens.")
Each of the aforementioned shows features characters that are relatable. They have flaws. No one can argue that they don't make mistakes or that they always fit in. They constantly battled the same things we faced. Even Raven, whose superpower set her apart, fought the urge to lie and even wrestled with her personal image.
I can personally remember seeing Stephanie Tanner of "Full House" as she fought society's image of beauty and decided that glasses could be beautiful too. Many of these shows taught viewers lessons as simple as accepting yourself on a regular basis. What would the shows have been like if Raven of "That's So Raven" didn't fight the school uniforms or if Will of "Fresh Prince of Bel-Air" gave up his individuality every time Uncle Phil suggested he do so?
Back in the day, shows tackled big picture questions. Eric Matthews in "Boy Meets World" could hardly face his future after high school. How many American teenagers have stood there at some point? "That's So Raven" went so far as to look at the obesity epidemic while it was still a small problem on the public agenda. Lizzie McGuire even helped her best friend Miranda through a bout with anorexia.
Recently, I turned on Disney Channel. It felt like a force of habit. I was surprised to find that instead of the strong characters with identifiable problems, today's shows don't offer as good of role models. Let's look at "Wizards of Waverly Place" for example. In Selena Gomez's break out role she plays a popular character that doesn't have an issue with her self-esteem. She has no problem lying to authority figures and using her magic to do cruel things. She's never punished for such actions.
Can you imagine what would happen if that character would have lived in a 90s show? Danny Tanner of "Full House" wouldn't have it and Joey would say to "cut it out." The Matthews would never have let that kind of behavior stand. Accountability is part of learning a lesson.
When I turned off the Disney Channel, which I did after one unfulfilling show, I asked myself what I remember most about the shows I watched as a kid. I came to this conclusion: I am that quirky character. I asked myself what love was when Cory and Topanga of "Boy Meets World" went on their first date. I ached to be popular like every other junior high girl and Lizzie McGuire.
But what slipped my mind is the perfection of their lives that, in most cases, exists outside of television scripts. Each character had a friend that they could count on no matter what. These shows taught viewers about the importance of our relationships and how to maintain them.
It's been 20 years since the early 1990s. Soon the sparse reruns of these shows will disappear for good. Like our parents, we'll probably end up talking about that one show that sticks out far past all of the rest. Also like our parents, it will be left to us to instill within our kids those lessons we learned from our favorite characters.
Whatever you do, don't forget. Don't forget growing up alongside characters that really were like you.
Source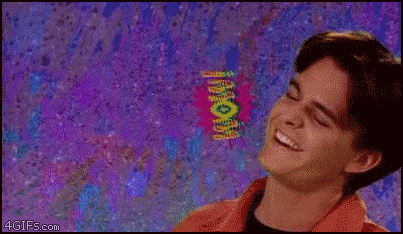 Matt Garrison thanks you for your time ONTD