Facebook has been an unofficial source in the past for fans of NBC's "Saturday Night Live" to recommend their picks for guest hosts, as in the case of Betty White in May 2010. Now, the late-night juggernaut wants to make it official, posting a note on its website urging fans to submit their suggestions via Facebook and Twitter.
The note on the "SNL" page said the show's staffers will designate one day per month for suggestions via Facebook on Twitter...
"Hey everybody! We've been noticing a lot of our followers on Facebook and Twitter have been suggesting performers they think would make great hosts and musical guests for our show. And some of the suggestions have been so amazing that we here in the web world want to keep better track of what you're saying so that we can pass it along to our producers. So once a month we'll chose a day and open the floor to your suggestions on Facebook and Twitter. If you're on Facebook, you can simply leave a comment on our "Suggestion" post and if you're on Twitter, tweet us your suggestion on the designated day with the hash tag #SNLHost or #SNLMusic. And please, stick to the designated days. It will make your suggestions so much easier to track and keep our feeds open on "non-suggestion" days to other interactions with all you wonderful people. Thanks! Can't wait to hear from you all!"
Source
2
MY TOP 10 DREAM HOSTS FOR SEASON 38
#10
#9
#8
UPDATE ( Thank you
ladyjj
and
pipsdixiechick
):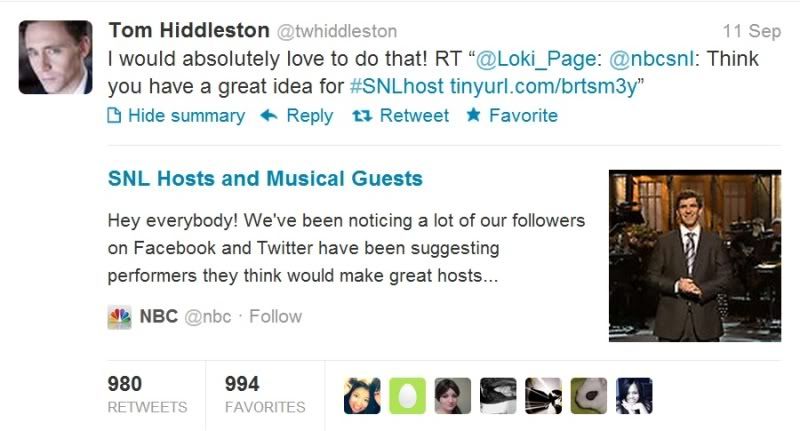 #7
#6
#5
#4
#3
#2
#1