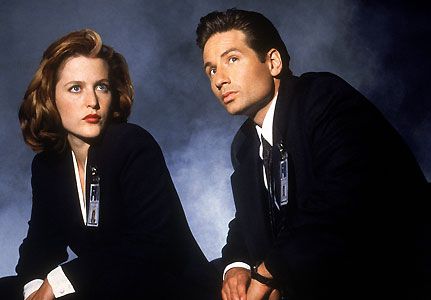 If Twitter is to be taken as a credible news source, than this story just might hold water. Gillian Anderson, who played FBI Agent Dana Scully over the course of nine seasons and two feature films has reported, via her own Twitter account, that a third entry in the series' film franchise is gaining some momentum.
"I met with Chris before coming here and it's looking pretty good." She tweeted, referring to series creator Chris Carter (who also wrote and directed the second film, 2008's 'X-Files: I Want To Believe"). She went on to say that while all principal cast members have signed on, it may take some convincing on the part of the cast and crew to studio 20th Century Fox. "We have to convince FOX." She said.
This comes not long after a recent interview with Anderson's X-Files co-star David Duchovny in which he expressed his views on why the adventures of Mulder and Scully should continue. "That book doesn't close until somebody dies, really." Noted Duchovny. "One of the greatnesses of the show was its open-endedness. It was about possibility. It wasn't about closure. It just couldn't be. There is no such thing as that story ever ending. Those characters are forever searching. That's what they do. Even if we're not watching them, they're out there, in some dimension. Mulder and Scully are still doing their thing 'cause that's their nature."
Duchovny then went on to express his frustration in regards to Fox's apparent lack of enthusiasm at the idea of a third "Files" movie; "I know I'm kind of perplexed that Fox isn't more [enthusiastic]. Here's a homegrown property that you don't have to go buy, like f*ckin' Green Lantern or something, to make it. Here you've got an actual action franchise that's your own. It's weird to me, but I'm not an executive. I don't know if they made the Green Lantern either, but I'm just using that as an example of, 'Why make that film? Why not make a homegrown franchise that is excellent, and that has proven to be excellent and interesting?' I don't get it, but that's not my business."
The first entry in the 'X-Files' film canon, 1998's "X-Files: Fight The Future" was a hit with critics and series fans, but failed to make a strong connection with series outsiders, as the film came out between two seasons of the show, and sought to bridge the gap between them. Whereas the second film, 2008's 'X-Files: I Want To Believe' was less of a hit with critics and fans, and also had the misfortune of opening one week after 'The Dark Knight', which no doubt hurt its box office receipts. So, one can certainly understand Fox's hesitation, however, fans are no doubt salivating as the possibility of seeing their favorite paranormal FBI agents on the big screen, even if it may be for the last time.
Do you want to believe?
source
We should start an online petition for XF3.. with the stipulation that it's about aliens
and the conspiracy and doesnt include any actors from "Pimp my Ride". TBH I can't really blame FOX for not wanting a third movie given the last one. Maybe someone can convince Vince Gilligan to sign on? :)