Chris Byrnes had enough foresight to federally trademark Jeah, the offbeat name of his web hosting company. Olympic swimmer Ryan Lochte wants to start branding Jeah, his catchphrase. Someone call the lawyers.
By Casey Cora
Olympic swimming sensation Ryan Lochte is fond of the term "jeah." Uses it a lot, in press conferences and promotional videos, during training routines and over Twitter.
But Lochte's attempt to trademark the catchphrase and bring the essence of "jeah" to the masses by way of an apparel line has run into two problems: Chris Brynes and Jeah Communications.
Byrnes, 30, is the owner of Jeah Inc., a small, nine-employee web hosting business with offices outside Milwaukee and in Oak Park. He federally trademarked the term "Jeah" back in 1999. (Byrnes' "jeah" – pronounced like yeah, with a j — was a term bandied about by his high school pals so much so that it evolved into Byrnes' nickname, and, eventually, the name of his company.)
"It's something that every business should do, and it was something I consciously did at the time because it was a unique name and something I hadn't heard before used in a business way," he said.
Records show Lochte filed with the United States Patent and Trademark Office on Aug. 1, hoping to brand the phrase onto merchandise like workout DVDs, sunglasses, keychains, water bottles, magnets and all manner of clothing. His online store is already up and running.
Byrnes and his attorneys sent a cease and desist letter to the Lochte camp on Aug. 24 but haven't heard back yet.
"I'd like them to stop telling people they've created the word "jeah" and represent that they've made a mistake and acknowledge that we're the original 'Jeah,'" he said. "Meantime, we still have this problem of multimillionaire Olympiad who has access to every newspaper and TV show in the world telling everybody he created the word 'jeah.'"
Byrnes taken to his company's Facebook page, reminding clients that his Jeah has been around awhile. To prove it, he's unleashed the company's old graphics, marketing materials and even the Jeah Communications apparel line, complete with baseball jerseys and boxer shorts.
"I will give Ryan Lochte credit. He's obviously a fighter. What surprises me is that you'd have thought they had the foresight to look down the road."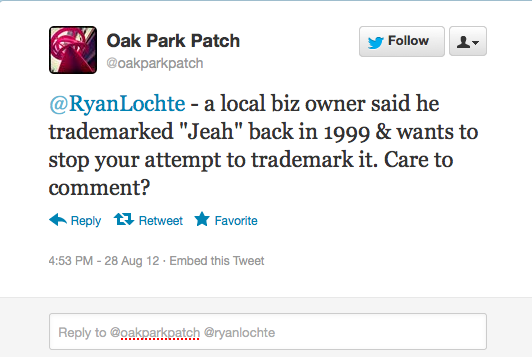 Calls to Lochte's manager and attorney, and a Tweet to Lochte, seeking comment for this story were not returned.
Related Topics: Cease And Desist, Chris Byrnes, Jeah, Jeah Communications, and Ryan Lochte
Sauce