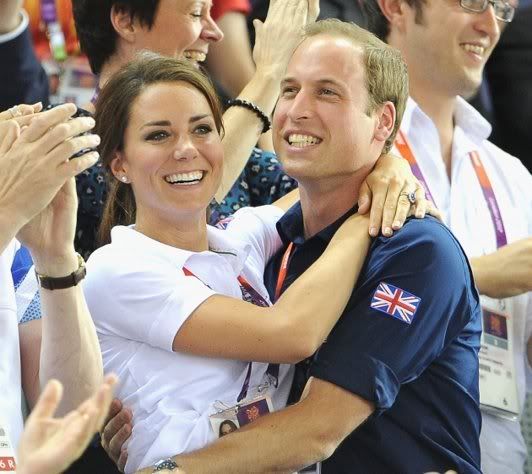 Prince William and Kate have been photographed excitedly cheering on Britain's athletes at the 2012 Summer Olympics in London (the royal couple even did the wave while watching tennis), but there is one crowd shot the Prince did not want to partake in - the kiss cam!
"I was absolutely dreading they were going to come and show myself and my wife and that would have been very embarrassing," the PDA-shy Prince told The BBC of the kiss cam at the Olympic Velodrome on Thursday night, where he and Kate were on hand to cheer on the cyclists.
In spite of the daunting kiss cam's presence, William said he thoroughly enjoyed the crowd's inspiring enthusiasm at the race, as they watched Scottish cyclist Sir Chris Hoy set a new world record in the men's team sprint and earn a gold medal.
"That was absolutely fantastic, the world records being beaten, and the atmosphere in there was electric," he said.
Prince Harry added that he and William are "very proud" of their cousin, Zara Philips, who nabbed a silver medal in the equestrian events.
"We as cousins are very, very proud," Harry told the network. "It now explains why we never get to see her because she is always riding!"
-- Erin O'Sullivan

sauce