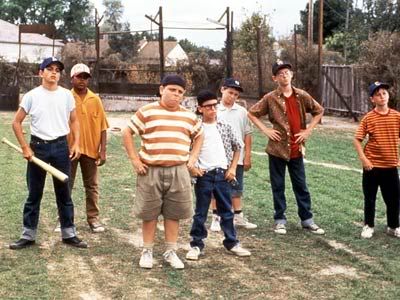 In the 19 years since its release, "The Sandlot" has become the yardstick that all childhood summers are measured against.

The David M. Evans's classic follows a gaggle of baseball-obsessed boys during the summer of 1962. But the 1993 film is more than a nostalgic look back on childhood, friendship and baseball. It also offers one of the best Fourth of July sequences ever set to film.



As the world is grilling up their proverbial hot dogs and awaiting their own fireworks finale, let's look at 21 reasons why it's the most perfect Fourth of July moment ever put to film.



1. Mom! I'm going out!
2. Baggy overshirts, tight little jeans.
3. Wholesome street parties.
4. Ham ate something (cake? grapes?) with two hands and then put it back on its plate.
5. Then he prepares a hot dog. Oh, Ham!
6. Benny's name is actually Benjamin Franklin Rodriguez. Benjamin Franklin.
7. Yeah-Yeah is dressed like Tom Cruise in "The Outsiders."
8. Home run!
9. Slo-mo time!
10. Ham's wow-face.
11. Fireworks!
12. Ray Charles's "America the Beautiful."
13. "Yeah Yeah" is speechless.
14. Tommy "Repeat" Timmons might actually be six-years-old.
15. The other kid with the glasses gets some screen time!
16. Smalls still looks confused, poor thing.
17. Squints is the coolest for a few reasons: one, he's wearing a backwards hat; two, he simulated the firework explosion and three, yeah, he's got great glasses.
18. "Sweet America..." (Sniff.)
19. Open-mouth-in-disbelief montage!
20. This is kind of a long finale, right?
21. Your inner-monologue: I wish I played baseball.
22. "Man..."




Source http://news.moviefone.com/2012/06/25/july-4-sandlot-fireworks-scene_n_1625392.html?utm_hp_ref=moviefone




So what are your 4th of Joolai plans?