Harley Quinn finally gets a Kotobukiya bishoujo statue

Kotobukiya has recently announced that Harley Quinn is joining the DC Bishoujo statue collection, with Batgirl, Catwoman and Poison Ivy already being released. Finally, one of the most popular DC femme fatales gets the Shunya Yamashita touch.

What's a Kotobukiya bishoujo statue without a seductive or sexy pose? Harley Quinn is seen straddling her giant hammer…very subtle.

The Harley Quinn Kotobukiya bishoujo statue retails for $59.99. She'll be available September 2012.







Kotobukiya Hits the Mark with new Hawkeye Statue


Created in 1964 by Stan Lee and artist Don Heck, Clint Barton was an orphan working in a carnival who learned archery to become a master marksman. After dabbling in crime he chose the path of righteousness and became a costumed super hero, working alongside the Avengers for years and gaining huge popularity among Marvel's readers. Barton joins the original trio of Thor, Captain America, and Iron Man in his iconic original costume: Hawkeye Classic Avengers! You've seen the latest incarnation of Hawkeye in "Marvel: The Avengers" and now you can celebrate his classic look in this amazing new Fine Art statue.
Classic Hawkeye Statue by Kotobukiya

Wearing his traditional dark blue and purple costume, Hawkeye defends the Earth from the greatest threats with a smirk on his face and the Avengers to back him up. The master archer stands on a rocky outcropping, resting his right arm on his knee as he surveys the battlefield looking for his next target. The hero's sculpt really captures the character from the features of his classic costume to the subtle details of his pose like Barton's thumb testing the edge of his bladed arrow and the flowing movement of his cloth-like tabard. Every element of Hawkeye's classic costume has been recreated from the skin-tight cowl with pointed mask and "H" logo to the scale mail-like chest piece, bracelets, and retro cuffed boots. And while he holds his trusty bow and one arrow at the ready, look closely to see that the hero's quiver is still fully stocked! As a special addition, Hawkeye's base even includes the severed arm and head of Avenger's foe Ultron, with an arrow sticking out of the robot's eye for good measure.

Sculpted by Erick Sosa, Classic Avengers Hawkeye stands nearly 13 inches tall (1/6 scale). His rocky terrain base matches those on the other Classic Avengers, the previously released Thor, Captain America, and Iron Man so you can display them individually or as a team! For more information on all the Marvel statues, visit Kotobukiya's website.







Also for the people not familiar with the Marvel/DC Bishoujo Statues here are a few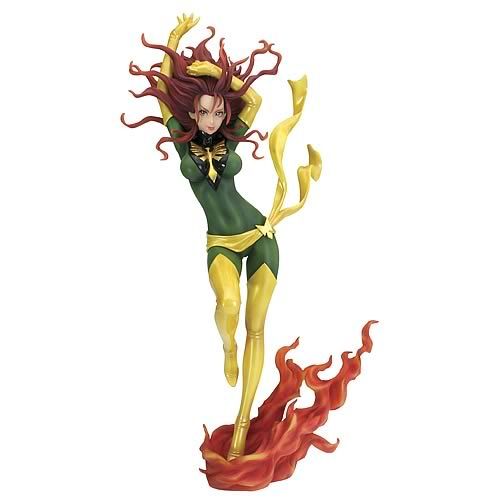 Source 1 2