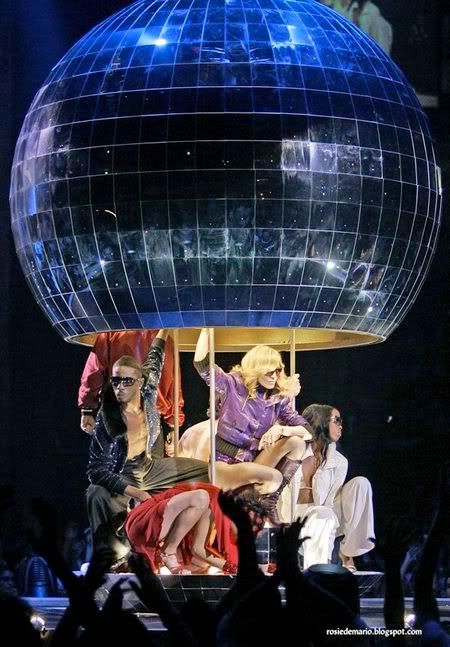 Everything you ever wanted to know or didn't want to know about the Confessions Tour. Fabulous factoids - funny, surprising, fascinating, useless to some, enthralling to others.
1 ? Tons weight of Madonna's disco ball rocket ship at start of show

2 weeks to use up wand of YSL #5 mascara

2 Million dollars worth of Swarovski crystals embellishes above disco ball

5000 Square Feet Size of Madonna's four stages (standard is 2600 square feet)

1000 Hours rehearsal over 12 weeks

27 Number of Performers including Madonna, Band, and 22 Dancers

253 Massages provided to dancers

0 foundation used on Madonna's skin

1 bottle of balancing cleansing oil (Shu Uemura Green Tea) every week

1 bottle of Yonka moisturizer used up every three weeks

106 Crew members in Madonna touring party

40 Foot turntable in center of main stage

16 Miles per hour when turntable revolves

1 "Discofied"Crucifix rises nightly from stage floor with surprise visitor attached

4 Feet away from the audience is distance between Madonna and fans on satellite stages

70 Tons of equipment on top of main stage

24 Semi Trucks used to move equipment from city to city

2 Private Planes to transport

18 Vans and Cars to transport

5 Buses to transport

280 Yards of Ace bandages used for dancers and Madonna

543 and counting heat wraps for dancers

200 Tons in weight of entire show (equivalent to a battle ship)

400,000 Watts of power used for run of show nightly

8 Broken bones of Madonna's displayed on video screens during "Like a Virgin" via x-rays and MRI's (she's all better now)

7 Costume changes for Madonna

30 Outfits were designed by Jean Paul Gaultier for Madonna and dancers

8 Pairs of shoes and boots used by Madonna each night (mostly Yves St. Laurent)

1 Piece of jewelry (only) worn by Madonna (diamond and amethyst necklace designed by Chopard)

600 Outfits in total for the entire show

25 Rack required to move wardrobe

1 Crown of thorns -50 thorns - from Cotters Church Supply in LA)

1 Bottle of vodka backstage to use for perspiration stains

24 Inch waist (Madonna)

4 People change Madonna's costumes during the show

1 Pair of Capezio professional fish net stockings used each night

10 Pounds is weight of Michael Schmidt designed belt Madonna wears during a segment in show

4000 Swarovski crystals imbedded in said belt

34 Clips used to set Madonna's hair

2 Smoothie brand hair elastics used during show (one blonde, one white)

4 Large hairpins used to secure chignon in opening sequence

3 Hairstyles revealed during the show (chignon, crown of thorns with baby Jesus curls and weeny/disco roll coiff)

2 Products used for hair (Kerestase oleo relax and Evian water mister to prevent electricity)

2 Changes of eyelashes (one mink, one mink with diamonds for disco section)


Source: madonna.com

CONFESSIONS TOUR 2006! w00t!