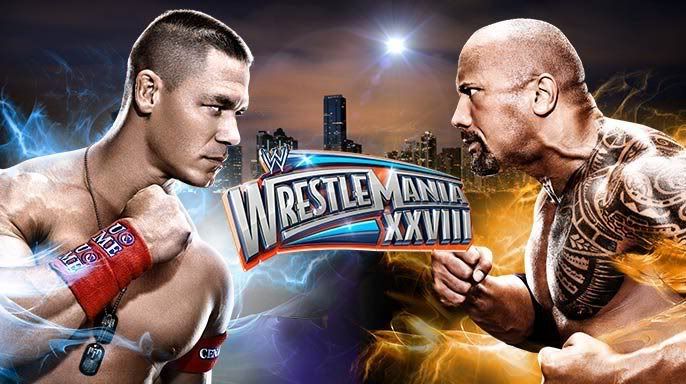 WrestleMania 28 just wrapped up in Miami, featuring performances by Flo Rida and MGK, the return of Dwayne "The Rock" Johnson, funky mommas, and even some wrestling. Let's see who won, shall we?
Main Event
:
The Rock
beat John Cena.
'End Of An Era' Hell In A Cell Match:
The Undertaker
once again defeated Triple H, and is now 20-0 at WrestleMania
WWE Championship Match
:
CM Punk
won against Chris Jericho, retaining his belt and best-in-the-world-ness
For Supreme General Managership Of WWE
:
Team Johnny
(David Otunga (captain), Mark Henry, Dolph Ziggler, Jack Swagger, The Miz, and Drew McIntyre) (with John Laurinaitis, Vickie Guerrero and Brie Bella
) defeated Team Teddy
(Santino Marella (captain), R-Truth, Kofi Kingston, Zack Ryder, The Great Khali, and Booker T) (with Teddy Long, Hornswoggle, Eve, Nikki Bella and Aksana
), which means that Johnny Ace is now GM of both Raw and Smackdown, and my heart.
Intercontinental Championship Match
: Cody Rhodes lost his belt to
The Big Show
.
We Better Include Some Girls and a Celebrity Match: dancer with the stars/ reporter of some sort Maria Menounos and Kelly Kelly beat Beth Phoenix and Eve Torres, despite Beth's awesome hat.

RKO You to Hell Match: Randy Orton lost to Kane, even though they wrestled in the daylight which I'm sure deprives Kane of some of his hellpowers.
World Heavyweight Championship Matc
h: Daniel Bryan LOST IN LIKE A SECOND to a brogue kick in the face from
Sheamus
, who is now World Heavyweight champ.
from a pre-show:
WWE Tag Team Championship triple threat
:
Epico & Primo
defended against The Usos and Justin Kidd & Justin Gabriel.
Did you watch? Do you have opinions and/or feelings about these matches? Discuss!
David Otunga thanks you for your time:
source
(note: my first ONTD post! Sorry if somebody else got one in the queue before me.)