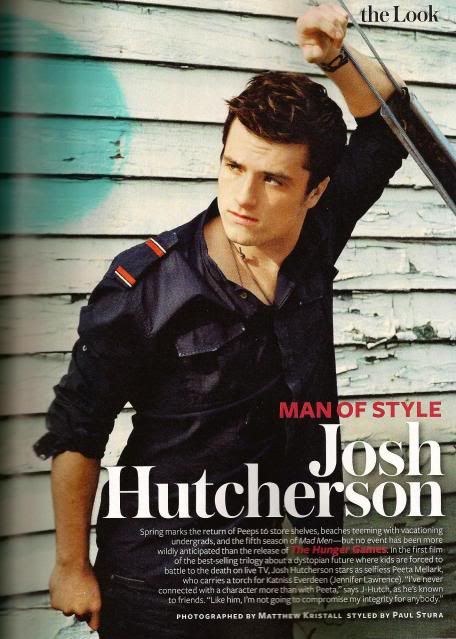 Josh Hutcherson
Spring marks the return of peeps to store shelves, beaches teeming with vactioning undergrads, and the fifth season of Mad Men - but no event has been more wildly anticipated than the release of The Hunger Games. In the first film of the best selling trilogy about a dystopian future where kiads are forced to battle to the death on live tv, Josh Hutcherson stars as selfless Peeta Mellark, who carries a torch for Katniss Everdeen (Jennifer Lawrence).
"I've never connected with a character more than with Peeta," says J-Hutchm as he's known to friends. "Like him, I'm not going to compromise my integrity for anybody"In the Hunger Games, you play Peeta, the baker's son. Can you really bake?
I
can
actually. I do a really good french apple pie - the whole shebang, including the crust. And I made a couple of loaves of bread when I was visiting Kentucky, where I'm from.
As practice for Peeta
Not necessary. I just wanted to make bread. Maybe it was a subconcious thing where all of a sudden I had the urge to start baking to embody the character fully [laughs]. But I'm really more of a grill guy - I do great burgers and beer-can chicken.
How southern of you
There's a lot of Kentucky in me. At home in California, I have a couch on my front porch, a Jack Daniel's pool table, and I keep Christmas lights up year-round.
What do you blow big Hollywood money on? It's obviously not outdoor decor
I really love womens shoes- I think they're very sexy. So whenever I go into Bloomingdale's, I head to the women's shoe section and think, Hmm, maybe I'll get my next girlfriend a pair of those.
What?! You know women's shoes well enough to purchase them as gifts?
Oh, yeah, all the time. I always buy my mom Louboutins or Jimmy Choos for her birthday. I have a pretty good sense of style, all in all. Once I figure out a woman, I know what she should wear - which comes in handy when you have a mom and girlfriends. you can always make them happy with a nice bag or a pair of pumps.
Last year, you were seeing Vanessa Hudgens, your co-star in Journey 2: The mysterious Island. Did you give her footwear?
I got her this Louis Vuitton clutch that had silver and gold studs all over it. It weighed, like, 90 pounds. Pretty Impressive.
Are you still shopping for her?
No, we're not dating, but we talk all the time. She and I got close during the Journey 2 shoot because we hit it off immediately and, well, those things happen in a beautiful place like Hawaii. I'm a "You only live once, so enjoy it right here, right now" kind of guy, and she's the same.
How easily do you fall in love?
Like that [snaps fingera]! I'd rather have loved and than lost than not loved at all. So when I'm in a relationship, I'm very "I love you, I love you, i love you!"
Like another wildly popular book trilogy turned into a movie franchise (Twilight), your film contains a love triangle in which two wothy guys compete forthe affection of one headstrong lady. Why should folks be on Team Peeta?
Well, I think the thing that movie-goers are going to like a lot is the fact that Peeta has been in the love with Katniss since the first day he say her.
That
wins over hearts pretty easily - the whole "I've loved you my entire life; I haven't had eyes for another girl". Not to say that [rival] Gale's love isn't real, but Peeta's passion might sway viewers.
When you want to sway a potential girlfriend, how do you dress?
I'm a big All Saints fan - love their jeans. And I'll throw on a nice Band of Outsiders button-down with a tie. Otherwise, I wear plain white hanes cotton T-shirts, along with a wide assortment of flannel shirts, like this red plaid 44MM one I have on. And I'm all about boots. I wore my Timberlands for this shoot. They're my favorite, very practical man boots! I should also say that I'm a huge leather jacket freak. I own, probably, 20 of them. I never want to lose this slim-fitting bomber jacket I got at American Rag. It's great for motorcycling, which is what inspires most of my wardrobe.
You're a biker dude?
Yep, I have a Harley-Davidson Forty-Eight. It's a new model designed to look like an old-school '60s one. I put a metallic midnight-blue tank on it that has the outline of Kentucky on the side.
So if a gal wants to date J-Hutch, she needs to be ready to jump aboard?
I like feisty girls who can really hang with the guys. So, yes, she's got to be willing to hop on the back of the steel horse! Sorry, but that's a must.
What women have to say
Kristen Davis
Co-star, Journey 2: The mysterious Island.
"Josh is so smart and talented and disciplined. I look forward to watching his career unfold."
Jennifer Lawrence
Co-star, The Hunger Games.
"Josh is the kind of guy who would do anything for anybody. He's loyal, sweet, and hilarious. His style is very individual, but charming and cool."
Julianne Moore
Co-star, The kid are alright.
"He's exceptional in every way - handsome, articulate, and unfallingly polite - and unusually self-possessed for someone his age."
I'm surprised that no one uploaded this, but I'm happy to oblige! This issue is still out, but not for much longer. Man of Style is the best part of Instyle magazine, imo. I love checking out the newest issue to find which guy they picked. It's always best when it's one of my faves :)

Source: My scanner.