Isaac Slade, frontman of The Fray, has said he wants to punch The Killers' singer Brandon Flowers "in the mouth".

The singer, whose band released their new album 'Scars & Stories' earlier this month, has called out Flowers after he saw him making some comments about The Fray on YouTube.

He told the Daily Star: "When we started making the album, I saw footage on YouTube of Brandon getting mad at a Killers crowd who were a little sedate. Brandon was yelling, 'Come on, stand up and dance. This isn't a fucking Fray show'."

Slade added that though he had to acknowledge his band's crowds tended to be quite sedate, he'd still have to teach Flowers a lesson when they next met.

He added: "All I could do was laugh because that's true - we do have a very thoughtful, sensitive crowd who don't get to dance much. Still, I'll pay Brandon back for picking on our fans. Next time I see him I'll have to punch him in the mouth."

The Killers are currently recording their fourth studio album and will return to the UK to headline this summer's V Festival.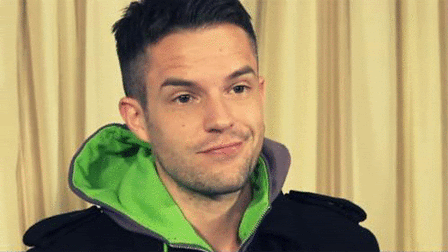 mods this should be okay now :(.... how dare this nobody threaten this flawfree earth angel known as brandon flowers. he's probably jealous that he cannot grow a proper moustache, and using his name as publicity tbh.
source