The Internet has always had a love-hate relationship with animated GIFs. Long a telltale sign of an archaic website (especially when multiple artifacts wind up on a single page), the bandwith-eating multi-image animations were a cause of annoyance rather then entertainment.

Well, the GIF's reputation is changing. Since the meteoric rise of Tumblr, which boasts "GIF" as the website's top tag, the animated images are snapping back into the mainstream and are becoming a popular form of shareable media. Users are flocking to GIFs to articulate their personal feelings, relive moments from their favorite movies and tv shows, and indulge in the rapidly expanding arena of shared references.

And where there's digital media, there's comedy. GIFs are becoming a popular way to spread humorous split-second scenes from real footage or popular media, whether it be a pratfall, reaction shot, or even a line of dialogue. We've rounded up the funniest trending themes and motifs of the GIF world and curated them into a shortlist of 10 major contenders. We also delved a little deeper to find the history behind the GIFs, and where you can find more of their meme-tastic entertainment.


90s Characters Dancing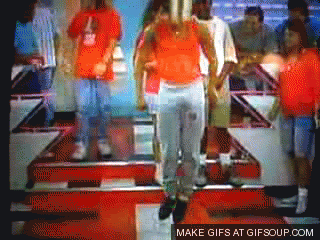 Whether it's AC Slater dropping it like it's hot on Saved by the Bell, Carlton busting his signature moves on The Fresh Prince of Bel-Air, or sitcom world's token middle daughter Stephanie Tanner swagging in Full House, 90s dancing caused major lols in 2011.

Propagated this past year in particular by a healthy crop of 90s nostalgia Tumblrs, expertly clipped moments of television royalty shaking their tailfeathers in a variety of goofy ways (did you forget the Urkel dance?) adds a heaping helping of humor to remembering the good old days of TGIF.


James Van Der Memes


Actor James Van Der Beek propelled himself back into the spotlight from relative obscurity by capitalizing on one of the pioneering GIFs of the Internet: Van Der Beek as teen heartthrob Dawson Leery crying his eyes out on Dawson's Creek. Van Der Beek partnered with Funny or Die for "James Van Der Memes," a video and corresponding website that showcased the actor performing various expressions in GIFs.

The crowning moment of Funny or Die's multiple video arc "Van Der Week," James Van Der Memes became so popular that Van Der Beek produced another round of expressions in the continuing months. So, whether it's the "Slow Clap," "Spit Take" or "Tenth Anniversary Crying Edition," there's a Dawson face for every occasion.


Animals Being Dicks

Sometimes Fido will fight back! Curated by the Tumblr of the same name, Animals Being Dicks is the opposite of the relatively fluffy viral memes of dogs, cats, and the occasional wild animal. Instead, these pets are jerks to everyone, causing general mayhem and physical hard to adults, children, and even each other.

Largely comprised of home videos and news footage, these rampaging creatures tackle, claw, climb, and trick their prey into falling right into a perfect moment of schadenfreude. You can't help but chuckle when you see that devious monkey make off with a hubcap like a little simian carjacker.

The Last Supper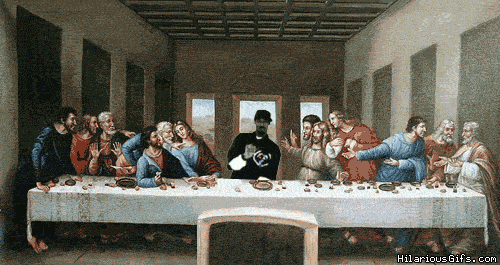 A GIF of Snoop Dogg dancing from his 2004 video "Drop it Like it's Hot" adjacent to Leonardo Di Vinci's "The Last Supper" has been circulating on the Internet for years, since the heyday of teen GIF Generator Blingee. But, thanks to leaps in technology, Snoop Dogg now dances right in Jesus's place at the table.

Since its interest began to peak in the middle of the year, Last Supper GIFs have been breaking out as an exploitable on blogs. They nearly always involve inappropriate dancing, but a popular variation has been coursing through Tumblr at a breakneck speed, featuring a loop of John Tuturro's disgusting bowler Jesus Quintana from The Big Lebowski polishing his ball at the table.

Last Supper GIFs are definitely "most improved" for the year. Expect them to make a big splash in 2012.

Everyday I'm Shufflin'

This exploding GIF trend is actually a part of a larger, overarching meme inspired by uncle/nephew rap duo LMFAO's smash #1 single "Party Rock Anthem," which made its worldwide debut in January. Since then, truckloads of image macros, videos, and GIFs have been flooding the web with the song's Rick Ross parody, "Everyday I'm Shufflin."

The GIFs have also crossed over into other exploding memes of 2011, most notably with an endless GIF loop hosted by memegen website You're The Man Now Dog in April that featured longstanding meme 60s Spiderman dancing the shuffle. Now Pokemon, My Little Ponies, and other meme stars of 2011 are hopping on the shufflin trend.

It its sheer mass, Everyday I'm Shufflin GIFs transcend meme borders for the sake of goofy dancing all across the country.

Paula Deen Rides Everything


The Food Network's Queen of Southern Cooking, Paula Deen, has been a boon for Internet viral comedy throughout the years. In 2009, a video of the cooking personality taking a ham to the face went explosively viral on Youtube, and her penchant for butter has been the but of many image macros.

This year, Deen's viral potential finally spilled over into the exploitable GIF arena when she was photographed sipping wine while riding atop fellow chef Robert Irvine at the South Beach Food and Wine festival in February. Soon, GIFs began popping up with Deen riding practically anything, from Dr. Who to the Nyan Cat.

A corresponding Tumblr continues to curate the mountain of moving images and occasionally peppers in user images of themselves as the ever-riding Deen

Charlie Sheen: "I'm Fine."


There is perhaps no celebrity who has reached more viral madness this year than Charlie Sheen, whose very public meltdown began a worldwide digital phenomenon. March began the heyday of America's fascination with the former Two and a Half Men star, as he took to Twitter, amassed a million followers in record-breaking time and created two of the most popular hashtags of the year, #tigerblood and #winning.

In the swirl of madness, a second-long GIF from the scattered and tangential February interview Sheen had with the Today Show (which solidified his certifiable mental breakdown), began cropping up all over the blogosphere. The image itself perfectly encapsulates the troubled star's situation: Sheen, with a crazy face and hands waving, spastically jerking around while the caption reads, "Sheen: I'm fine. I've always had a plan."



Disproportionate Toddler Reactions

This year was a major year for babies reacting to things in outsized ways. Whether it's twin babies talking animatedly in gibberish, baby Emerson watching in horror as his mother blows her nose or Baby Boo getting excited that her favorite Kid CuDi song is on in the car, babies that strong express their emotions seem to tickle the funny bone of the Youtube community.

So, it's no surprise that the cream of the crop in munchkin faces become quick fodder for the ever-growing GIF machine. These sorts of GIFs are typical of reactionary image stories on Tumblr and Reddit, which are popular with the teenage user base and are usually prompted with one-sentence scenarios such as, "When my favorite song comes on the radio, I'm like...." The babies faces are the cute punchline, knocking out with the outburst of feelings on their sweet faces.

Easily shareable, totally aww-worthy and very funny, reactionary baby GIFs proved very strong in the adorable meme market this year on the Internet.

Pizza


In a perplexing way, pizza has had a supporting role in some standout viral content all throughout 2011. Former Republican Presidential candidate Herman Cain, who became a repeatable meme throughout his campaign, is the CEO of Godfather's Pizza. Politics clashed with pizza again in November when the government classified pizza as a vegetable, resulting in a major spike in Internet interest.

While it has been lurking in related memes for a while, pizza has its turn in the spotlight with animated GIFs. Enigmatic and unexplainable, Pizza GIFs have become a venerable fixture on Tumblr this year. Supported by many devoted blogs to the subject, pizza has been included in movie clips, psychedelic renderings, and even in stop-motion animations for its own sake. Pizza's popularity is steps away from becoming as ubiquitous as cats.

Pizza can be funny too. Whether in slapstick scenarios with hungry animals or as a replacement for valuable props in much-loved films, pizza's random entrance into the mix makes for some goofy humor.

Cats


It's no secret that every year is a banner year for cats on the Internet. The furry little animals have captured the heart of the web, and are easily the masters of shareable digital media.

I wasn't convinced it was possible, but cats have once again reached new heights of memedom with animated GIFs. Nyan Cat's cute/annoying antics, when given the power of a GIF, plays on an endless loop on nyan.cat with a feature appearance by Buttered Toast Tabby. For those who prefer real felines, Procatinator offers curated cat GIFs with paired music for maximum immersion (and laughter).

They even managed to sneak into artistic cinemagraphs, proving that nothing on the internet is safe from (lol)cats.

Source




Fav gifs/memes ONTD? You Mad will always be my favorite lol