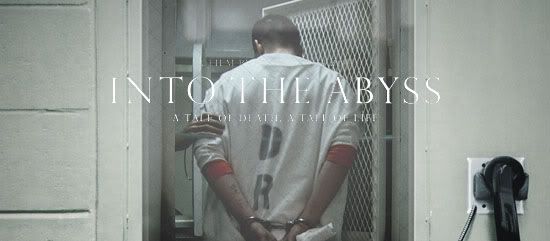 On an October night in 2001, Michael Perry and Jason Burkett murdered Sandra Stotler in her home with a shotgun blast to the head as she baked cookies. Hours later, they killed her son and his best friend at nearby Crater Lake in Huntsville, Texas.

Iconoclast filmmaker Werner Herzog saw in the crimes an emblematic tragedy of life and death, and set to work on "Into the Abyss," a new documentary that debuts in theatres on Friday, using the case as his canvas.

"Into the Abyss" opens to an interview with a death house chaplain talking about the significance of all life forms and the moral outrage of capital punishment.

But Herzog told Reuters that "this is not a death penalty film. It's a tale of death, a tale of life."

The film "is about the urgency of life," said Herzog, the unique voice behind the Oscar-winning documentary "Grizzly Man," which told of a man who lived among the wilderness with bears and was ultimately killed by them.

Sandra Stotler was baking when there was a knock at the door. Perry and Burkett inquired after her son, Adam, who was not home. Stotler sent them on their way.

But Burkett returned moments later, claiming their car had broken down and asking to use the phone. Entering through the back door, Perry surprised Stotler and shot her in the head.

The killers' objective was a sporty Camaro parked in the garage. Unable to find the keys, they left, taking Stotler's body which they hid at Crater Lake. They then returned to the gated community and waited outside for Adam.

When he arrived, they led him and his friend, Jeremy Richardson back to Crater Lake, killed them both and left their bodies in the underbrush.

Perry, 28, was executed by lethal injection on July 1, 2010. Despite overwhelming evidence, he maintained his innocence to the end.

"I believe that somebody who spends 10 years on death row, that the last resort of hope, is to maintain innocence," observed Herzog. "And probably, many of them start believing their innocence."

Herzog interviewed both Perry and Burkett for the film, as well as Lisa Stotler-Balloun, daughter and sister to the Stotler victims. She no longer answers the phone, fearing more bad news.

But the film also includes Fred Thompson, a former executioner who quit his job just a few years from receiving his pension because he was haunted by the men he put to death.

Herzog, a death penalty opponent, said "a state should not be allowed -- under any circumstance -- to execute anyone for any reason." He does favour life in prison without parole "in the most horrifying of cases."

But he insists "Into the Abyss" is a humanist film, as opposed to an issue-oriented one, and says it gives voice to the victims' families as well as the perpetrators.

"I leave it open for an audience to draw their own conclusions, and I respect those who have a different opinion than me," he said.

The film ends with a segment called "The Urgency of Life," which focuses on Melyssa Thompson-Burkett, a woman who befriended Burkett while he served a life sentence. The two married, and while Burkett is not allowed conjugal visits, they are expecting a baby as the film ends.

But it is no miracle pregnancy -- just a few prison administrators who, for the right price, were willing to look the other way.

Burkett will be up for parole in 40 years, at which time he hopes to reunite with his family on the outside.

For audiences, such an outcome could seem either hopeful or grossly unjust. But Herzog knows his answer: it is to respect humanity in all its forms, regardless of guilt.

"The crimes of all these cases are monstrous," he said. "But the perpetrators are always human."

Here's the trailer:


source
discussion time: what do you guys think about death penalty?are you for or against it?