Is she or isn't she. After news broke that Brenda Song was expecting her first child with boyfriend Trace Cyrus, Miley Cyrus' brother, the Disney star's mother is now saying that Song is not pregnant.
"She's actually not pregnant ... It's very upsetting to our family because of what I'm going through and it's not how we raised her," Song's mother, Mai Song, told Star magazine (via Radar Online).
Photos of a very un-pregnant Song, 23, surfaced Tuesday, prompting many to wonder why "The Social Network" star's stomach had yet to show any indication of a growing baby bump.
Song and Cryus, 22, have been dating for quite some time but Song isn't Miley's brother's first high-profile relationship -- he has previously been linked to Demi Lovato.
It looks like Hilary Duff has reclaimed her spot as the reigning pregnant Disney star of the moment.
I don't know. Some girls show sooner than others, just because she's pregnant doesn't mean she's going to be huge right away, but then again. Who knows if there's a baby or not.

Mods: i hit the enter button too quick. sorry!

THIS picture is what they were talking about: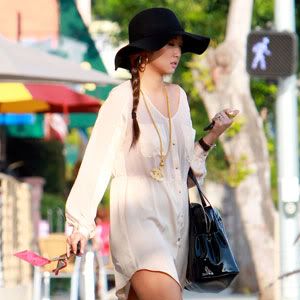 source