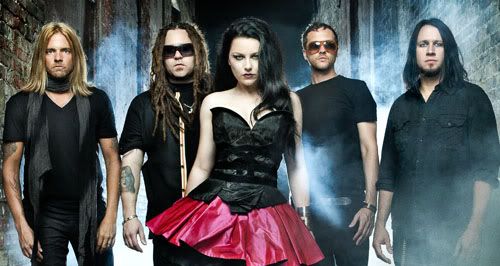 After a 20-month hiatus from performing, Evanescence returned to the stage in fine, fighting form Monday (August 8) for the exclusive "MTV First: Evanescence," treating viewers to the first live performance of their comeback single, "What You Want," followed by a lengthy no-holds-barred Q&A.

The energy in the room and onstage was palpable. The live audience at Blackbird Studios — the recording house where the band laid down the majority of their forthcoming, self-titled album — held on and rocked out to each and every note, particularly frontwoman Amy Lee's powerful vocals.

In discussing their hiatus and eventual return as a band, Lee admitted that the "hard part" of making music and recording was something she felt was missing from her writing process.

"The fact that we had to fight for it felt like the first time again," Lee said of the band's ups and downs in the years leading up to their latest work.

"I had a little bit of an identity crisis," Lee admitted of being in and associated with Evanescence since she was a teenager and into her adulthood. "[The success with] 'Fallen' happened really fast, and it was just go, go, go for a couple years, and we went right into writing and wrote the next record. By the time we finished touring with 'The Open Door,' I just needed to go, 'Who am I as an adult?'

"But [in taking a step back I realized] this is what I do," Lee said. "It's not a character; this is really me. Realizing and getting back to it in a real, fuller way. 'Oh, I'm in this because I love this and [the band] is a true, real part of me,' not because it's a character or something. It just makes me really, really happy to be here."

http://www.mtv.com/news/articles/1668689/evanescence-amy-lee-new-album.jhtml

</div></div>

Listen and read the lyrics to What You Want on the official website!
Source on MTV.com with the Q&A session.

What do you guys think? I know I'm glad just to have something new from them again!