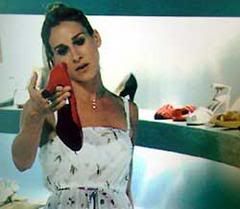 Don't you hate when actors and actresses drag your name through the mud? And by drag your name through the mud, we mean, make you more famous than you ever dreamt you could be.
Now that everyone and their Gastineu clad mom wants a pair of Manolo Blahniks the designer is totally fuming. We don't claim to understand this fashion world, but at some high society meta meta riche fest, where an intimate group gathered in celebration of Eric Boman's newest photographic shrine to the designer, the HBO hit's influence over the shoe's popularity was brought up. And just as quickly, shot down.
"Manolo thinks—which is very unfair—he thinks it's vulgarized his name," said Mr. Boman, who has a boyish, fine-featured face.
You know, because Sarah Jessica Parker wrote Sex and the City, she was wholly responsible for putting Blahniks on the map. That tramp.
"He says,"—here Mr. Boman traded his casual chatty tone for a comically grandiloquent one—"'I'm sure that that Miss Parker is a perfectly nice woman,' and, he says, 'I have met her, as a matter of fact'—I think she presented him with some award, you know, and she is a very nice woman, but he just thought that..."—Mr. Boman went into silent reflection for a moment—"It's an aspect of his work that he doesn't feel is his work?"
Yeah, see, we didn't prep for crazy talk with Cindy Adams' column, today, so, we're not even sure what to say about this. But, those Observer folks speak whack, so you can get the rest of the "how Sarah Jessica Parker ruined Manolo Blahnik's life" story from them.

Source: Jossip and The Daily Transom