The first runway show for Chloë Sevigny's collaborative collection with Opening Ceremony walked yesterday evening
in a cavernous old school gym in Nolita, complete with basketball hoops and metal fans rattling near the ceiling.
"I wanted you to come in and be transported back to the way you felt when you were a teenager,"
explained Sevigny after the show, fanning herself with a press release.
"Even little tiny things — the cinder blocks, the color blue of the walls. Anything that would trigger the senses to that time when you're questioning everything."
The collection itself was a nineties-inspired mash-up of white eyelet pinafore tops with ruffly shoulders, cropped bustiers, and laser-cut black leather shaped into girlish baby-doll dresses with pleated miniskirts. Several pieces were made in collaboration with the skateboard lifestyle brand Vision Street Wear, including logo-printed cropped tanks and high-top Velcro sneakers. There were also some chunky-heeled shoes studded with teardrop pearls and fastened with slender ankle straps. "The pearl is something I'd seen on a shoe years ago," Sevigny explained. "I just wanted to do an updated Belle de Jour sort of thing that could be worn kind of punky or alternative, and look elegant … I also wanted it to be a lot about early nineties, like Helmut Lang and strappy."
The model casting was noticeably diverse as well.
"I wanted to do young and old and different kind of body shapes," said Sevigny.
"A girl you could see hanging out in Tompkins Square Park, or your friend, or your friend's pretty friend. I wanted to look like they could all be hanging out together. I didn't want unattainable beauty."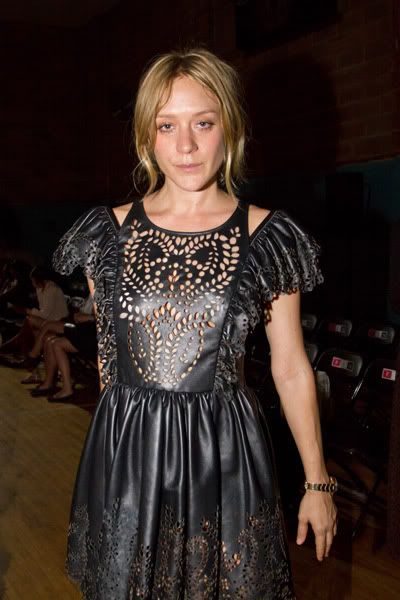 Here's a preview of the collection, more at the source.
ONTD, please be kind this is my first post!
(Mods I resubmitted this because I forgot the cut)