So there have been a few Nicole Richie encounter posts.. and I never posted mine. I love ONTD, so I'm sharing it with you guys. This happened in late November.

So I live in Birmingham, AL.. and absolutely nobody comes here. Well they do sometimes, but they aren't very awesome people. Anyways, so I heard on the radio that Nicole Richie was coming to Birmingham and my first reaction was just "Why?" But whatever.. I was too excited to question it. It turns out it was for a book signing for her novel, "The Truth About Diamonds." It was held at Books A Million in Wildwood, which isn't even a popular bookstore. Anyways, so the day of the event.. you have to go get a line number. The line numbers were distributed starting at 9am. I get there at 9:05am, and I already have number 91. Who knew so many people here liked her? Then I remembered that Lionel is from Alabama.

It's time for the event, so I go into the bookstore and everywhere you look - there's stacks and stacks of her book. There are already about 200+ people in line. So I find my place in line and start talking to people around me. Then I heard people screaming and flashes going off.. but I couldn't see her because I'm so short and because the line went in and out of bookshelves. Finally, I was like 3rd to go up to her. There were a lot of people taking pictures of her on the other side of this rope thing, and I almost went blind. I don't know how she handles that 24/7. So this annoying redhead lady steals away my book and like folds a page over for her to sign it. So I go up to Nicole and she is SO CUTE, let me tell you. She had on like a jacket with a scarf.. so you couldn't tell how small she actually was, but she was so adorable and tiny. I go up to her and I'm like "Oh my God, I can't believe I'm meeting you.. you're so funny and I admire you for going through all you had to during your childhood." And she says, "Aww thanks sweetie" and gives me a hug over the table. It seriously looked like she was going to cry when I said that. So the security was telling me to hurry up so I said "Bye Nicole!" and she said "Bye girl!" I swear I smiled for the rest of the night. So I went back to where people were taking pictures, and decided "Hell, this is a once in a lifetime oppurtunity, so I'm going to be annoying and take pictures too." So I took probably 100+ pictures.. she's just so cute on camera. And she's the sweetest person ever.. she smiled and hugged many people, and she took pictures with people and personalized autographs even though she wasn't supposed to do that either. These teenagers I was next to wanted to say Goodbye to Nicole but were too nervous and kept messing up.. but finally they all said "Bye Nicole!!" And Nicole smiled very big and said, "Bye guys!"

Oh and other things.. her mom was there along with many of her [non-famous] friends. We have a Saks here in a shopping center called The Summit, and she had been shopping at Saks and in The Summit all afternoon, according to people behind me who were talking about it. I'm sure it was good for her to be able to shop without paparazzi for once. It's probably 100% guaranteed there's not going to be any paparazzi in Birmingham. She had a huge Saks bag behind the bench her friends were sitting on. Oh and this was when she was still engaged, and she wore her diamond ring [not the pink one] and it was seriously bigger in person.

Now.. here's lots of pictures. Some are crappy quality, so excuse that. Overall, they're pretty good.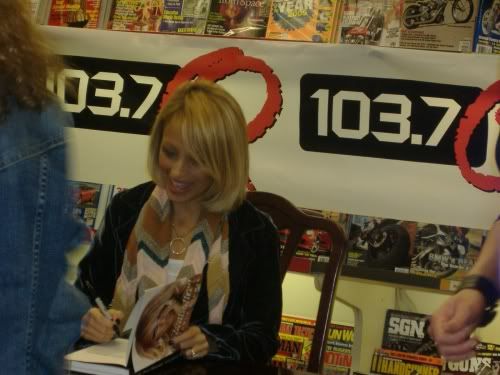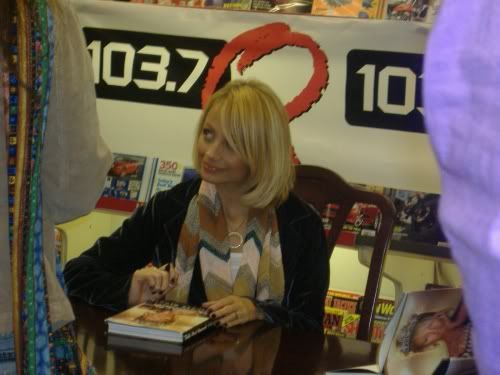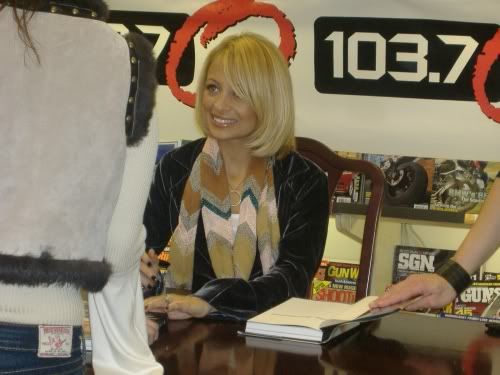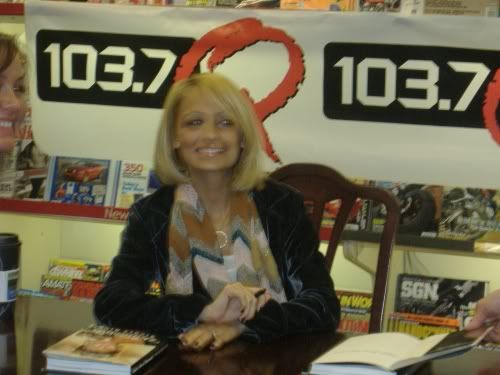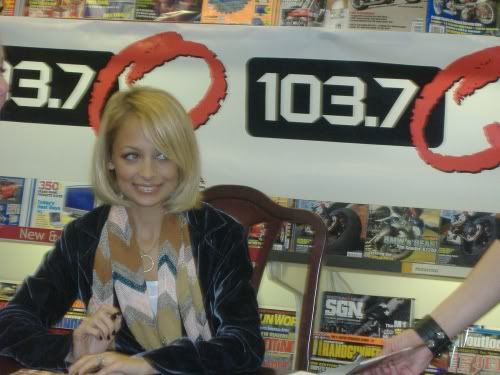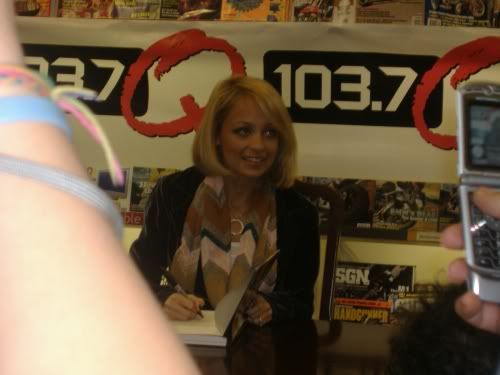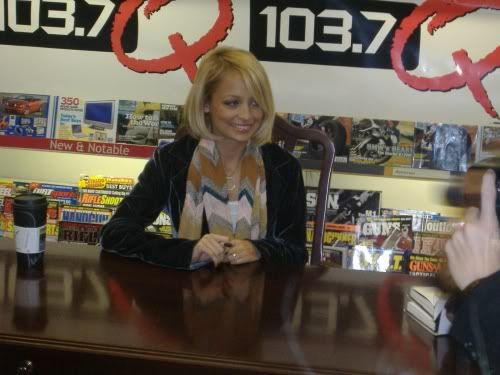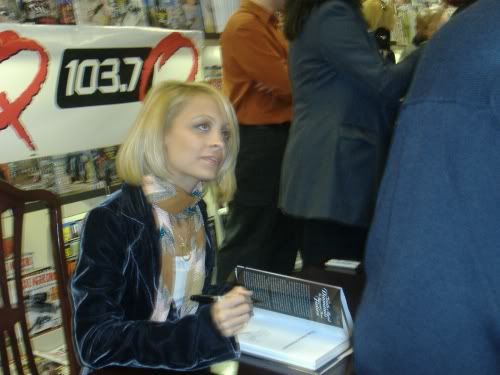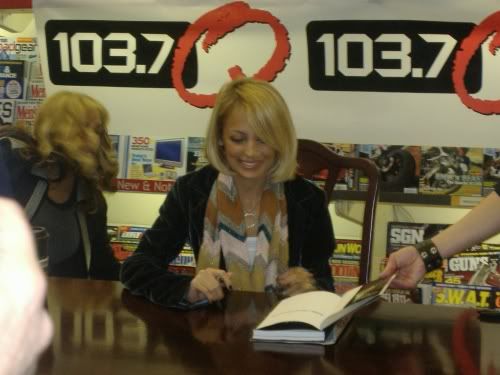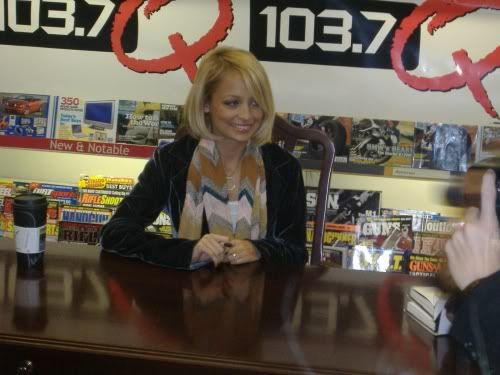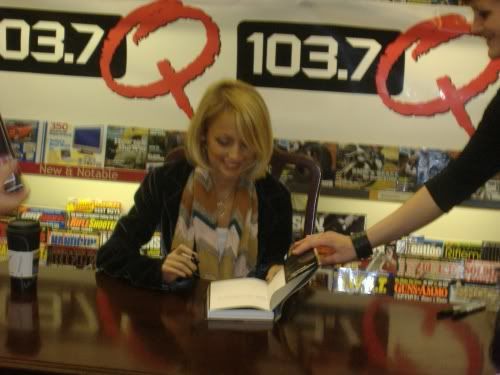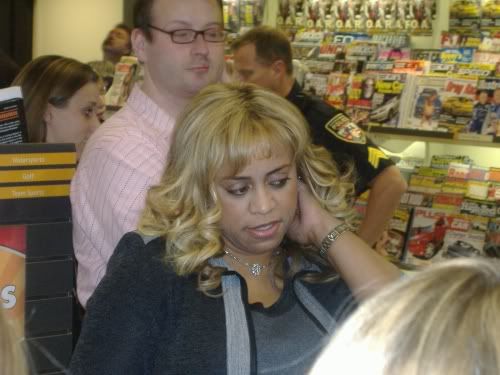 Nicole's Mom..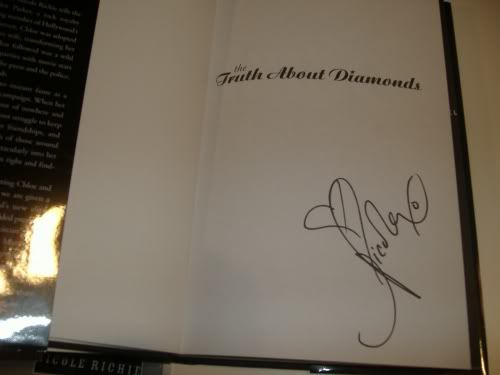 Autograph..



Promotional flyer thing for the event..

Any questions? =)